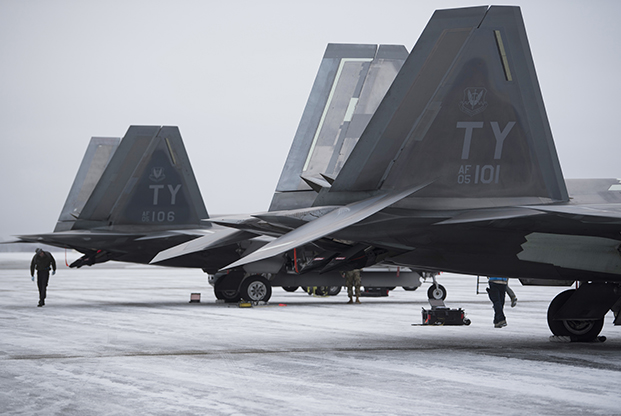 USAF F-22 Raptors assigned to the 95th Fighter Squadron from Tyndall AFB, Fla., sit o?n the flightline after landing at JB Elmendorf-Richardson, Alaska, on Dec. 17. Air Force photo by A1C Caitlin Russell.
The first F-22s and airmen reassigned from Tyndall AFB, Fla., touched down in Alaska on Dec. 17 following the impact of Hurricane Michael at their home base in October.
The airmen, originally assigned to the 325th Fighter Wing, have been reassigned to either the 3rd Wing at JB Elmendorf-Richardson, Alaska, or the 154th and 15th Wings at JB Pearl Harbor-Hickam, Hawaii, with more airmen and Raptors slated to arrive through early 2019. Approximately 300 airmen and an undisclosed number of aircraft are making the move, according to a Pacific Air Forces release.
"Our Air Force has acknowledged the strength of Tyndall comes from its airmen and families. We are honored to welcome them to our team and committed to ensuring a smooth transition to the Indo-Pacific," PACAF boss Gen. CQ Brown said in the release.
F-22s from Tyndall also have been reassigned to JB Langley-Eustis, Va.
The Air Force announced earlier this month that it will permanently move the Raptors to other bases, and is asking for supplemental funding to rebuild Tyndall so it can receive F-35s.