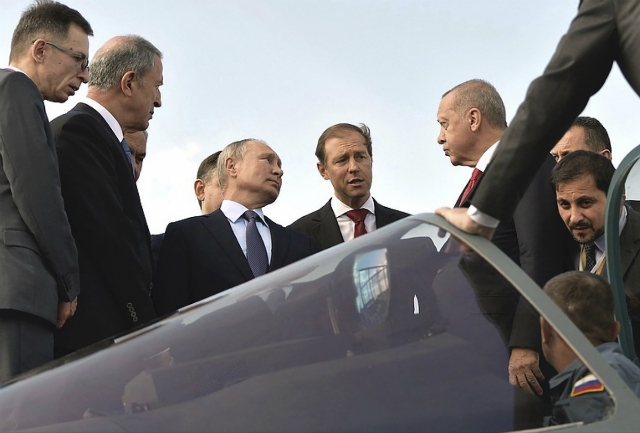 Russian President Vladimir Putin, third from left, center, and Turkish President Recep Tayyip Erdogan, second from right, center, view a Russian fighter jet during the International Aviation and Space Salon MAKS-2019 on Aug. 27, 2019. Kremlin photo.
Stung by its expulsion from the US-led F-35 fighter program over buying Russia's S-400 air defense system, Turkey is now shopping for a substitute jet and may acquire Su-35s or Su-57s, Russia's most advanced fourth and fifth-generation fighters, respectively. Russia is also describing Turkey—which is one of the largest members of NATO—not only as a trading and security partner but an "ally."
Turkish President Recep Tayyip Erdogan inspected an Su-57 this week at the MAKS airshow outside of Moscow, with Russian President Vladimir Putin looking over his shoulder. Reporters nearby said Putin aides mentioned a possible sale, which could be executed in the next few years.
The Russian state-run Interfax news service reported that Erdogan asked Putin if the Su-57—which is not yet in Russian operational service—is available for export, and Putin replied that it is. The exportability of a specially configured version of the jet—to be called the Su-57E—was actually approved by the Russian government in the spring, although no orders have been announced. The capabilities of the Su-57 have not been published, but the special nomenclature for the export model suggests it will lack the full capability of Russia's domestic version.
Dmitri Shugaev, head of Russia's Federal Service of Military-Technical Cooperation, said Turkey and Russia have been discussing "possible deliveries" of the Su-35 or Su-57, Russia's RIA Novosti state-run news agency reported. Shugaev told RIA that Turkey has shown "much interest" in the aircraft, but said it is early in the process and no contract discussions have yet taken place. He said there needs to be more consultations, and Turkey has not yet formally requested any airplanes.
The Su-57 is in early serial production, as United Aircraft Corp. is under contract to start delivering the first tranche of 76 operationally configured Su-57s to the Russian air force by the end of this year. Though touted as a "stealth" aircraft, aviation experts differ on whether the Su-57 merely offers a reduced radar cross section versus previous Sukhoi fighters or has a substantially lower radar observability.
India was initially a partner with Russia on developing the Su-57—previously known as the T-50—but withdrew in 2018, complaining that Russia continued to ask for more development funds and refused to share source code and design secrets with its partner.
The other jet inspected by Erdogan, the Su-35, is the most advanced variant of Russia's Su-27 Flanker series, and is generally referred to as a "generation four plus" aircraft, with modern radar and electronic warfare systems and thrust-vectoring exhausts. The Russian air force placed the first order about eight years ago and has taken delivery of more than 70 Su-35s, which have also been ordered by China and India.
Reuters reported that Erdogan, speaking in Moscow after meetings with Putin on Aug. 27, said his country wants to expand its defense cooperation with Russia, and that this would include combat aircraft. The two toured Russian military wares on display at MAKS, including the Su-35 and attack helicopters.
Putin spokesman Dmitri Peskov, commenting Aug. 26 on the meeting between Putin and Erdogan, said Turkey is "our very close partner. It's our ally," Radio Free Europe reported.
Turkey has been a NATO member since 1952, and has the largest military of any member country besides the US.
The US announced in July that the multinational F-35 program will "unwind" Turkey's considerable involvement in the project over Turkey's insistence on buying the S-400 Triumf air defense system. The US and NATO allies have asked Turkey to withdraw from the deal because Russian technicians operating the S-400 in close proximity to the F-35 could gain insights on how to detect and track the stealth fighter. Turkey has rebuffed offers of the Raytheon Patriot air defense system as a substitute.
Earlier this week, Pentagon acquisition and sustainment chief Ellen Lord said the process of expelling Turkey from the F-35 project will take a year to complete. As an original partner on the F-35, Turkey contributed money to its development and was to have bought 100 of the fighters. Turkey produces more than 900 parts for the F-35, including center fuselages, and was selected to serve as a regional overhaul center for the F135 engine. The manufacturing of the Turkish-made parts will shift to the US, Lord announced.
A Pentagon spokesman for Lord did not respond to requests for comment.