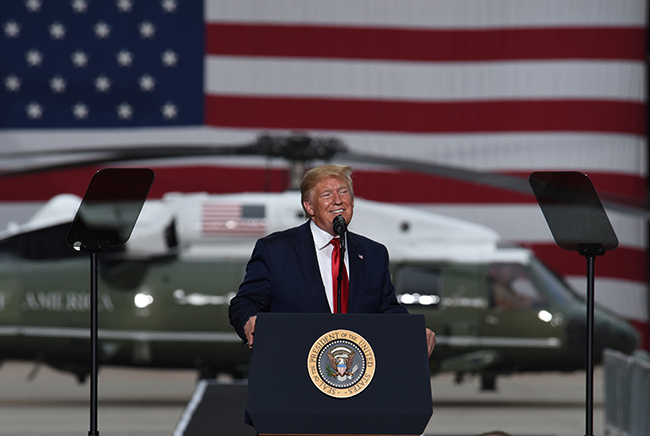 President Donald Trump addresses service members at Osan AB, South Korea, on June 30, 2019. Air Force photo by SSgt. James L. Miller.
President Donald Trump addressed American troops at Osan AB, South Korea, on June 30, the same day he became the first sitting US President to step foot in North Korea.
"We had a great meeting," Trump told hundreds of US service members and their families at Osan following his third meeting North Korean leader Kim Jong Un. "We are in this together and want to get this thing solved. It has been going on a long time."
Video: The White House via YouTube
Kim said Trump's historic crossing into North Korean territory was "an expression of his willingness to eliminate all the unfortunate past and open a new future," according to translated remarks he made at a joint press conference with Trump and South Korean President Moon Jae-in at the Demilitarized Zone.
In his remarks at Osan, Trump credited social media for making the "unexpected" talk possible, and said the US and North Korea would continue working toward a denuclearized Peninsula.
"We have a tremendous team of people that know how to do this," he said. "And we're going to put them in charge."
He also thanked the men and women of US Forces Korea for their "selfless service" and acknowledged military spouses and families in the audience.
"Let me thank every warrior in the audience who serves a righteous mission," he said. "You are fantastic. I salute you. Our nation will never forget the sacrifices of every American service member here today and those stationed throughout the world No one is tougher and no one is braver," Trump said.
Secretary of State Mike Pompeo and Trump's daughter, Ivanka, accompanied the President at Osan, according to a USAF release. Their visit to the Korean Peninsula followed the 2019 G20 Summit, which was held June 28-29 in Osaka, Japan.