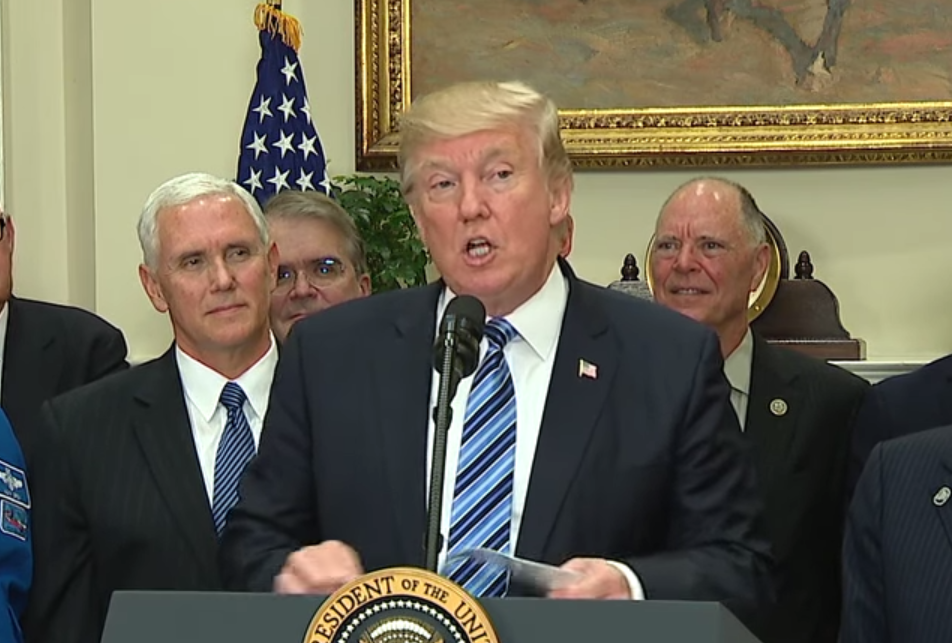 President Donald Trump speaks at a signing ceremony for his executive order establishing a Naitonal Space Council. Screenshot photo.
Wilson Brissett President Donald Trump signed an executive order re-establishing the National Space Council on Friday. The order names Vice President Mike Pence as the chair of the Council, which also includes the Secretaries of Defense, State, and Homeland Security, as well as the Director of National Intelligence, the NASA administrator, and the Chairman of the Joint Chiefs of Staff.
At a White House signing ceremony attended by retired Air Force colonel and astronaut Buzz Aldrin, Trump said the Council would serve as "a central hub guiding space policy within the administration."
The order instructs the council, within its first year, to prepare an initial report for the President, including long-term planning and recommendations for US space activities.
Trump said that, in the past, the US had been a "nation of pioneers" when it came to space. "We started," he said, "but we never completed. We stopped." Now Trump sees the Council as a way of returning the US to a place of leadership in space activities. "Today's announcement sends a clear signal to the world," Trump said, "that we are restoring America's proud legacy of leadership in space."
Congressional leaders have been divided on the usefulness of the National Space Council. Rep. Jim Bridenstine (R-Okla.) said in March that such an advisory group could be a crucial support for guiding space legislation through Congress, but Rep. Mike Rogers (R-Ala.) has opposed the move as adding an unnecessary layer of bureaucracy to the National Security Space enterprise.