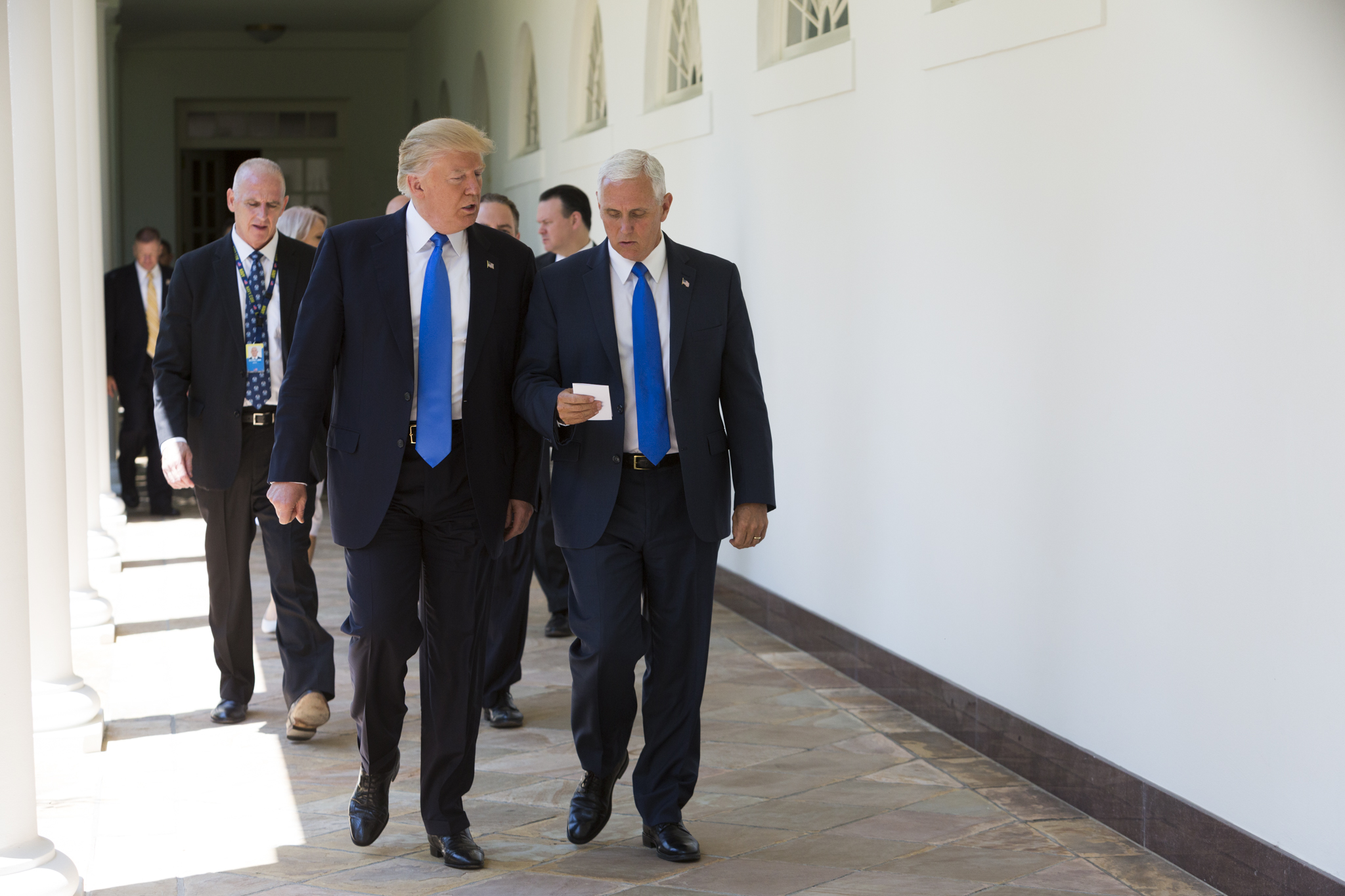 President Trump and Vice President Pence on July 19, 2017. Official White House Photo by Joyce N. Boghosian.
Brian Everstine
President Donald Trump on Wednesday announced a full ban on transgender people serving in the military, saying the burden of "tremendous" medical costs and disruption of allowing transgendered people into uniforms would be too much for the Pentagon.
Trump's announcement comes just weeks after Defense Secretary James Mattis announced he was delaying a decision on the accession of transgender individuals until the end of the year for more review and evaluation.
"After consultation with my generals and military experts, please be advised that the United States government will not accept or allow transgender individuals to serve in any capacity in the US military," Trump announced in a series of tweets. "Our military must be focused on decisive and overwhelming victory and cannot be burdened with the tremendous medical costs and disruption that transgender in the military would entail."
The announcement ends a push in the Pentagon that began on June 30, 2016, when then-Defense Secretary Ash Carter called, as part of his Force of the Future Initiative, to allow transgender people into the military as a way to recruit and retain "those who can best accomplish the mission."
Mattis, in a June 30 memo to the service Secretaries and Joint Chiefs, said he was delaying implementation of the policy until Dec. 1, 2017, for a review.
"It is necessary to defer the start of accessions for six months," Mattis wrote. "We will use this additional time to evaluate more carefully the impact of such accessions on readiness and lethality."
Mattis was on personal leave when Trump tweeted the announcement.
Trump's announcement brought immediate action on Capitol Hill. Rep. Scott Peters (D-Calif.) filed an amendment to the defense appropriations bill to bar funding for the Pentagon to implement the directive.
The announcement took many lawmakers by surprise, including Sen. John McCain (R-Ariz.), the chairman of the Senate Armed Services committee. In a statement, McCain said the President's statement is "yet another example of why major policy announcements should not be made via Twitter." The committee will continue to conduct oversight of the issue, he said.
The RAND Corp., in coordination with Carter's announcement, released a report last year on the implications of allowing transgender personnel to serve openly. The report estimated that between 1,320 and 6,630 transgender service members are in Active Duty, and that a small number of them would seek gender-transition treatment. The study estimated the military would see an increase of health costs of between $2.4 million and $8.4 million annually.
The Air Force in October released a memo outlining how transgender individuals in the service could transition, along with guidance on deployments, fitn?ess standards, and dress.