Like the other senior-most Air Force and Space Force officers, enlisted members, and spouses, Mollie Raymond has been through the gauntlet of moves and deployments that military families experience.
As the wife of Chief of Space Operations Gen. John W. "Jay" Raymond, she is constantly reminded of the responsibility and commitment to the well-being of Airmen and Guardians they have borne as a military couple.
Mollie Raymond took part in a panel discussion Sept. 21 at AFA's Air, Space & Cyber Conference along with her husband; Air Force Chief of Staff Gen. Charles Q. Brown Jr. and his wife Sharene; Chief Master Sergeant of the Air Force JoAnne S. Bass and her husband Rahn; and Chief Master Sergeant of the Space Force Roger Towberman and his wife, Rachel Rush.
Each iterated a common theme: The well-being of Airmen, Guardians, and their families is tantamount.
"This summer, Jay and I had the privilege to attend BMT [basic military training] graduation, and it was the first graduating class of Guardians," Mollie Raymond told the audience.
Afterward, the Raymonds stayed to have photos taken with the families and the new graduates, who only months before had just finished high school—including a young woman.
"We were standing and having pictures with her family. Her little brother, who was about 10, looked up at Jay and said, 'Please take care of my sister,'" she recounted.
"Please think of your Guardians and Airmen as your sister," Mollie Raymond told the audience. "You can think of Jay and I as your grandma and grandpa."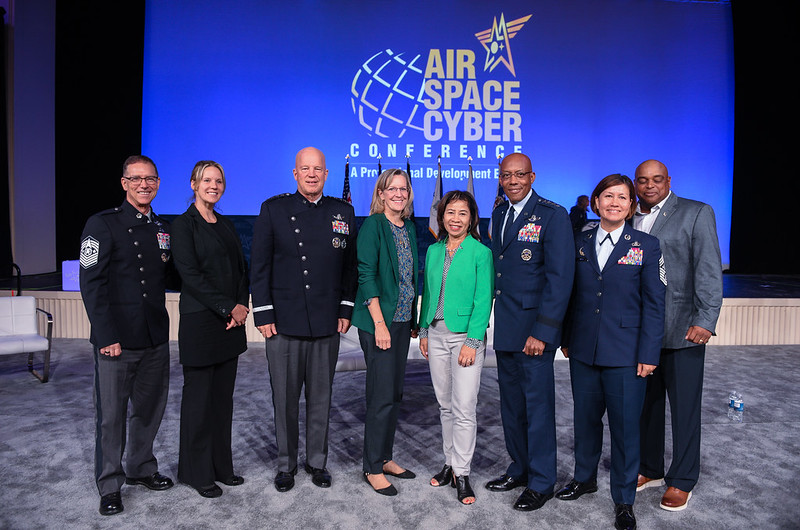 Responding to questions by moderator Lt. Gen. Caroline M. Miller, the deputy chief of staff for manpower, personnel, and services, each panelist shared their perspective on quality-of-life issues that matter the most—with spouse employment, child care, and education at the top of the list.
While nobody could predict the COVID-19 pandemic, rise in inflation, and other worldly uncertainties that emerged over the past couple of years, Gen. Brown did address the efforts underway to ease the burdens Airmen and Guardians face. He also noted, however, that more needs to be done.
"We did make some adjustments to our housing allowance and basic allowance for subsistence, but that doesn't do it all," Gen. Brown said.
The Air Force is working with the Office of the Secretary of Defense to examine local rental markets, Gen. Brown said, to determine how quickly they're changing and to formulate a more adaptable system of addressing changes.
"Just this past week, there's been some engagement within OSD to take a look at some of our families—particularly those at the lower end of the pay scale," Gen. Brown said. There is, he added, "a potential for a one-time outlay of money to help support those families, to really get them back on track."
Meanwhile, Sharene Brown told the audience that Airmen and Guardians should take advantage of the resources already in place, such as the base Military Family Resource centers and MilitaryOneSource on the web.
"We have key spouses out there," Sharene Brown said. "You just don't know what kind of programs they might have available. Contact them. Get in touch with them. They might be trying to reach out to you."
Sharene Brown also expressed encouragement about the Kinder Spot app pilot program, which would address the child care backlog by giving military families an avenue to sublet their spaces to other military families when they are not in use. The pilot is now underway, she said, at Luke, Davis-Monthan, Anacostia-Bolling, Andrews, MacDill, Maxwell, Malmstrom, Peterson, and Shriever Air Force and joint bases. The hope is the trial will provide leaders with enough information to implement the program department-wide.
"Bear with us while we roll this program out," Sharene Brown said. "We want it to be in the right direction and not have to go back and make changes so that it would be correct."
She also mentioned a home child care pilot program now underway in Hawaii, the national capital region, Norfolk, Va., San Antonio, and San Diego.
Chief Master Sergeant of the Air Force JoAnne S. Bass talked of the adjustments her husband Rahn, a retired Army first sergeant, had to make when he retired and transitioned into the role of military spouse.
"When I was deployed, you were raising our two girls, and they had ponytails on all sides of their heads," the chief said, looking at her husband. "I also learned you guys ate at Pizza Hut a lot."
Rahn Bass said he learned quickly to rely on female fellow spouses to take care of the girls' hair. Jokes aside, he then stressed the importance of staying connected as a family.
"It just requires that honest conversation with your significant other and really knowing that individual. When that service member deploys and there are kids in the house, you are that relief," he said. "Know each other's strengths and weaknesses."
As the husband of a psychiatric nurse, Chief Master Sergeant of the Space Force Roger A. Towberman harbors no illusions that as important as his job is, it isn't any more or less so than his wife Rachel Rush's.
"It all begins with that understanding, and embracing that truth," Towberman said. "We're a team, and we do everything together. You find that equilibrium, that harmony, and I don't know that they'll ever be balanced. It's crazy schedules [a nurse works], and we just get out of sync."
It comes down to finding what Towberman called "perfect moments," and "amplifying them."
"We navigate this pretty well because, ultimately, we're very candid and honest with each other," Rush said. "We tell each other what works for us and what doesn't. I think a lot of times people forget that each person has a unique mind, and that is a product of DNA and a lifetime of experiences good and bad."
Finding someone to share peace and happiness in life, Rush said, is essential.
As the first top officer in the nation's youngest service, Gen. Raymond told the audience the sheer newness alone creates a layer of stress on military families.
"We're building new career paths, going to bases they may have never gone to before," Gen. Raymond said.
Both he and his wife are working to mitigate the force's overall anxieties by communicating. Both write monthly newsletters.
"Mollie's get rave reviews. Mine is like, 'delete.' So if you want to read anything, read hers," the general quipped.
Moving past the humor, Gen. Raymond noted that many of his military and civilian operators are on 24/7 shifts. Daycare becomes a significant problem, then. Capacity and the inability to hire workers is a nationwide problem, he said, adding that the situation at Peterson and Schriever Space Force Bases in Colorado is particularly challenging. And like the other services, finding and sustaining spouse employment weighs heavily. He hopes job fairs for both child care workers and spouses could help alleviate both issues.
Full context of these quality-of-life issues hit Gen. Raymond squarely, he said, when he pinned on his first star. He told the audience he wishes he had kept his family needs in mind earlier in his career.
"We moved five one-year moves in a row. We probably didn't have to do that," Gen. Raymond said. "There are ways we can help take care of your family and you still can have a spectacular career.
"I would just tell you," the general said: "You're allowed to take care of your family."