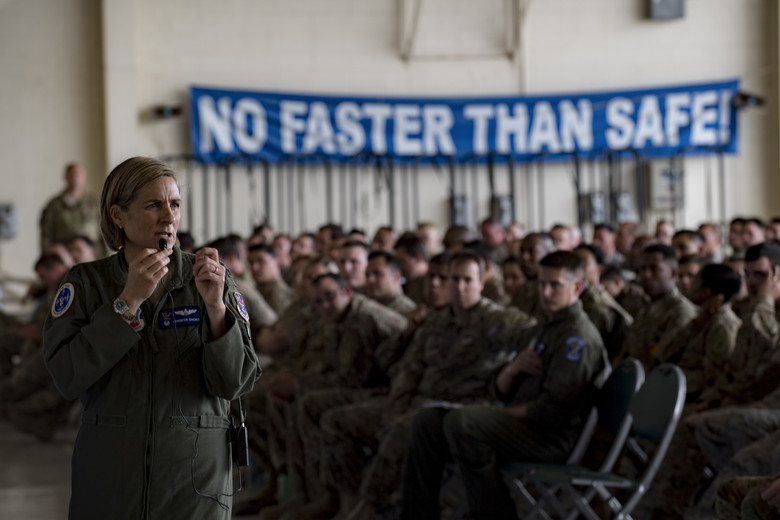 Col. Jennifer Short, 23d Wing commander, addresses airmen from Team Moody's operations and maintenance units during a one-day operational safety review, May 14, 2018, at Moody AFB, Ga. USAF photo by SrA. Daniel Snider.
Top Air Force leaders are reviewing lessons learned from the service-wide safety stand down in order to push out changes needed from the top down, while some units are already moving forward on their own safety plans.
Air Force Chief of Staff Gen. David Goldfein said Tuesday that he received the Air Force Safety Center's report on information gathered during the one-day stand down he directed in May. All assessments have been completed and processed, save for "a couple of Guard units."
"My intent (is) to determine what Air Force-level actions we've got to take, from the Chief and the Secretary, what are major command- and unit-level actions we should take," Goldfein said, adding the report should be rolled out publicly in the near future.
Operators and commanders at the lowest levels throughout the Air Force and up to leadership have already begun to take some actions based on what they had heard during the stand down and related discussions.
While there were some "consistent themes" throughout discussions in units throughout Pacific Air Forces, the largest takeaway was the "safety-minded consciousness" of airmen as they face a very high operations tempo, PACAF Deputy Commander Maj. Gen. Russell Mack said in a recent interview. While airmen work hard to maintain the tempo, it is "all about making sure things are done effectively and safely. They know that, they drive to that."
Airmen in 5th Air Force, in their stand down, showed they want to be competent and confident in what they are doing, through operational risk management and ensuring they are holding each other accountable, 5th Air Force Chief of Staff Col. Jean Eisenhunt said in a recent interview.
At the wing level at Yokota AB, Japan, some changes are already taking shape. Col. Kenneth Moss, commander of the 374th Airlift Wing, said in a recent interview that he has directed his wing to make the stand down a quarterly event, worked into the regular flying schedule to ensure no change to operations. During the original stand down, Moss brought "all of our maintenance and ops folks" into Yokota's Officer's Club and he asked for their help in "identifying things leadership isn't seeing or not aware of because of the distance from the flightline," he said. He said this prompted an "open conversation about what everyone is seeing."
Maj. Cerre Dolby, a C-130J pilot with the wing at Yokota, said while her unit has always had a safe atmosphere and defined risk management procedures that they go through before they fly every time, the stand down served as a general check up for "what can we do better."
The down day came as the 199th Fighter Squadron was deployed? at JB Pearl Harbor-Hickam, Hawaii. Much of the squadron's F-22s and airmen were deployed to South Korea to fulfill a security package requirement. They were able to work the stand down into a break in an exercise, and had their safety guys talk through the recent Class A mishaps F-22s have experienced, and discussed lessons learned from those incidents, a 199th FS pilot said during a recent interview. The group went around to talk about what potential accidents could come next based on the recent mishaps, and how those could be avoided.
The 535th Airlift Squadron at Hickam is exploring making specific changes to how it flies following its meeting. This C-17 squadron's discussion focused on balancing maintenance against operational needs to ensure their jets are safe to fly, and steps to mitigate the impact of an intense operational tempo, the squadron's commander Lt. Col. Chad Cisewski said during a recent interview at the base. The crews focused on finding a balance between minor issues that are acceptable for flying, and "some things we have to stop and fix before we go down range."
The unit is regularly tasked with long-haul flights that end up being 24-hour duty days for the aircrew. The squadron is finding ways to mitigate these risks and how they can better prepare for those missions. For example, giving crews more heads up before they need to leave so they can adjust their circadian rhythm in order to be better rested before flying. Additionally, the squadron is looking at adding a fourth pilot to the current three p?ilot minimum needed for a 24-hour duty day.
"It's kind of a tax on the squadron, a step above and beyond, but when we can do it, it's absolutely worth doing it," Cisewski said.