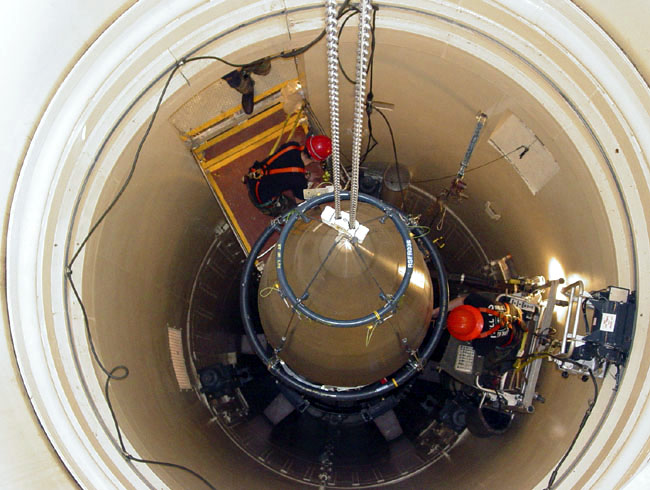 The ranking member of the House Armed Services Committee on July 20, 2017, questioned whether the US can afford to modernize all three legs of the nuclear triad, saying ICBMs might not be necessary for national security. A missile maintenance team at Malmstrom AFB, Mont., removes the upper section of an ICBM at a Montana missile site in August 2014. Air Force photo by Airman John Parie.
House and Senate Democrats this week expressed concern about the Trump administration's ongoing Nuclear Posture Review and raised questions about the Pentagon's plans for modernizing the entire nuclear triad.
Speaking at the Center for American Progress in Washington, D.C., Rep. Adam Smith (D-Wash.), ranking member of the House Armed Services Committee, said annual defense budgets could quickly rise "up to a trillion dollars a year"—a significant increase over the $696 billion" Fiscal 2018 defense authorization bill passed by the House last week.
His biggest issue with the Pentagon's nuclear modernization plans, however, is "the absence of a strategy." Smith said the needs in this area will always outstrip available funds, but the Department of Defense has been unable to prioritize requirements in light of this reality.
"In a defense budget of even $600 billion, our nation ought to be able to meet our national security needs if we're intelligent about how we do it," he said.
In trying to create more efficiencies in national defense, Smith said nuclear modernization represents "the one place where we can save money the most clearly." The way to get there, he said, is by "having a better deterrent strategy." Otherwise, the US risks returning to "an arms race with Russia."
"A more focused strategy" could create a credible deterrent while reducing the nuclear arsenal, said Smith. "Personally I think we need to look at whether or not the triad still makes sense. Do we need the ICBMs?"
A balanced deterrent, Smith said, also includes funding for capabilities in cyber defense and special operations, as well as the traditional military services. In addition, it would "use partners throughout the world to help meet our national security needs," said Smith, who noted that a significant part of that strategy is "a limited nuclear deterrent that meets our national security objectives and fits our budget."
Vice Chairman of the Joint Chiefs of Staff USAF Gen. Paul Selva told Congress in March that modernizing "all three legs of the triad" is the Joint Chiefs' top priority because "nuclear weapons pose the only existential threat to the Unites States." At an AFA Mitchell event in June, US Strategic Command boss Gen. John Hyten urged Congress "not to slow down any element of the triad." If the US decelerates its nuclear modernization efforts, he said, "I'm worried that our nation won't be able to go fast enough to keep up with our adversaries any more."
In the Senate, 22 Democrats signed a letter to key administration officials requesting that the Nuclear Posture Review "produce a publicly available document" and that it "reaffirms our nation's long-standing commitment to the eventual elimination of nuclear weapons." The senators also warned that "the review must maintain our obligations under existing Senate-ratified arms control treaties" and "maintain our efforts to reduce the role of nuclear weapons."
"I urge the Trump administration to reject calls for new nuclear weapons," said Sen. Dianne Feinstein (D-Calif.) in a statement. Feinstein led the effort to write the letter with Sen. Edward Markey (D-Mass.), who said he hoped that a transparent Nuclear Posture Review could "reaffirm the position of the United States as the global leader in nuclear arms control and nonproliferation."