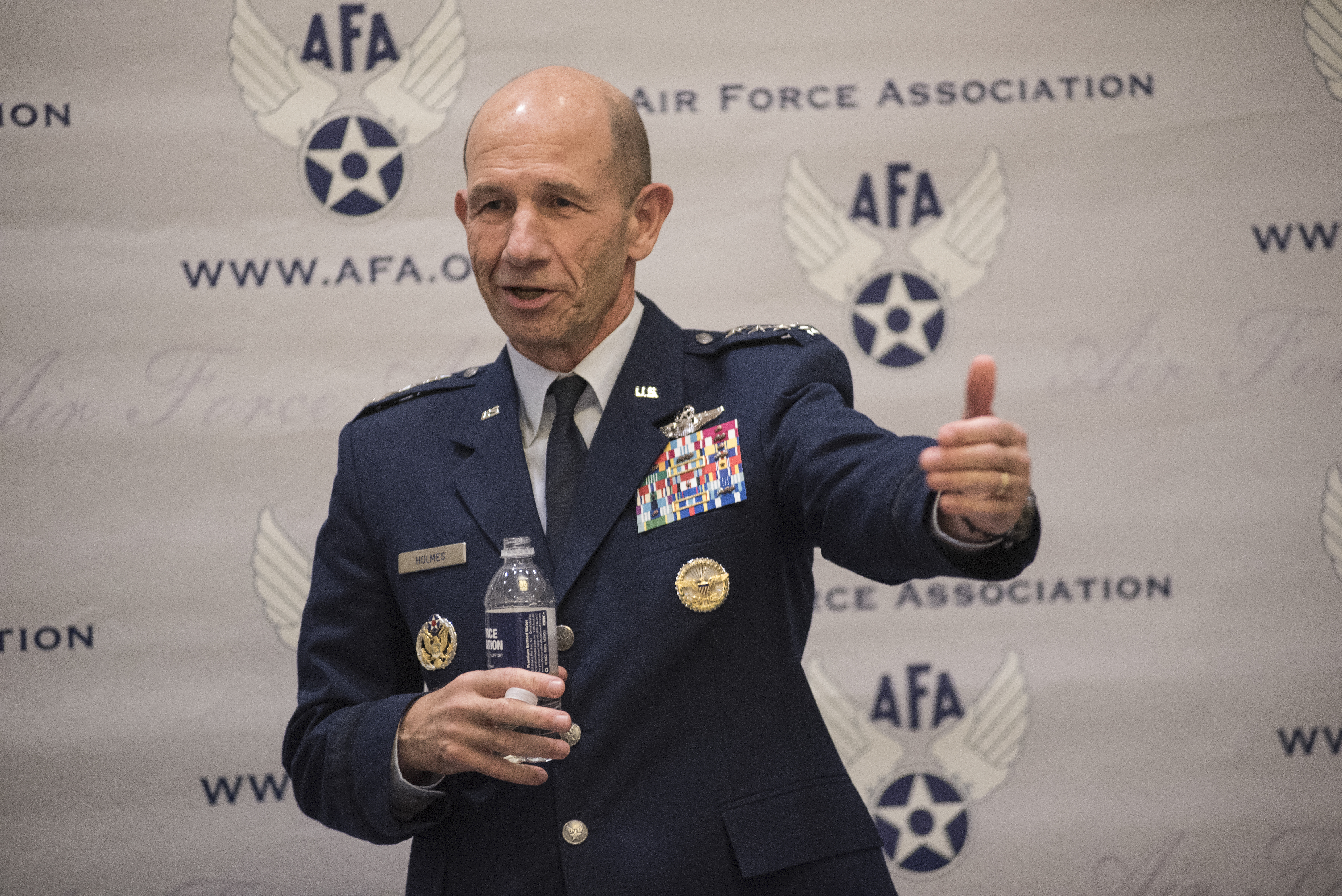 Air Combat Command chief Gen. Mike Holmes told Air Force Magazine he "really" needs to get the F-35 buy rate to 100 a year, byt budgets won't let that happen. Above, he speaks during ASC17. Staff photo by Mike Tsukamoto.
The Air Force isn't going to get its buy rate on the F-35 above 60 by 2022, as had been hoped, service and program officials tell Air Force Magazine.
"I really need to get it up to 100 a year," Air Combat Command chief Gen. Mike Holmes said, but projected budgets won't allow it. Even at the previously-planned rate of 80 a year by 2022, "I would be retiring (F-35s) at the same time I'm buying new ones," Holmes said. At 60 per year, USAF would finish buying F-35As in the 2040s. Holmes said he doesn't know yet how USAF will stock its fighter squadrons in a timely manner. Joint Strike Fighter Program Office director VAdm. Matias Winter, in an interview, said there's been no reduction in the planned buy of F-35s for the Air Force, and the objective remains 1,763 airplanes.
USAF and all the other services and international partners "are committed to the program of record quantities," something that was confirmed by Defense Secretary Jim Mattis in "early summer," Winter said. Mattis submitted a report demanded by Congress called the Strike Fighter Mix study, which certified the F-35 and F/A-18 buy quantities are still valid, given their planned usage.
In addition to USAF's 1,763, the Marine Corps will buy 353 short-takeoff/vertical landing F-35B models, and the Navy and Marine Corps will split a buy of 340 carrier-capable F-35C models, he said.
"The profile that you saw go from 80 to 60" for the Air Force "across the FYDP … is budget-driven, not capacity- or warfighter-driven," Winter said. Despite USAF's slow road to equipage, production is due for a big upswing with annual buys soaring to 160 a year over the next five years. "We'll go from 240 airplanes in the field today to almost 1,000 aircraft in the field in five years," he said.
Air Force top uniformed acquisition chief Lt. Gen. Arnold Bunch, in a press conference at ASC17, said, "We'll continue to buy as many as we can because I agree with [Gen. James Holmes]: We want to buy as many as we can, as quickly as we can, and get them out into the field. Hopefully, we'll be able to get into a situation where we'll be able to go higher than 60, but I don't know that that's going to happen in the near term." Asked if USAF's slow ramp up would affect costs, Bunch said "it could, but we haven't seen the cost jump" due to the slower-than-planned ramp already seen.
"We continue to work with Lockheed Martin and our other contractors to keep costs under control," Bunch added. He noted there's a block buy coming up, and USAF is negotiating a range of numbers of aircraft per lot "because our budgets are not always set and we have to have some flexibility to meet other, competing requirements."