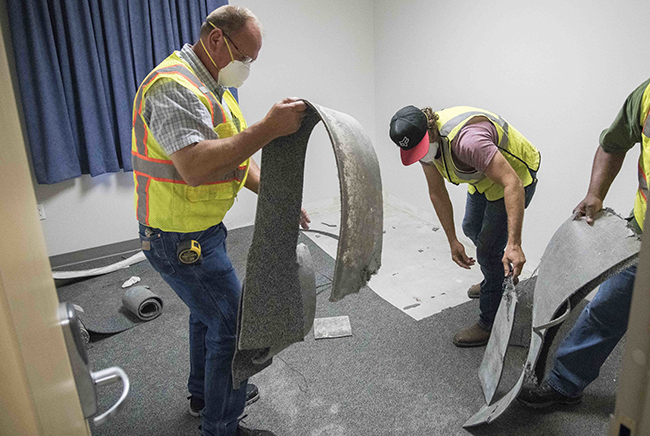 Members of the 502nd Civil Engineering Group remove carpet from a dorm room impacted by mold on Aug. 1, 2019, at JBSA-Lackland, Texas. After an assessment, remediation steps include ensuring heating, ventilation, and air conditions systems are properly working, as well as installing dehumidifiers, exhaust and ceiling fans. In order to reduce mold and humidity challenges, carpeting is being replaced with vinyl planking. Air Force photo by Sean Worrell.
The Air Force recently found evidence of mold and moisture in dormitories at five bases during inspections of 17 domestic and overseas installations, following recent reports of a widespread mold problem at JB San Antonio-Lackland, Texas.
Signs of mold and moisture were discovered at JB San Antonio and Sheppard AFB, Texas, Barksdale AFB, La., Al Udeid AB, Qatar, and Kadena AB, Japan, service spokeswoman Ann Stefanek told Air Force Magazine. The Air Force found mold in about 34 percent of dorms that participated in the spot checks, which finished Aug. 9, she said.
The service chose to look at installations that sit in hot, humid climates that foster mold, and at those for which it received feedback from airmen. Mold can also pop up in crowded dorms where near-constant showers generate a lot of moisture, Stefanek said.
The checks aimed to identify what kinds of mold issues airmen face, to figure out which of those issues could stem from systems like heating and cooling, to communicate with commanders and building owners about their own hurdles, and to see where leaders can help with remediation, she added.
In some dorms that need more extensive work, the Air Force put moisture-sucking fans into buildings while airmen wait for longer-term fixes.
Not all cases were severe, Stefanek noted. Some situations could be remedied by teaching airmen how to check for early signs of mildew and to properly clean their living spaces.
No issues were found during inspections at:
Charleston AFB, S.C.
Eglin AFB, Fla.
Ellsworth AFB, S.D.
Holloman AFB, N.M.
JB Langley-Eustis, Va.
Keesler AFB, Miss.
Kunsan AB, South Korea
MacDill AFB, Fla.
Maxwell AFB, Ala.
Moody AFB, Ga.
Robins AFB, Ga.
Seymour Johnson AFB, N.C.
Commanders at bases affected by mold put in work orders to address building problems or moved airmen and their families if needed, Stefanek said. Leaders will "will continue inspections and are actively engaged in addressing the problem," she added.
The spot checks wrapped up after Air Force Times reported in July that JBSA-Lackland had relocated about 200 residents while it battled "overwhelming mold problems" in some of its dorms. More airmen would likely need to move, a base official said at the time.
JBSA and 502nd Air Base Wing Commander Brig. Gen. Laura Lenderman held three meetings across the installation from Aug. 13-15 to address the mold issue, according to a wing release. The joint base also recently launched a website dedicated to documenting mold remediation efforts and centralizing related resources for airmen and their families.
"We have been facing these challenges for many years," Lenderman told airmen at the Aug. 13 meeting held at JBSA-Fort Sam Houston, Texas. "But this is a tremendous moment in time where we can actually get things done."
Stefanek said the service is sharing the lessons it learned from JBSA and plans on teaching airmen how to prevent mold, how to handle maintenance work orders, and who they should contact to make sure mold issues are quickly remedied.
"In the longer term, we will analyze the data to help inform actions needed to identify, mitigate and resolve the issues, so we can provide our airmen safe and healthy living environments," she said. "The analysis will help identify root causes for mold issues, with timelines to be scheduled based on the severity of the issue."
The military is also battling broader issues within its privatized housing that have spurred changes like a Resident Bill of Rights.
This story has been updated to reflect that signs of mold and moisture were found in approximately 34 percent of all inspected dorms.