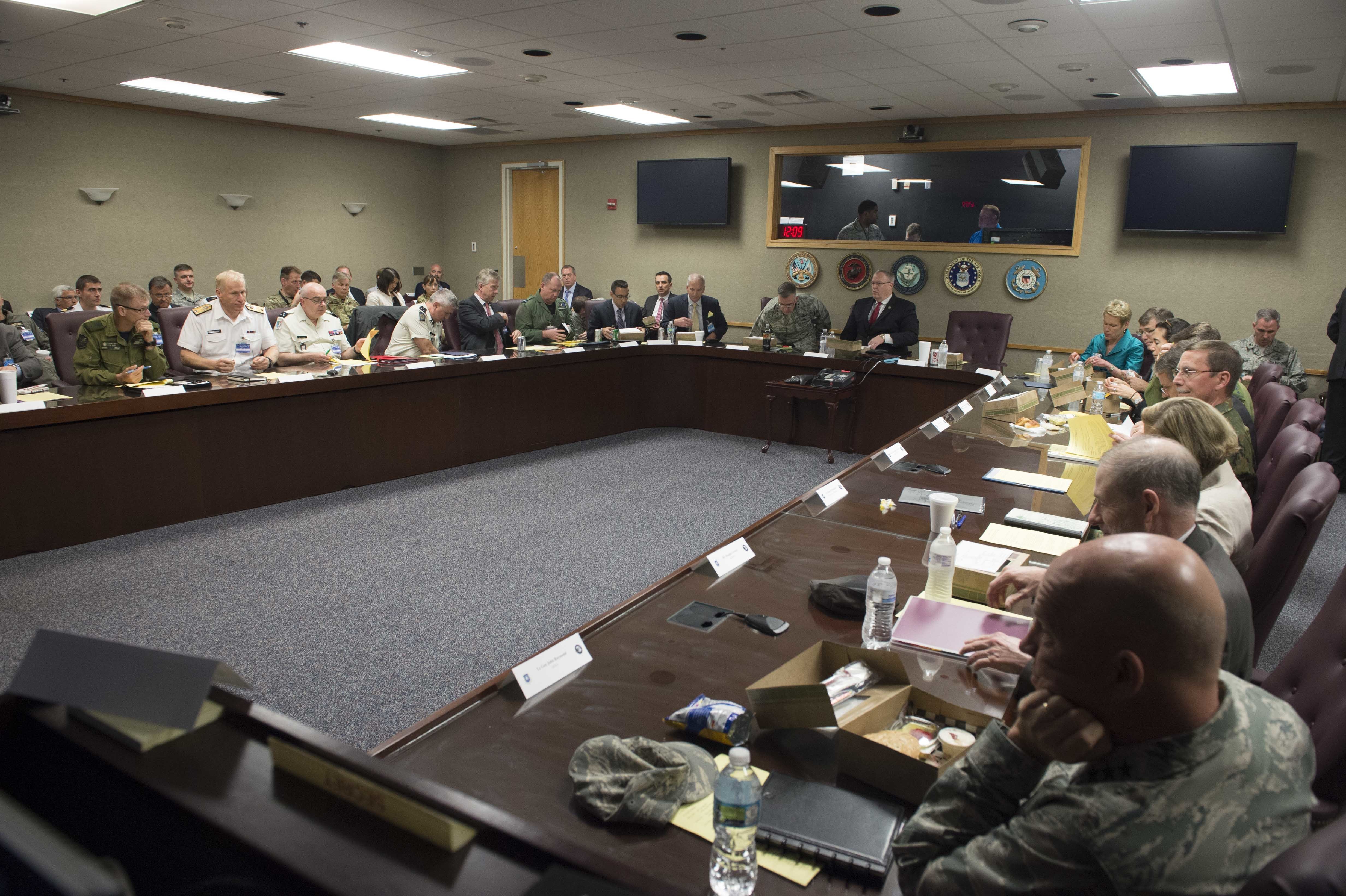 Deputy Secretary of Defense Bob Work is briefed on the Schriever Wargame 2016 at the LeMay Center Complex on Maxwell AFB, Ala., May 25, 2016. DOD photo by Navy Petty Officer 1st Class Tim D. Godbee.?
It's a "new day" for space operations, Maj. Gen. Joseph Guastella, said Air Force Space Command's director of integrated air, space, cyber, and ISR operations last week.
Speaking March 2 at an AFA Mitchell Institute event on Capitol Hill, Guastella stressed the increasing role of space operators as war fighters rather than support elements. "We are at the joint warfighting table," he said. "We're not sitting in the back seats, in the cheap seats, anymore. We are at the table."
He pointed to increases in intelligence capabilities across the command, efforts to add a space analog to the controllers that handle military rather than civilian aircraft, advances in simulators to allow space operators to train for contested environments, virtual Red Flag-like training exercises, and the Schriever Wargame, which provides the opportunity to simulate future or potential space capabilities.
He also pointed to the benefits of working with allied forces, noting that the Coalition Space Operations Center will open at Vandenberg AFB, Calif., this summer.
The CSpOC will bring allies and partners together with varying space capabilities to plan for war in space. "We're using examples from war fighting in the air domain and we're bringing it to space," said Guastella. "It's real, it's happening," he added.
Guastella said the Air Force is in the midst of a "cultural shift" in which the Air Force is "baking in the war fighting culture into the new domain of space."
The shift is not just within Space Command, but joint warfighters who don't know much about space must "learn about it, to understand the domain just as well as they do their traditional domains of war fighting."
He said he now sees joint force leaders advocating for space capabilities in the same way Navy admirals used to push for USAF ISR, fighter, or bomber capabilities.
"This isn't something that's happened before," he said
Guastella said the joint force also is critical to the US' ability to maintain space superiority.
"We may need to prioritize our intelligence collection for terrestrially related space assets. We may need to prioritize our targeting to help the space fight. It's a team effort, is what I'm trying to say, and that's the new dawn," he said.
"That's the difference that has happened in the space and war fighting culture. The advocacy across the joint force for space is more than it has ever been."