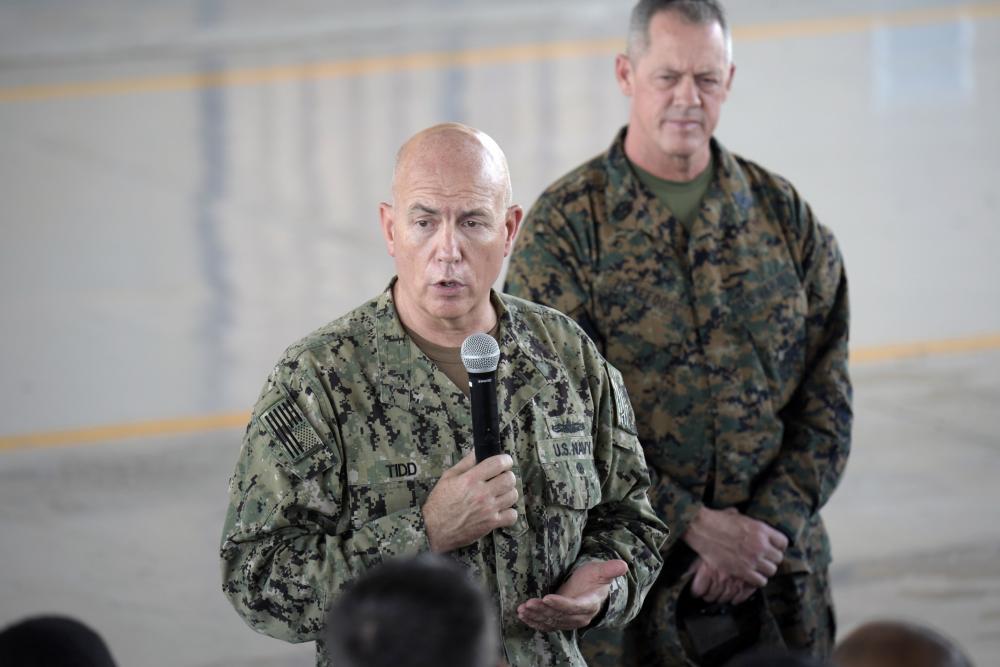 Navy Adm. Kurt W. Tidd, commander of Southern Command, speaks with service members and civilian personnel at Soto Cano AB, Honduras, Nov. 22, 2017. Army photo by Martin Chahin.
Like all combatant commanders, the head of US Southern Command wants more assets in theater, and he's willing to get creative to get them.
"Our bumper sticker is, 'If you have something new to try, try it here,'" SOUTHCOM boss Adm. Kurt Tidd told reporters Thursday in Washington, D.C. "We've had some good luck in bringing out some developmental programs that perhaps aren't quite ready for deployment to a higher risk theater. We're very interested in those types of things."
Tidd said it's "very much a work in progress," but the command regularly partners with Defense Department labs, which are looking to apply things like artificial intelligence and machine learning in the field. The goal is to take manpower-intensive processes "created to deal with conflicts in other theaters" and find significantly more efficient ways for them to work, and then develop that in a way that enables the US to easily share information with its partners, he said.
"Because that's an interest to other theaters as well, we can be kind of a test platform for breadboard types of capabilities to try some things out on a smaller scale, but still a meaningful mission, and then feed that into development," he said.
When asked if the command was working closely with the Air Force and Army as the services explore ways to improve multi-doma?in command and control, Tidd said he's asked USAF Chief of Staff Gen. David Goldfein and Chief of Staff of the Army Gen. Mark Milley what they are looking for, and whether there was anything specific they were ready to "take on the road."
"Honestly, they are still trying to take it from the conceptual to the actual hardware, but those are the kinds of things we'd be very interested in hearing more about."