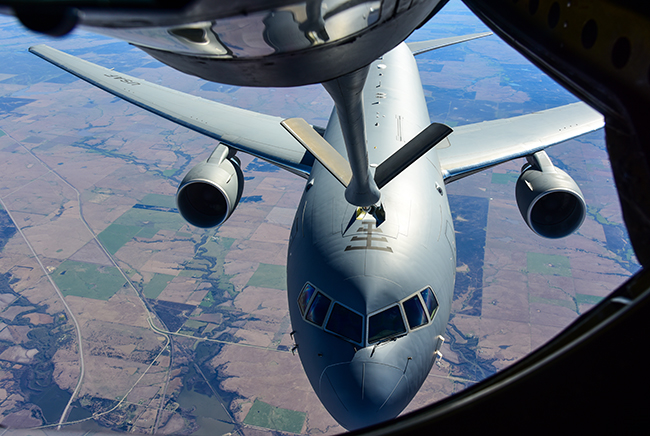 A KC-46A Pegasus from McConnell Air Force Base approaches to receive fuel from a KC-135 Stratotanker on April 8, 2019, over Kansas. Air Force photo by A1C Skyler Combs.
New tanker allocation software that aims to make Air Mobility Command's job easier is entering real-world testing this week, according to officials with the Air Force's operational energy office.
The project, called "Magellan," follows an earlier initiative named "Jigsaw" that revamped the aerial refueling planning process at the Combined Air Operations Center at Al Udeid AB, Qatar. It's the operational energy office's first time venturing into software development without the help of Kessel Run, the service's group in Boston that creates new tools for the AOCs and helps train new coders.
For less than $2 million, Magellan aims to automatically crunch data on how many airplanes the Air Force needs for training, deployments, and maintenance, plus where around the globe they are at the moment, and figure out accordingly where they should go next. Once platform and personnel data are matched up, then coders can move to automating how tankers are scheduled.
"The goal of Magellan is to optimize how the Air Force allocates mobility aircraft for missions over extended time periods, which will give operational planners more visibility for long-term planning," the service said in April. "This will enable planners to deconflict recurring missions and high-demand periods, and eventually to optimize the pairing of tanker aircraft with [receiver aircraft]. It will also increase planning flexibility, enabling planners to more easily and quickly adjust plans when priorities change."
That means abandoning paper and computer spreadsheets to instead build automated databases that help plan tanker missions.
"Having a baseline tool in the allocation process now allows you to grab all the data that's part of that allocation process, knowing where your tankers are, and then start helping break down by location, how do you optimize the schedules" Roberto Guerrero, deputy assistant secretary of the Air Force for operational energy, said in a July 2 interview. "If we're using our tankers more efficiently in theater, then we'll either have more combat effects in theater or we'll have more assets at home that can be provided for training."
Guerrero, who leads efforts to use the Air Force's fuel and other energy resources more efficiently, said Magellan isn't driving toward a particular goal for saving money on fuel or boosting training assets. But the Air Force looks to Jigsaw as a possible baseline: The program frees up multiple tankers and crews to focus on planes like the B-52 that have greater refueling needs than other platforms. C4ISRNET also reported in January that Jigsaw saves $12 million a month in fuel costs.
Iterative software development by blue-suit coders and the Silicon Valley-based company Pivotal in collaboration with warfighters could branch out to tackle cargo loading or contingency planning next. The service also plans to export regionally modified versions of Jigsaw to AOCs outside of Qatar, such as South Korea or Hawaii, in case tanker operations pick up in the Pacific theater, Air Force officials have said.