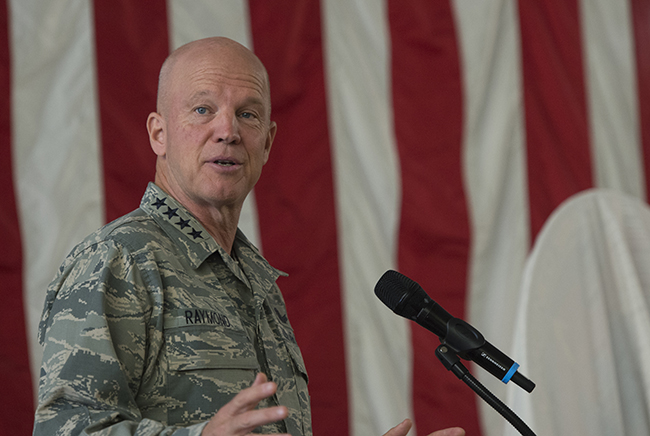 Air Force Space Command chief Gen. Jay Raymond presides over a ceremony establishing the Combined Space Operations Center at Vandenberg AFB, Calif., July 18, 2018. Air Force photo by Dave Grim.
The Senate Armed Services Committee endorses a Space Force in its version of the 2020 defense policy bill, becoming the first defense oversight panel to explicitly greenlight the proposal this year.
Under the proposal, Air Force Space Command would transform into the Space Force, changing from a major command to the sixth armed service and bringing existing AFSPC staff along, a committee aide told Air Force Magazine.
Senators approved the $750 billion authorization bill by a 25 to 2 vote in a closed markup May 22.
While legislative text will not be published until June, a senior committee aide told reporters May 23 that in the weeks following an April 11 Space Force hearing, lawmakers became comfortable with the idea of establishing a sixth military service within the Department of the Air Force.
"There was a little concern at the beginning about what we were trying to fix," the aide said. "We had a great hearing on that and I think after that we decided there were basically three areas" that demanded more scrutiny: Acquisition, treating space as a warfighting domain, and growing bureaucracy. The summary bars the Pentagon from adding more military or civilian personnel to man the Space Force.
"The use of existing personnel within the Air Force will provide the requisite staff for the establishment of the United States Space Force," a May 23 summary of the bill stated.
The Trump administration has estimated a sixth service will cost $2 billion over five years and include 15,000 to 20,000 staff. CBO estimated the move would cost DOD $1.1 billion to $3 billion in one-time expenses as well as $820 million to $1.3 billion a year for 4,100 to 6,800 new overhead and management positions.
If confirmed as expected, Air Force Space Command chief Gen. Jay Raymond will lead both AFSPC and US Space Command. If the SASC plan is enacted into law, AFSPC would then become the Space Force and Raymond would serve as its first commander, while remaining chief of USSPACECOM. After one year in both roles, the jobs would be split. This follows the approach used at US Cyber Command and the National Security Agency, where Army Gen. Paul Nakasone is simultaneously leading both organizations.
Raymond's confirmation hearing is tentatively slated for June 5, when he is expected to testify alongside Chris Scolese, who is nominated to lead the National Reconnaissance Office.
"We want to make that happen as fast as possible because we need him," a staffer said, referring to Raymond. "He's one of the best that they've got over there, and so we're anxious to get him in front of the committee and have him tell us what he thinks of what we did in the bill and also tell us how he's going to stand up US Space Command if he gets confirmed."
During the first year after the new service is created, the Space Force commander would report to the Air Force Chief of Staff, but in the second year, the Space Force commander will report directly to the Air Force Secretary. The new Space Force commander would not be a full member of the Joint Chiefs of Staff for the first year, but instead only attend when space-related discussions were on the agenda. Similarly, it wasn't until the mid-1970s that the Marine Corps Commandant became a full member of the JCS.
Depending on how much legwork is done before the bill is passed, a committee aide said, the executive branch could stand up the Space Force immediately upon enactment. The legislation includes provisions that kick in after one year of establishment, but doesn't otherwise restrict progress toward creating the sixth service. It also meets the Defense Department's request for about $72 million to begin the process.
"I think it's responsible to take this thing at a pace that makes sense, so we give them a year to get this all together and stood up and figured out," a staffer said. "They may want to tweak something within that year, we don't know what they're going to do. If you even look at their original proposal, they themselves ask for a lot of authority to take a lot of time to figure this all out."
The proposal would also add an assistant defense secretary for space policy in the Office of the Secretary of Defense, but does not include an under secretary of the Air Force for space to oversee the Space Force, as the Pentagon requested. That also follows the Marine Corps model: The Marine Commandant and Navy Chief of Operations both report to the Secretary of the Navy. Senators called for a new Space Acquisition Council, and to change an existing Air Force space adviser position to focus on space acquisition and systems integration.
The National Reconnaissance Office would remain separate from the Space Force, though SASC wants to use the spy office as a model for speedy acquisition and low bureaucratic overhead.
As of now, the Senate's language only discusses realigning existing Air Force manpower under the Space Force, but does not immediately address what happens to space personnel in the other services.
"You just can't do everything right away," a committee aide said. "We want them to evaluate and make sure they get it right before we tell them to go do it."
Committee staff have the same mindset when it comes to the Space Development Agency, saying that the mark does not weigh in on the new organization's intent to pursue a network of hundreds of communications and missile-tracking satellites in low Earth orbit. It's too early to judge, they said: SDA needs to get up and running first.
If both congressional chambers agree to establish a Space Force and the bill becomes law, the Senate wants the Pentagon to report to Capitol Hill every month on their progress. That oversight could also help contain costs, a staffer said.
House appropriators, the only other defense oversight group that has released its bill so far, are not on the same page. Their bill would give the Defense Department just $15 million to continue to study and refine its Space Force plans. It would block DOD from spending any money to transfer personnel, property, or resources to a new service.
"While the committee appreciates the intent of the proposal, the plan leaves many unanswered questions and lacks important details and supporting analysis to justify the proposed size, scope, cost, roles, and authorities for the new military service," according to the House Appropriations Committee bill report. "Further, the committee notes that it is fully within the department's current authority to make space a higher priority without creating a new military service and is not persuaded that the specific plan proposed justifies the additional overhead cost and disruption."