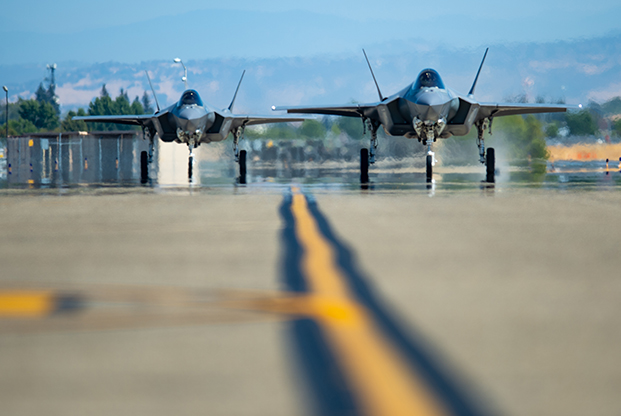 Twp F-35As taxi down the runway at Mather Airport upon arrival at the California Capital Airshow on Sept. 20, 2018, in Sacramento, Calif. Raytheon is hoping to upgrade the software in its JPALS in time for a possible USAF F-35A landing test at Edwards AFB, Calif., this fall. Air Force photo by SrA. Alexander Cook.
Raytheon is spending its own money to upgrade the software in its Joint Precision Approach and Landing Systems (JPALS), retired US Navy Rear Adm. C.J. Jaynes, executive technical advisor for precision landing systems at Raytheon Intelligence, Information, and Services, said on Thursday.
The company is currently trying to sell the Air Force on the idea of using JPALS, which uses GPS to help aircraft safely land on aircraft carriers and amphibious assault ships regardless of weather conditions or sea states, to support its expeditionary operations. More specifically, it hopes that US Air Forces Europe will utilize it for dispersed operations and US Pacific Air Forces will use it as part of its adaptive basing strategy. "The system enhances operations in harsh environments, giving aircraft capability when it comes to precision landings in challenging terrain conditions," the company's website notes.
All three F-35 Lightning II fighter models—including the F-35A—are JPALS-capable, and the company is currently in talks with USAF about the possibility of conducting an F-35A landing test at Edwards AFB, Calif., this fall.
JPALS currently "mirrors the ship system, which is single-runway, single-approach," Jaynes explained. "We want to make … that one a multiple-runway, multiple-approach system."
Jaynes said the goal is for the system to ultimately have multi-aircraft capability, for it to allow aircraft to land up to 20 nautical miles away from a ground station, and for it to accommodate more than one touchdown point.
Using multiple touchdown points is meant to enable multiple aircraft to land at different sites simultaneously, Jaynes told Air Force Magazine in a subsequent interview.
The company received FY19 funds to begin the software revamp, so its engineering team is currently "laying out priorities" for the upgrade process, she continued. The company hopes to have the upgrades completed in time for the possible F-35A landing test at Edwards, she said.
Independent research and development funds will pay for the engineering of the software updates, and capital will cover the cost of putting the software onto the demonstration unit, she said.