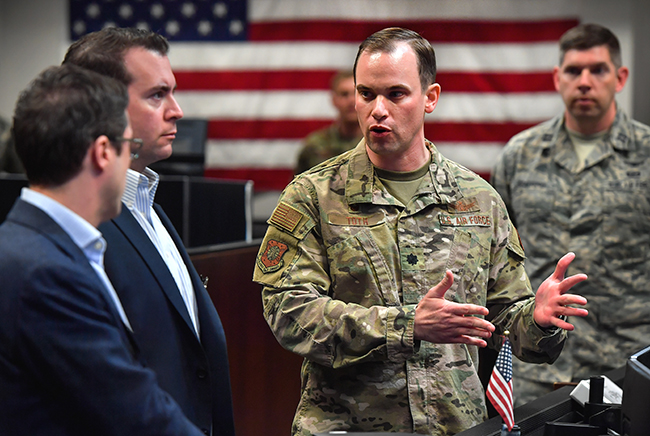 Lt. Col. Stephen Toth, 2nd Space Operations squadron commander, briefs Andrew Braun, Rep. Doug Lamborn (R-Colo.)'s military and veteran's policy director, about GPS operations at the 2nd SOPS master control station at Schriever AFB, Colorado, Feb. 21, 2019. Air Force photo by Katie Calvert.
SCHRIEVER AFB, Colo.—More than 1,600 miles separates the 2nd Space Operations Squadron's GPS team from the military space debates churning in Washington.
They don't get the final say over what happens next for Air Force Space Command's warfighters. What they can control is how they prepare.
GPS is just one of the missions run out of this base in the rolling hills near the Rocky Mountains, which also oversees operations for a range of communications satellites, surveillance, and weather systems, as well as the X-37B experimental space plane.
"The largest change we have seen to date is just a better understanding of how large space is, the competition in space, and how we need to be prepared for operating in what could potentially no longer be a benign environment," Lt. Col. Stephen Toth, 2nd Space Operations Squadron commander, said in an April 12 interview here. "We've started getting after training our operators in new and different ways … much more like the flying side of the Air Force."
That means the 10 GPS operators on each shift now have to think about potential threats, possible avenues for attack, and adversaries they may notice either in orbit or within the systems they run. Is the anomaly on their screen just a blip, or is it enemy interference
Ten years ago, that wouldn't have crossed anyone's mind, Toth said. Getting people to think differently about who or what they might face is a first step toward preparing for future combat.
"We've started to fuse intelligence more into the space environment to give us a better understanding of what is out there, what we could see, and how we need to operate in and through that to continue to provide our capability to the warfighters or the civilian users, wherever they may be," he said.
The pivot to a combat mindset began three years ago with the "Space Mission Force" initiative, which revamped training and started rotating staff through ops floor deployments. Framing their time in the windowless, screen-lined room as a combat deployment tells airmen they're not just clicking buttons on a keyboard, but may be heading to a fight.
"A lot of that training all started with that intelligence fusion by having intelligence personnel actually trained in space," Toth added. "We'd be asking that individual who provides intelligence to an aircraft before it goes into theater to also provide some flavor of space intelligence. Now we have intel folks that are trained solely in space. … We can then use their information and knowledge to build realistic training scenarios."
Qualification training now throws a range of threats at the GPS crew, forcing them to work through problems together. A recent report from the National Air and Space Intelligence Center pointed to anti-satellite missiles, lasers, jamming, cyberattacks, physical attacks on ground assets, and collisions with other objects in space as the most worrying issues.
So far, the 2nd SOS hasn't seen any of those in real life.
"We're ready to execute the mission that we have right now," Toth said. "In GPS, I'm 100 percent confident in the fact that we will not have any issues continuing this mission moving forward. … Air Force Space Command provides us with everything we need to be able to do our job."
He believes the Air Force will need to recruit more airmen for operational units as training evolves. The service will require more instructors, which would pull manpower from the ops floor, in turn growing the demand for personnel to fill in those spots while others are leading and attending training.
As US Space Command grows into a fully functional combatant command, Army, Navy, and Marine Corps space operations officers will naturally grow closer to the Air Force, Toth added. Bringing everyone together will help operators think outside their lanes to build a more holistic approach to space warfare.
"We are going to be bringing a lot of the best minds all together, kind of like how Strategic Command does it now, but with a sole focus on space and user capability on the ground," Toth said. "That'll be a very good change, or at least a good flavor for us all from the operational perspective, just because the Army tends to deploy out into the field environment a lot and they really require a good use of space. Same with the marines."
Other personnel changes are on the horizon. At a Senate Armed Services Committee hearing earlier this month, Air Force Chief of Staff Gen. David Goldfein suggested there could be a new career path for enlisted airmen to transition between piloting the RQ-4 Global Hawk and space operations. The service did not provide more information on those discussions by press time Tuesday.
Enlisted space personnel will also go to the Air Force Weapons School for the first time this summer to bring back more tactical planning experience and insight to their units. Though officers and enlisted will largely learn the same material, 1st Lt. Morgan Herman, a weapons and tactics assistant flight commander, said the biggest difference is that enlisted trainees will dive into more technical details while officers get into operational specifics.
At the Space Foundation's annual Space Symposium in Colorado Springs, Colo., Air Force Space Command chief Gen. Jay Raymond said six people will take a new advanced instructor course for enlisted space warfighters at Nellis AFB, Nev.
"This new course will … provide advanced academic and tactical training for enlisted space professionals, and is a stepping stone for incorporating our enlisted operators into the existing Air Force Weapons School," he said.
Enlisted airmen already serve as orbit analysts, engineering specialists, and more, and make up more than half of space operations crews.
"What we really want to do is get them to their full potential," Toth said, pointing to the possibility of adding more enlisted airmen to engineering careers in navigation and bus payloads, orbital analysis, and nuclear detection.
About a dozen officers in the first class of "Schriever Scholars," another joint space warfighting concentration at Air University, will graduate this year as well, and educational courses and training opportunities like Space Flag are opening to international partners.
Software and hardware changes are in the works as well. Schriever airmen are awaiting the new operating system that will accompany Lockheed's new GPS III, for which the first satellite launched last December.
"When anything looks different … you've got to train your people in that," Toth said. "Our folks are all going to a facility where they have a mockup of this system, it's an offline version of the system, and they're going through the training scenarios."
The 2nd SOPS engineering team need to learn how the new satellites' innards work, and the squadron will eventually test the operational controls at Schriever. Lockheed and the military tout GPS III, which will circle the planet 12,550 miles up in medium Earth orbit, as being three times more accurate than the existing constellation and up to eight times as resistant to jamming.
"You can defeat more potential threats that are out there and you can also build more capability up [out] of a more accurate signal," Operations Flight Commander Capt. Joshua Harnisch said. "There's a lot of different applications. We don't necessarily focus on what are people doing with it, we just want to provide the best possible signal down to the users."
Increasingly improved GPS will allow military and civilian users to get and act on information faster, Toth added, and putting new satellites on orbit can bolster older systems that don't perform as well. That could mean getting a GPS signal through a thick layer of trees where aging satellites couldn't.
Maintenance trends for space systems are following similar paths as other Air Force assets, like relying on automated software that alerts operators to a problem, sends better data to people on the ground, and begins self-healing, Capt. Ryan Thompson, the 2nd SOPS engineering flight commander, said.
"We understand the space environment better nowadays," Toth said. "When you launched a [GPS] IIA into space 26 years ago, how well did you understand it? Now, with all the spacecraft going into space, we can build for robustness and really start to understand what it means to operate in space."
"Where we are today, it's way more exciting," Toth said. "Our people are excited about it, they want to join the Air Force to get into space, which they weren't doing 15, 20 years ago. They now see it as a future career option and it shows in the people that we're getting to do this job."