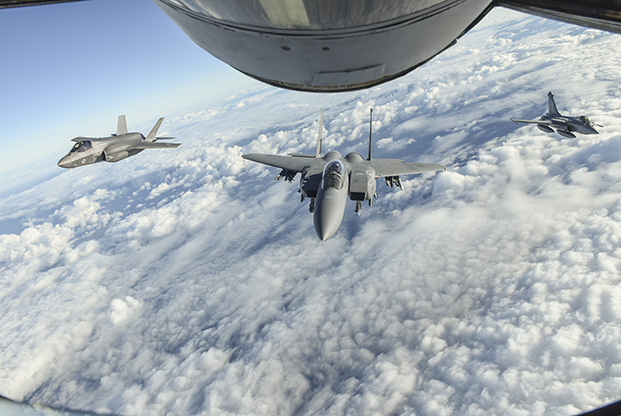 A Royal Air Force F-35 Lightning II, USAF F-15E Strike Eagle, and French air force Dassault Rafale fly behind a USAF KC-135 Stratotanker from the 100th Air Refueling Wing during Exercise Point Blank over the English Channel, on Nov. 27. Air Force photo by SrA. Luke Milano.
F-15E Strike Eagles from the 48th Fighter Wing at RAF Lakenheath, England, are training alongside United Kingdom F-35B strike fighters from nearby RAF Marham, as well as Typhoons and French Rafales this week in a large force exercise known as Point Blank.
KC-135 Stratotankers assigned to the 100th Air Refueling Wing at RAF Mildenhall, England, and UK Voyager tankers will provide aerial refueling, according to a USAF release.
The exercise, which is co-hosted by the 48th FW and the Royal Air Force, looks to provide realistic Red Flag-type training for combat air forces based mostly in the United Kingdom at a fraction of the cost of sending the airmen and jets back to the States.
Continuous deployments and repeated funding cuts "have eroded readiness, capacity, and capability for a full-spectrum fight," according to the Point Blank strategic plan. As a result, "Less than 50 percent of the US Air Force's combat force is ready to respond against a near-peer adversary."
That's why exercises like Red Flag are so invaluable to fighter pilots, but it's too expensive to regularly send overseas-based units. As of 2016, when the first Point Blank exercise was held, it cost the Air Force more than $3.9 million in temporary duty assignment expenses to send a Strike Eagle squadron from Lakenheath to Nellis AFB, Nev., to participate in Red Flag, according to the plan. In addition, the Europe-based squadrons also require significant tanker support to make the 4,500-nautical mile trek to Vegas, putting more pressure on an already stressed tanker fleet.
"Because of these costs, units traditionally attend Red Flag not more than once every 18 months, which degrades [major combat operations] experience," according to the vision document. High-end training also is "diminished due to focus on low-intensity conflict by units involved in operations Enduring Freedom and Inherent Resolve over the past decade, resulting in less capability for aircrew against a higher-level threat."
Point Blank is a grassroots effort led by lieutenants, captains, and majors to fix that, Maj. Eric Joachim, 48th Fighter Wing chief of weapons and tactics, told Air Force Magazine during a visit to the base this summer.
Joachim said when he first started flying in England in 2014, there "was no US/UK integration."
"I'd never flown with the UK. I really never talked to a pilot with the UK up until we started doing these," he said.
That's not the case anymore. Since 2016, the 48th FW and its allied counterparts have conducted at least 20 Point Blank exercises, with more than 400 aircraft participating—including USAF F-22 Raptors and F-35 strike fighters rotating through theater. The exercise focuses on integrating allied fourth and fifth generation aircraft in air-to-air, air-to-ground, combat search and rescue, and dynamic targeting operations.
Though this isn't the first time F-35 strike fighters have participated in Point Blank, it is the first time the United Kingdom's F-35Bs have participated. RAF Marham, which is located about 20 nautical miles from Lakenheath, where USAF will beddown its own F-35As beginning in 2021, accepted delivery of its first four strike fighters this summer.
"There is quite a bit of airpower just in the southeastern part of England alone, and by 2025 we expect to increase that to about 199 aircraft as we increase the number of F-35s assigned here [at Lakenheath] and at Marham," said Joachim, who noted that the UK also plans to "increase the number of Typhoons based at [RAF] Coningsby."
There already have been many lessons learned regarding the requirements for fifth generation aircraft in the air and on the ranges. The surface to air emitters also are different in fifth generation aircraft, according to the document.
"Integrating these aircraft requires an increased investment into aging critical infrastructure, such as obsolete training facilities, systems, and ranges," it states, noting that increasing the use of live, virtual, and constructive training can increase capability and reduce costs.
Joachim told Air Force Magazine this summer that he'd like to see more NATO countries integrated into the exercise, and that there were ongoing discussions with US Air Forces in Europe about incorporating contracted Red Air in the future.
"Every time the US has gone to some type of major combat operations, it's always been as an alliance, and the UK is always right there by our side," he said. "Just training in our stovepipes and practicing our own techniques doesn't help us."