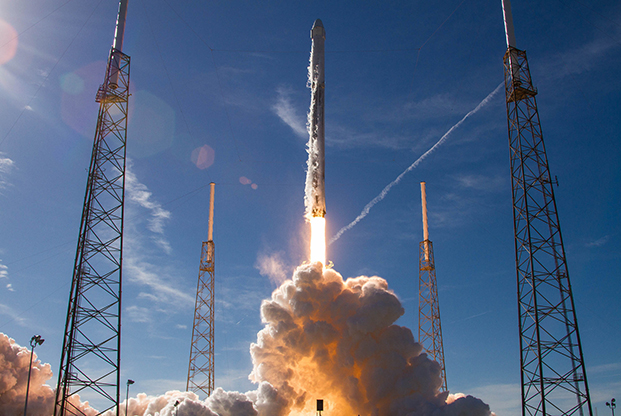 USAF's 45th Space Wing supported SpaceX's successful launch of NASA's Commercial Resupply Mission 13 aboard a Falcon 9 rocket from Launch Complex 40 at Cape Canaveral Air Force Station, Fla., on Dec. 15, 2017. DOD photo courtesy of SpaceX.
The Pentagon will propose creating a new US Space Force within the Air Force, under a new plan circulating in the Pentagon, according to a Defense News report and others familiar with the issue.
Under the plan, the new Space Force's chief of staff would become the eighth member of the Joint Chiefs of Staff and report to a new undersecretary responsible for the Space Force. The model is similar to that of the Navy and Marine Corps, which have their own service chiefs, but a share a single secretariat for oversight.
A similar plan last summer failed to clear the House Armed Services Committee. Air Force Secretary Heather Wilson proposed a more complete break in September, a plan that would have established a secretary of the Space Force and a fully independent bureaucracy, but that proposal was met with criticism over its potential cost.
"We applaud the decision to not establish a separate secretariat and all the bureaucracy that would bring," said retired Gen. Larry Spencer, president of the Air Force Association. "But, this solution is not without redundancy. The draft legislative proposal says, 'The Space Force shall be organized, trained and equipped to provide for freedom of operations in, from and to the space domain for the United States and its allies.' I believe that is currently the case inside the U.S. Air Force."
T?here is one major advantage to the plan, however, said retired Lt. Gen. Dave Deptula, dean of AFA's Mitchell Institute for Aerospace Studies: "The one valuable outcome of this proposal is that it would add another voice to the Joint Chiefs of Staff with a perspective from the third-dimension," he said. "This proposal would enhance consideration of the aerospace perspective in generating options to meet U.S. security objectives."
The Space Force proposal follows Vice President Mike Pence's Dec. 18 announcement that the Pentagon will re-establish the joint US Space Command. Pence said the new command will "integrate space capabilities across all branches of the military," and will develop doctrine, tactics, techniques, and procedures to operate in space.
US Space Command was first created in 1985, but was realigned under US Strategic Command in 2002. The timeline to re-establish the command double-hats the commander of Air Force Space Command as the leader of SPACECOM at its launch, which Pence has previously said would happen by 2020.?