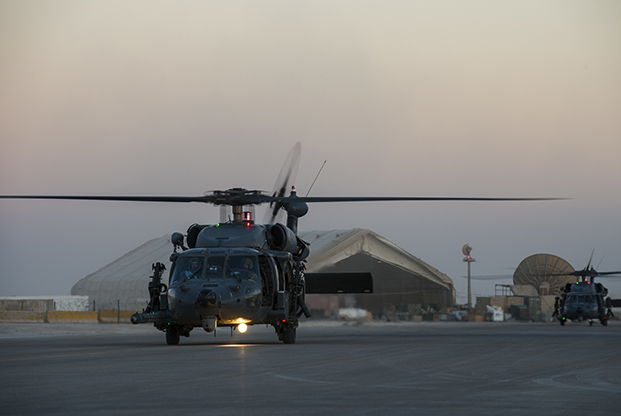 Previously unreleased details about the March 2018 crash of an HH-60G Pave Hawk, like the one shown above, were announced by the Air Force on Monday. Air Force photo by SSgt. Joshua Kleinholz.
?The HH-60G Pave Hawk that crashed in March, killing all seven on board, struck a galvanized steel cable, bringing it down onto the Iraqi desert, the Air Force announced Monday.
The HH-60G, assigned to the 332nd Air Expeditionary Wing, was flying alongside another Pave Hawk during the night of March 15. The helicopter crews were tasked with prepositioning at a base that would bring them closer to an upcoming operation.
During the flight, the Pave Hawk overflew its intended destination because the aircraft's pilot misinterpreted aircraft navigation displays, according to an Air Combat Command Accident Investigation Board report released Monday. As a result, the helicopter descended into an unplanned location and turned to avoid a tower, but struck an unseen 3/8-inch diameter galvanized steel cable that was strung horizontally between two 341-foot high towers.
The cable entangled itself in the HH-60G's main rotor assembly, resulting in "catastrophic damage and an unflyable condition." The aircraft was traveling so fast, the impact was not survivable and debris scattered a large area of the desert, according to the report.
The other Pave Hawk saw the light of the crash and circled back, calling for a quick reaction force of pararescuemen in another HH-60G to secure the site.
The crash killed four airmen from the New York Air National Guard's 106th Rescue Wing: Capt. Christopher Zanetis, 37, an HH-60G pilot from Long Island City, N.Y.; Capt. Andreas O'Keeffe, 37, a Pave Hawk pilot from Center Moriches, N.Y.; MSgt. Christopher Raguso, 39, a resident of Commack, N.Y., an HH-60G special missions aviation flight engineer; and SSgt. Dashan Briggs, 30, a resident of Port Jefferson Station, N.Y., also an HH-60G special missions aviation flight engineer. Two of the airmen killed were Air Force Reserve pararescuemen from the 308th Rescue Squadron at Patrick AFB, Fla. They are MSgt. William Posch, 36, and SSgt. Carl Enis, 31. Captain Mark Weber, a combat rescue officer with the 38th Rescue Squadron at Moody AFB, Ga.
The helicopter, tail number 92-6466, was completely destroyed at a loss of $49 million.