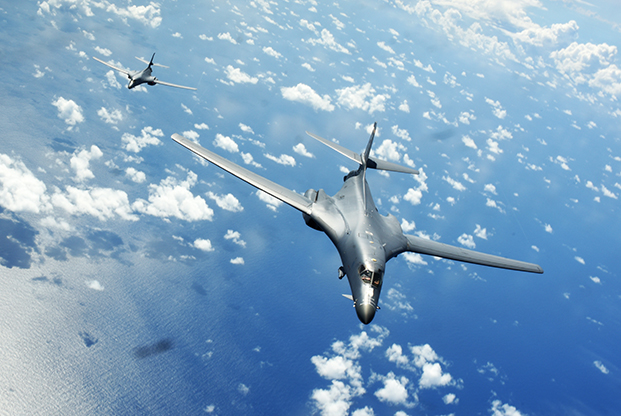 Two USAF B-1B Lancers assigned to the 9th Expeditionary Bomb Squadron, deployed from Dyess AFB, Texas, fly a mission from Andersen AFB, Guam, through the South China Sea, during joint training with the Navy on June 8, 2017. Air Force photo by TSgt. Richard Ebensberger.
While tensions have increased in areas such as trade and diplomacy, China's buildup in the South China Sea and increased military presence in the area have not directly translated to increased tensions in the air, the head of Pacific Air Forces said Monday.
PACAF Commander Gen. Charles Q. Brown said that in the four months since he has taken over the job, he hasn't seen an increase in intercepts of US aircraft or any Chinese equipment, such as surface-to-air missile systems, "locking on" to USAF assets.
While China has built up its presence on man-made islands in the South China Sea—with airstrips ready for heavy bombers and surface-to-air missiles—there is a difference between capabilities and intentions. China has increased its capability with the buildup, but hasn't changed its intentions.
There have been intercepts of USAF and Navy intelligence, surveillance, and reconnaissance aircraft but not of bombers, Brown said. These intercepts are "sporadic" and while they haven't been unsafe, some could be deemed "unprofessional," he added.