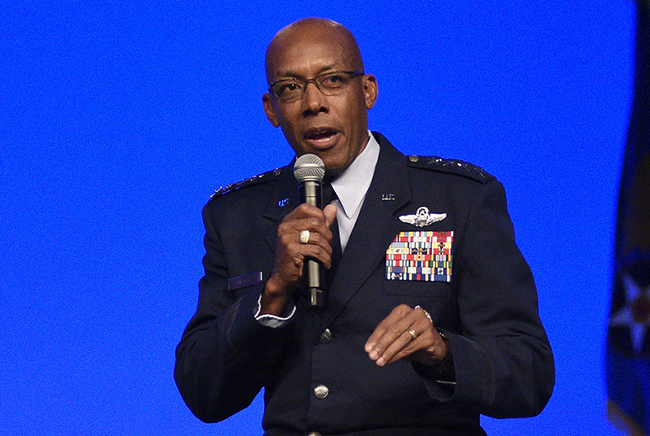 Pacific Air Forces Commander Gen. Charles Q. Brown speaks during a panel discussion at AFA's 2019 Air, Space & Cyber Conference in National Harbor, Md., near Washington, D.C. Staff photo by Mike Tsukamoto.
The armed services may need to adjust their roles and missions to help the Air Force defend itself as it rapidly moves small groups of airplanes and airmen among austere air bases in the Indo-Pacific, Europe, and elsewhere, Pacific Air Forces Commander Gen. Charles Q. Brown said.
"We need to think about" a roles and missions discussion that would give the Air Force responsibility for air base defense, Brown said told reporters at AFA's 2019 Air, Space, & Cyber Conference.
"I've got to defend the fenceline all the way up to hypersonics. So I have to have security forces that are doing the fenceline, and I need counter-small UAS (unmanned aerial systems), defense against cruise missiles, ballistic missiles, hypersonics."
Brown said this discussion is "ongoing with the other services—we're all in this together," and the Marine Corps especially has a similar dispersal model that will require a rapidly mobile air defense capability.
"Collectively, we have to think about this. It could also drive a roles and missions debate of who's doing this," Brown said.
Under the Key West agreement of 1947 that apportioned roles and missions to the services, the Army's artillery corps was given the job of defending ground forces from incoming shells, bombers and missiles, while the Air Force was given the overlapping role of stopping attacking aircraft, but not ballistic systems.
At a later ASC19 panel discussion, Brown's comments were echoed by Lt. Gen. Thomas Bussiere, commander of US Alaskan Command; Maj. Gen. Michael Fantini; director of the Air Force Warfighting Integration Capability; and Mark Gunzinger of the Mitchell Institute for Aerospace Studies.
Bussiere said the Air Force "absolutely has a requirement" for air defense capabilities because whether it is island bases or the homeland, there is "no sanctuary" from long-ranged precision weapons. "We have to have the tools to engage that threat," he said.
Fantini said "we have to get past the Key West" agreement and work out the joint command and control necessary when joint forces come under attack from missiles. "We're not there yet," he said, and "we have to look into that more aggressively."
Gunzinger emphasized that China would have an "easy job" wiping out vast amounts of USAF capability in the Pacific by targeting air bases, because so much remains concentrated in so few locations. Air Force units are "not yet ready to disperse" to other locations.
"The Army does not have the resources it will need to defend our air bases," he said. "I think the Air Force should take that on It should be an Air Force role."
The Army's toolkit of air defense systems is probably too large and heavy to do defend the Air Force as it moves around island airfields, Brown said.
"THAADs and Patriotstake a lot of [air]lift" to move to a temporary base, and take time to set up and break down, he said, adding that he'd like something smaller and more mobile.
"I'd like to keep it simple, maybe high-powered microwave or other systems that don't need a lot of lift," he said, adding "our mindset has to change."
Brown waived off discussion of a timetable for decisions, saying decisions are "all about money," and budget negotiations are still underway. He said PACAF has been working with the Air Force Research Laboratory "about these types of requirements," and comparing notes with the Air Force Warfighting Integration Center about "how we make that transition, what we invest in, and how we bring that capability, along with the other services."