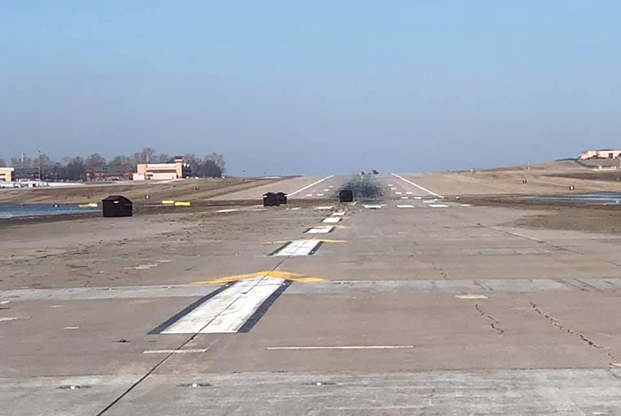 Several dumpsters washed up on the runway at Offutt AFB, Neb., following severe flooding that left the installation largely underwater. 55th Wing Commander photo via Facebook.
Waters are receding at Offutt AFB, Neb., days after serious flooding inundated the base.
Col. Michael Manion, commander of the 55th Wing, said in a Facebook update there have been "significant changes in some water levels as the combination of sun and wind work in our favor," adding the runway, including overrun, is drivable and water has receded from a maintenance facility.
Offutt also reopened its gates, though the base is not back up and running yet.
Offutt's bioenvironmental airmen, firefighters, and structural teams are assessing facilities, and as of Wednesday no one else is allowed in flood damaged facilities until they are deemed safe.
"This will be a marathon recovery but we will make progress every day based on the strengths of our combined teams," Manion wrote.
The base announced on Wednesday it had deployed more than 3,700 feet of containment boom around the fuel storage area as a precautionary measure. Although there is no evidence of a leak from a fuel tank, officials had identified a sheen on floodwater in aerial photographs of the area, which reportedly came from residual fuel on submerged equipment, according to an Offutt release.
Nine aircraft—eight RC-135s and one E-4B—were evacuated and four more were moved to higher ground when flooding hit the base on Friday. Manion said the evacuated aircraft are back to flying training sorties at other unnamed locations.
The base's annual air show, scheduled for early June, was canceled.
"The scope of this historic disaster has touched nearly every aspect of Nebraska including Offutt Air Force Base," Manion said in a release.
"Assessing the impact to the base is ongoing and we will recover, but it is obvious it will be some time before we can return to normal operations or have the capacity to host an event like an air show and open house.