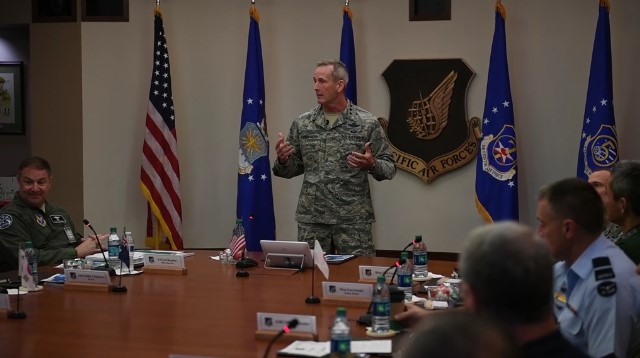 Pacific Air Forces commander Gen. Terrence O'Shaughnessy addresses participants at the inaugural F-35 symposium at JB Pearl Harbor-Hickam, Hawaii, on March 14, 2017. Screenshot photo.
March 17, 2017: The inaugural F-35 symposium at JB Pearl Harbor-Hickam, Hawaii, was a "who's who of the F-35," with more than 100 participants from the US Air Force, Navy, and Marine Corps as well representatives from Pacific F-35 partner-nations South Korea, Japan, and Australia.
"In the beginning we thought we'd only have about 35 or 40 folks, but the response was so overwhelming it's turned into quite a large event," Brig. Gen. Craig Wills, Pacific Air Forces director of strategic plans, requirements, and programs, told Air Force Magazine.
"This is definitely not just a meeting of senior officers and strategists. We have the real warfighters in the room and it's been a fantastic forum," he added, noting there were F-35A pilots, maintainers, and intelligence officers from the Air Force's first operational unit at Hill AFB, Utah, present as well as marines who are part of the F-35's first overseas deployment at Iwakuni, Japan.
The two-day event focused primarily on the aircraft itself, rather than the broader picture of F-35 command and control, with topics including bed down, integration, logistics, sustainment, and combat operations.
Questions ranged from the tactical level up to how to appropriately organize, train, and equip the force. For example, the South Koreans and Japanese were looking for insight from airmen at Hill on the right ratio of maintainers for each F-35.
During his opening remarks, PACAF boss Gen. Terrence O'Shaughnessy told the group the F-35 will be a "game changer" for the theater, and the US wants to bring it online as quickly as possible. He said USAF has been flying fifth generation aircraft with the F-22 for more than a decade and has learned a lot of lessons that can be incorporated as the F-35 is integrated into theater operations.
"When we first got some of the F-22s online we tended to fly it like an F-15C. We took this amazing technology and we flew it like its predecessor and we didn't fully leverage it for years," said O'Shaughnessy.
Former Air Combat Command boss Gen. Hawk Carlisle said the F-22 has been acting as an "aerial quarterback" in the fight against ISIS since it made its combat debut in 2014. That's a significant departure from how the service was flying the aircraft in the early days.
"We want to skip that step with the F-35," said O'Shaughnessy. "We don't want to take years to figure out how to leverage and take advantage of the capability the F-35 brings us. We want it right now from the beginning."
Wills said the F-35 is not just an aircraft, "it's a completely different level of combat capability. If you're in the Pacific, and you're wondering if America is committed to the Pacific, the F-35 really should answer that question. It really is the best we have to offer."
Wills declined to provide any details about the F-35A's upcoming deployment to the Pacific, other than to say the command is "very, very interested in getting the F-35 to the Pacific and very interested in doing it in a way that's beneficial to quickly bringing the airplane online and increasing its combat capability," while also "doing it in a manner that's complementary to our allies and partners."