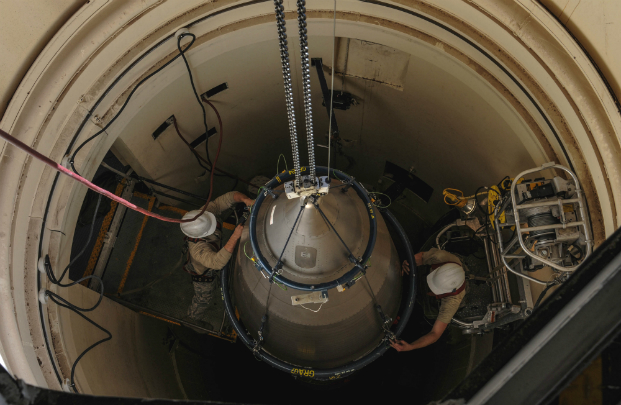 Airmen from the 90th Missile Maintenance Squadron prepare a reentry system for removal from a launch facility, Feb. 2, 2018, in the F. E. Warren Air Force Base missile complex in Wyoming. Air Force photo by A1C Braydon Williams.
Development costs for the Air Force's two new nuclear missiles will continue to rise in fiscal 2020—albeit by small amounts, according to budget documents released this week.
The service hasn't changed its nuclear modernization strategy despite congressional direction to look at speeding up its two flagship missile replacement programs, the Ground-Based Strategic Deterrent and Long-Range Standoff Weapon.
GBSD research and development costs are expected to rise by $225 million to top $22 billion, and it is still expected to be delivered starting in 2029, the Air Force's 2020 budget details show. LRSO costs remained nearly flat, up only $40 million from last year's projection for a total of $4.6 billion. The service did not provide new information about LRSO's fielding timeline, planned for the 2030s.
"I don't know that I would say it's any new acceleration," Maj. Gen. John Pletcher, the Air Force's deputy assistant budget secretary, said at a March 12 press briefing. "There's a continued commitment in the modernization of the two legs of the triad the Air Force has. … We're continuing to invest in those two and it's a significant amount of money every year, but I don't know that I've seen any change in our strategy there."
In the Fiscal 2019 National Defense Authorization Act, lawmakers told the Pentagon's acquisition chief and the Air Force Secretary to create plans to accelerate development, procurement, and fielding of the Ground-Based Strategic Deterrent and Long-Range Standoff Weapon. Those blueprints should also note "comprehensive assessment of the benefits, risks, feasibility, costs, and cost savings" associated with speeding the programs, according to the legislation.
As Capitol Hill considers the 2020 budget, nuclear missiles—which typically receive bipartisan support—are sure to face increased scrutiny from Rep. Adam Smith (D-Wash.), the new head of the House Armed Services Committee. He has called for the US to buy fewer ICBMs and has questioned the rationale for LRSO altogether.
The Air Force wants to buy more than 600 GBSD missiles to replace the Minuteman III ICBMS in Montana, North Dakota, and Wyoming, and about 1,000 LRSOs to fly on B-52 and B-21 bombers.
GBSD research and development costs, in development at Boeing and Northrop Grumman, are set to rise from $414 million to $570 million in 2020, as projected in previous budgets. Its funding plan for the next five years now includes $3.1 billion in 2024, and is about $21 million cheaper in 2023.
Congress lent the program an extra $69 million last year to cover an unfunded requirement.
While the Air Force has touted GBSD as being a few months ahead of schedule, technology maturation and risk reduction will run through the end of 2020 as planned. A preliminary design review is scheduled for June 2020. Milestone B was pulled forward to July 2020 instead of September, while engineering and manufacturing development will now end in 2024, instead of 2023.
The budget notes that GBSD officials look to "own the technical baseline," meaning the Air Force would control certain design data and take over some weapon support tasks the contractor would normally oversee. That approach aims to cut costs and reduce reliance on a particular company for sustainment.
For LRSO, the Air Force says the controversial cruise missile has passed milestone B, the threshold for starting engineering and manufacturing development, and is "conducting engineering and manufacturing development tasks aimed at meeting validated requirements prior to full rate production," the budget documents state.
But the schedule still shows that milestone is slated for 2022. The Air Force did not immediately provide a clarification, although Lt. Gen. Arnold Bunch, the service's military deputy for acquisition, has said the Air Force is pushing more work earlier in the schedule to ensure a viable product at the end.
EMD is now expected to last a year longer and end in 2024. Lockheed Martin and Raytheon are vying for that contract.
LRSO, which will replace the Air-Launched Cruise Missile, needs $713 million in 2020—lower than the $722 million it was projected to reach next year. The service's budget shows $10 million was redirected to higher priorities.
Boeing is also moving forward under a $250 million contract awarded March 13 for the legwork needed to integrate LRSO onto the B-52H.