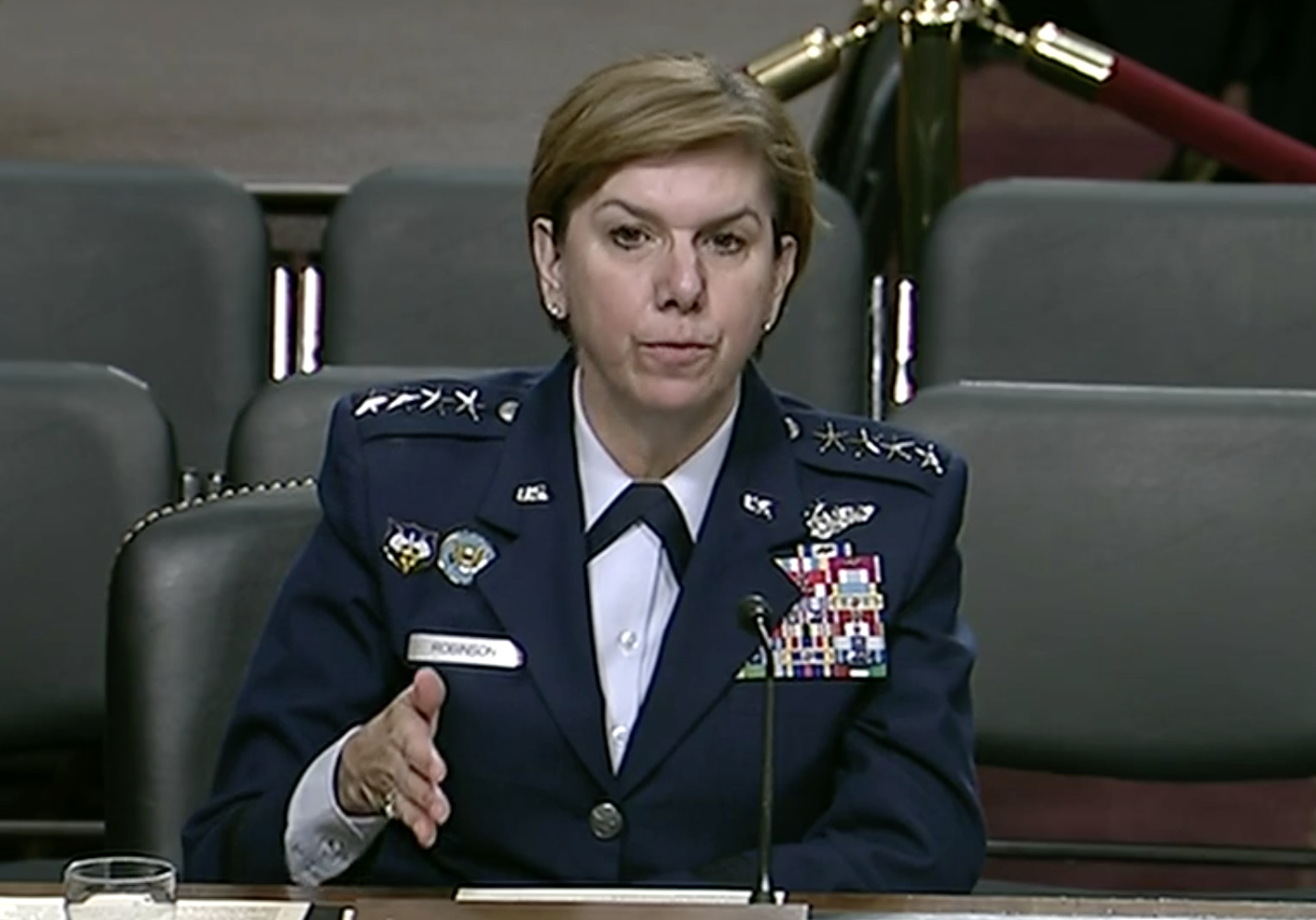 Gen. Lori Robinson?, head of NORTHCOM and NORAD, said North Korean leader Kim Jong Un's weapons testing defies international norms. Screenshot photo.
North Korea is at the top of the list of strategic threats to the United States, the head of US Northern Command and the North American Aerospace Defense Command told the Senate Armed Services Committee Thursday.
Gen. Lori Robinson called North Korea the "most immediate strategic threat to the United States," though she also pointed to Russia, China, Iran, and terrorist groups as threats.
Robinson, in her statement to the committee, said North Korean leader Kim Jong Un's weapons testing—including Pyongyang's possession of a viable ICBM—defiance of international norms, and efforts to reduce warnings to the United States have established that country as the most important threat to the United States.
Russia, however, "remains the only existential air domain threat" to both the United States and Canada, saying that the country's leaders "regularly exercise conflict with the United States and are investing heavily to modernize their forces and develop novel weapons to ensure their ability to hold the United States and Canada at perpetual risk."
While Russia's "out-of-area flight activity" has dropped since the 2014 levels during the Ukraine crisis, Russia flies heavy bombers periodically off of the US' coasts and the country has been modernizing its older bombers, allowing them to carry new cruise missiles that have been proven in combat in Syria, noted Robinson.
She also pointed to Russian use of naval platforms for its new cruise missiles, saying Russian advances "represent a significant investment by the Russian government in their strategic fleets that are likely to hold targets at risk in the United States and Canada for years to come."
Russia, she said, has prioritized development of advanced cruise missiles able threaten North American targets from new distances. "These systems present an increasing threat to North America due to their long range, low radar cross section, and the limited indications and warnings likely to be seen prior to a combat launch," she said.
Although she judged the likelihood of a Russian kinetic strike against the US and Canada as "currently low," she said it "is prudent to invest in advanced sensors and defensive weapons systems to protect our nations' vital assets."
On China, she said that country's military modernization includes an expansion of its strategic forces aimed at heading off a US attack "by holding our homeland at risk." In recent years, China has supplemented its "modest" silo-based ballistic missile force with dozens of road-mobile ICBMs and is using its first class of ballistic missile submarines. Moreover, she said, China is now sending ships to "distant oceans" and "in July of this year, we saw the first Chinese intelligence collection ship operate near the United States."
"This followed the transit of a small group of Chinese ships through the Aleutian Islands in September 2015, the first-ever instance of Chinese naval vessels operating in the Bering Sea."
For its part, while Iran cannot yet hit the United States with strategic weapons, Tehran has nevertheless devoted "significant resources" to its ballistic missile, space launch, and civil nuclear capabilities and could develop an ICBM "relatively quickly" if it decides to do so, she said, In addition, Tehran has the ability to "conduct attacks in our homeland via covert operations and terrorist proxies," said Robinson.
She also pointed to foreign terrorist groups as committed to attacking the United States directly or through homegrown extremists, and expressed concerns about international criminal organizations and other threat networks in the Western Hemisphere.
"While there is no evidence of collaboration between Transnational Criminal Organizations with foreign terrorists, the illicit pathways established by these groups could be leveraged by a variety of actors in ways that undermine our national security," she said.