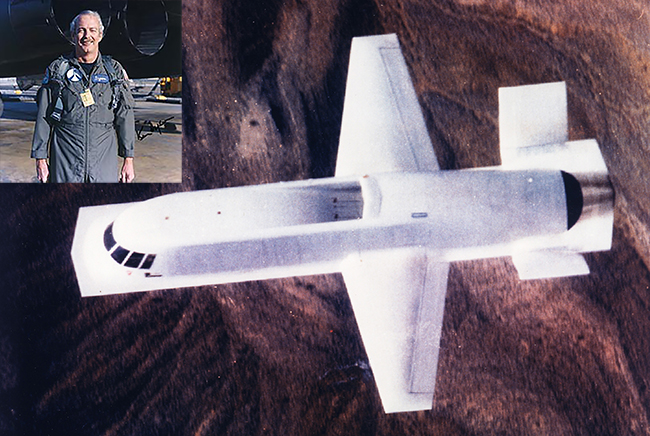 Norman "Ken" Dyson, shown at top left, was most well-known for his work on experimental stealth aircraft, such as "Tacit Blue," also shown here. Texas A&M University and Air Force photos/staff illustration by Jennifer-Leigh Oprihory.
Norman "Ken" Dyson, an Air Force and civilian test pilot most noted for his work on the "Have Blue" and "Tacit Blue" experimental stealth aircraft, died Aug. 15 at 81.
A fighter pilot who became a test pilot, Dyson flew the F-100 and F-4 in the Vietnam War, then returned to test work on weapons for the F-100, F-101, and F-4. He became an instructor at the Air Force Test Pilot School and went on to test the F-15 and serve as director of the F-15 Joint Test Force, then the Air Force's highest-priority combat aircraft program.
In 1976, Dyson began work on top-secret programs, including the Lockheed "Have Blue" stealth demonstrator that led to the F-117 Nighthawk stealth attack jet. Dyson was flying Have Blue No. 2 in July 1979 when an engine fire caused a violent oscillation of the fly-by-wire aircraft, forcing him to eject. The jet was destroyed but Dyson survived and went on to fly the Northrop "Tacit Blue." Also known as the "Whale," the aircraft tested radar and stealth technologies that lead to the B-2 Spirit.
Retiring as a lieutenant colonel, Dyson went to work for Rockwell (now part of Boeing), and flew the B-1 bomber through much of its test program. He also flew the X-31, a multinational project with Germany to explore post-stall flight, vectored thrust, and tailless aircraft configurations. He retired from Rockwell as its chief test pilot and director of flight test in 1993.
Dyson was born in Texas and earned his bachelor's degree in aeronautical engineering from Texas A&M University in 1960, first in his class. He earned his master's degree in aeronautical and control systems engineering from the University of Alabama in 1971.
For his Air Force combat and test flying, Dyson received the Legion of Merit, two awards of the Distinguished Flying Cross, and nine Air Medals, among other decorations.
A member and one-time president of the Society of Experimental Test Pilots, Dyson was also named an Engineering Fellow of the University of Alabama, Distinguished Aerospace Engineering Alumnus of the Texas A&M University, and a Distinguished Alumnus of the USAF Test Pilot School.
Dyson received the SETP's Iven C. Kincheloe award—its highest honor, awarded by peers—in 1989 for his work on Have Blue, and received it again in 1996 for his work on Tacit Blue (retroactive to 1982), when those programs were, respectively, declassified. In 1997, he was named to the Aerospace Walk of Honor in Lancaster, Calif.