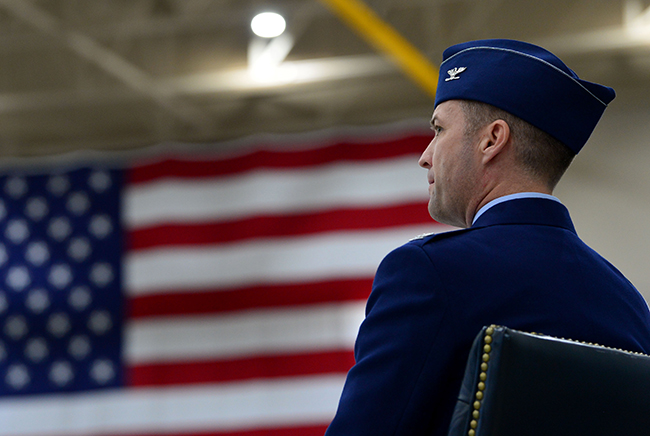 Then-incoming 432nd Wing/432nd Air Expeditionary Wing Commander Col. Stephen Jones looks out at the crowd during the 432nd WG/432nd AEW change of command ceremony at Creech AFB, Nev., on June 7, 2019. This photo was edited. Air Force photo by A1C Haley Stevens.
The 432nd Wing's new commander says the MQ-9 remotely piloted aircraft community is reaching a turning point in maturity even as the Air Force continues hammering those airmen with a demanding workload.
After the RQ-1 was first assigned to the Air Force in 1996, the service pulled pilots from other careers to make up an RPA workforce. Now, the majority of MQ-9 pilots are in the specialized RPA career field known as "18X" and have graduated from an undergraduate RPA training program, compared to earlier years when most airmen came from other programs, Col. Stephen Jones said.
Jones is one of those airmen: He began as a B-1B bomber pilot before coming to the early RQ-1 Predator enterprise in 2000, and later helped to weaponize it under the MQ-1 designation. The Predator is now retired in the Air Force, replaced by the larger MQ-9 Reaper.
"I would almost call it the beginnings of community maturity," said Jones, who took over as wing commander at Creech AFB, Nev., in June. "We now have our first '18X' graduate squadron commander, so I'm very optimistic about achieving the next milestone, which will be O-6, full colonel-level, 18X leadership positions being filled, such as group commander and wing commander positions."
He expects a few more years will pass before pilots who grew up in the RPA community start achieving the rank of general officer.
"We describe our community as, just like the United States being a nation of immigrants, the RPA community from its earliest origins, was a community of immigrants," Jones said. "We have examples of every other flying platform in the United States Air Force who helped stand up this weapons system, who helped weaponize it, who helped field the MQ-9, who evolved our tactics, techniques and procedures, evolved the bombs and the missiles that we employ in combat."
Still, Jones believes the RPA community is healthier and stronger when led and staffed by airmen who joined the Air Force to fly drones and have spent their entire career in the RPA field. It will be up to that new community of organic pilots to decide what RPA culture looks like going forward.
The wing's culture is also shaped in part by the Air Force's RPA "get-well plan," which went into effect in 2015 to help drone operators achieve a healthier work-life balance. While it has spurred positive changes for the MQ-9 enterprise, there is more work to do, Jones said.
Known as the Culture and Process Improvement Program, the get-well plan was crafted to offer more basing options, money, and time away from combat operations in the hope of retaining RPA pilots. An Air Force official told senators in April 2018 the service had slightly passed its goal of assigning 10 operators to each 24-hour period of MQ-9 combat flights.
Jones said the RPA enterprise needs to make short-term sacrifices to prepare for long-term combat needs. The 432nd Wing wants to be able to train for future conflicts but only has time to prepare for what it will face in current operations. Building more "dwell" time into airmen's schedules will help accommodate that.
"As a community, we're doing much better with manning than in our earlier years," he said. "We're in a healthy spot right now. We know we have to pay attention to that every day, though, or we'll slip back."
When CPIP began, the Air Force aimed to deploy personnel for launch and recovery operations or staff jobs for no more than six out of every 18 months. The service also wanted to keep the combat-to-dwell ratio above 2-to-1, meaning that for every two days someone spends on combat missions, they should spend one day in training or other downtime.
The enterprise needs to either become more efficient or increase manning levels so pilots can get more relief, but Jones said there's no discussion of reaching that point in the near future.
"I can't really specify a date at which I think we can achieve dwell," Jones said. "For now, it remains a concept that we're pursuing."
Jones's predecessor, Col. Julian Cheater, told Air Force Magazine last fall that the Air Force was striving to reach this goal by the end of 2019 at the earliest.
The Air Force is slowly growing its domestic MQ-9 outposts as well. In the US, Shaw AFB, S.C., now hosts two MQ-9 squadrons, and Air Force Special Operations Command is expanding its use of the platform at Hurlburt Field, Fla., as well. MQ-9 operators call Creech, Cannon AFB, N.M; Whiteman AFB, Mo.; and Ellsworth AFB, S.D., home, and there are associate units at the New York Air National Guard's Hancock Field ANGB and California's March ARB. Undergraduate pilots train at Holloman AFB, N.M.
The Air Force is still pursuing an MQ-9 wing at Tyndall AFB, Fla., Jones said, though the details of whether and how that effort will move forward are murky after a hurricane decimated the base last fall.
Jones also sees a vital role for contractor-run, unarmed MQ-9 operations, like those in Romania and parts of the Middle East. In some cases, contractors fly intelligence-gathering missions on government-owned aircraft; in others, the company owns the equipment as well.
"There's definitely a relationship, and in many places, we fly side by side," Jones said. "Those contract options provide us a lot of flexibility, both in terms of building as well as dismantling operations that we may not otherwise have if we have to do it entirely by the Air Force. From my perspective at the tactical level that I operate in, it's working well."
Partnering with contractors can help address recruiting and retention challenges in the RPA community, Jones said. Commercial companies offer additional talent pools for the Air Force to draw from as it tries to lessen the workload for blue-suit airmen, though those contracts can be more costly to the service than Active Duty employment.
"My personal goal is for our community to strive for more stability," Jones said. "What I would like is for those dynamics to stabilize so that our airmen and contractors have a little bit more job stability and predictability, so that they understand how those markets will be not only in the near term but also long term, so they can make better life decisions about who they want to be in their career—whether that's remaining airmen or pursuing commercial opportunities."