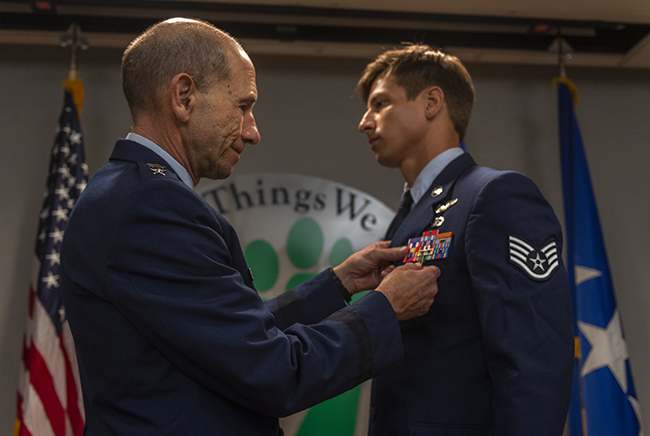 Air Combat Command boss Gen. Mike Holmes, left, pins a Bronze Star Medal with Valor to SSgt. Aaron Metzger, right, 38th Rescue Squadron pararescueman, on Aug. 26, 2019, at Moody AFB, Ga. Air Force photo by A1C Taryn Butler.
A pararescueman with the 38th Rescue Squadron at Moody AFB, Ga., on Aug. 26 received the Bronze Star Medal with Valor for helping two injured Afghan soldiers while he was hurt and under fire during a battle in 2018.
SSgt. Aaron Metzger was deployed to Afghanistan last year when the Afghan partners were severely injured by a grenade.
"Despite being exposed to continuous enemy fire, Metzger ran to aid two Afghan partners who were severely injured by a grenade," the Air Force said in a release. "Disregarding the risk to himself, he carried the two partners away from enemy fire" to receive medical care.
While treating personnel during the mission, Metzger himself was hit by shrapnel when a nearby grenade detonated. He guided a teammate through treatment that saved Metzger's life, but was again injured by gunfire, according to the release.
Nevertheless, Metzger stayed in the fight, refusing to be carried to a medical evacuation helicopter so his teammates could instead secure the area.
"I'm really proud of the work that he did," said Air Combat Command boss Gen. Mike Holmes, who presented the award to Metzger at Moody. "I'm proud of the team that took part in helping Sgt. Metzger return to status because that's a tough voyage."