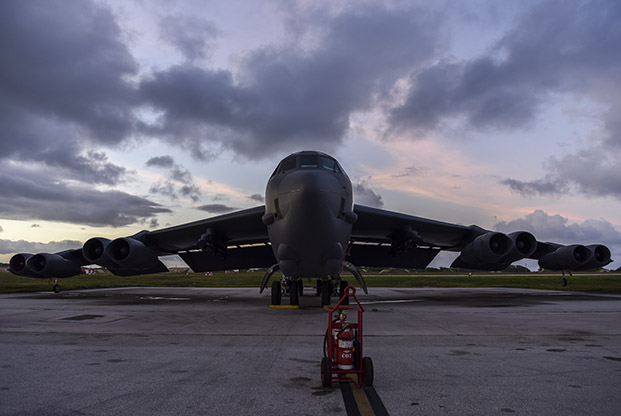 A B-52 Stratofortress bomber from the 5th Bomb Wing at Minot AFB, North Dakota, sits on the flightline at Andersen AFB, Guam, on Jan. 15. Air Force photo by SrA. Christo?pher Quail.
B-52?s from the 5th Bomb Wing deployed to Andersen AFB, Guam, this week to take over the Continuous Bomber Presence mission. Minot's Stratofortresses will replace B-52s from Barksdale AFB, La., which have been in the Pacific for more than a year.
The 96th Expeditionary Bomb Squadron replaced the 20th Expeditionary Bomb Squadron, also from Barksdale, which had deployed to Guam in January 2018.
Most recently, Barksdale's 96th flew CBP missions, which include local training at Andersen, flights with regional allies, deployments to Australia, and deterrence missions throughout the Pacific region.
In addition to the B-52 rotation, the Air Force this month also deployed B-2 stealth bombers to JB Pearl Harbor-Hickam, Hawaii.
For more on the mission, see "Bombers Watching Over the Pacific" from the October 2018 issue of Air Force Magazine.