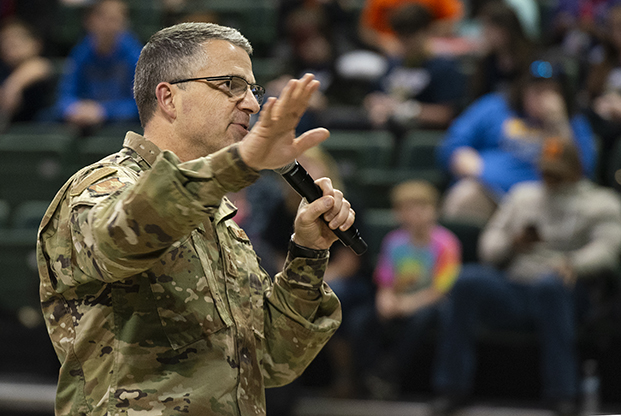 Maj. Gen. William Cooley, AFRL commander, speaks during the FIRST LEGO League Tournament closing ceremony at Wright State University in Dayton, Ohio, on Feb. 3, 2019. Air Force photo by R.J. Oriez.
The Air Force Research Laboratory is spending more time fostering its partnerships with its Army and Navy counterparts to avoid duplicating science and technology efforts, lab commander Maj. Gen. William Cooley told Air Force Magazine Feb. 28 at AFA's Air Warfare Symposium.
Cooley has a "very productive" standing engagement with Chief of Naval Research Rear Adm. David Hahn, and Maj. Gen. Cedric Wins, who leads Army Combat Capabilities Development Command, to talk about possible places to pool their resources, from specific programs to business processes to broader investment areas.
Those discussions try to "understand the challenges, and do lessons learned, and do a crosswalk," Cooley said. They have pulled in the Coast Guard, the Office of the Secretary of Defense, and the Defense Advanced Research Projects Agency as well.
"The first meeting we had almost a year and a half ago, Gen. Wins got up and briefed, in typical Army fashion, his five lines of effort," Cooley said. "Rear Adm. Hahn and I just looked at each other and started laughing, because … we don't necessarily talk about them in lines of effort, but it's exactly the same sorts of challenges."
He didn't say which technologies have benefited most from those talks, but service leaders have indicated cooperation extends to issues like hypersonics, directed energy, and new planning and modernization groups.
Michael Jirjis, who oversees directed-energy projects in AFRL's Strategic Development, Planning and Experimentation Office, told Air Force Magazine last month the service is collaborating with the other branches and OSD while not losing sight of its own requirements.
"We can provide capability now that addresses immediate need and work with our service partners for the best-of-breed option in the long-term acquisition process," he said.
During her keynote in Orlando, Fla., Air Force Secretary Heather Wilson reiterated her frequent talking point that cooperation and prototyping with the other services are speeding development of America's first operational, hypersonic boost-glide weapon five years faster than expected.
"The Army, with funding from the Navy, had developed a [hypersonic] warhead through DARPA that worked better than ours. But our booster worked better than the Navy's," she said Feb. 28.
"We signed an agreement among the three service Secretaries, and we are putting the Army's warhead on our booster and testing it from the ground, on ships, and off a B-52 bomber."
All three service Secretaries discuss new opportunities for interoperability over breakfast every two weeks, a high-level equivalent of their research chiefs' meetings.
"I sat there in one of our breakfasts … and said, 'Wow, you have [the Air Force Warfighting Integration Capability], new [Army] Futures Command,'" Navy Secretary Richard Spencer noted during a Feb. 8 conversation with the three Secretaries at the Center for Strategic and International Studies.
"Let's get Navy and Marine installed in both of these so we're hearing about it real-time and can adopt, and adapt, and bring it in, rather than traditional stovepiping, where we might read about it in the paper and call each other up and go, 'Wow, can I get a slice of that?'" he said.