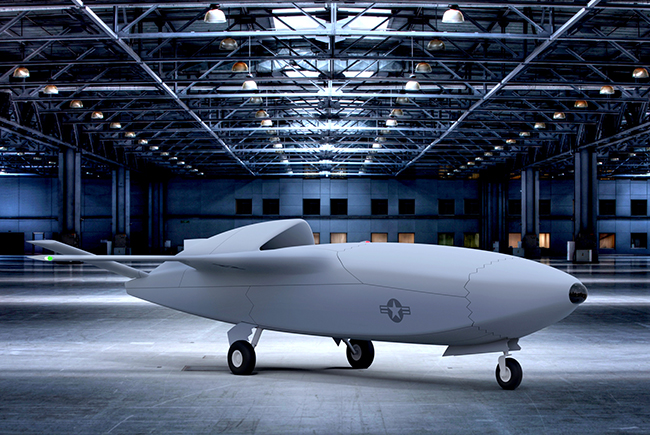 A Skyborg conceptual design for a low cost attritable Unmanned Combat Aerial Vehicle. Air Force Research Laboratory artwork.
Two new autonomous aircraft concepts that promise to redefine the Air Force's unmanned fleet are moving forward.
The latest, Skyborg, is an autonomous drone prototyping program underway at the Air Force Research Laboratory. Researchers hope to get the aircraft—expected to be cheaper than other platforms and easily replaceable—combat-ready by the end of 2023.
Air Force Acquisition Executive Will Roper revealed the program, which launched in October, at a conference in Washington last month. Skyborg must be able to autonomously take off and land, fly in bad weather, and avoid other aircraft, terrain, and obstacles, the Air Force said.
Although the Air Force hasn't decided what kind of aircraft Skyborg should be, it released an artist's concept of an oblong, winged vehicle with three wheels last month.
The "modular, fighter-like aircraft" serves as a springboard for more complex artificial intelligence work, according to a March 15 request for information.
"Skyborg is a vessel for AI technologies that could range from rather simple algorithms to fly the aircraft and control them in airspace, to the introduction of more complicated levels of AI to accomplish certain tasks or subtasks of the mission," Matt Duquette, an engineer in AFRL's aerospace systems branch, said in a press release last month.
An experimentation campaign for autonomous airborne systems is in the works for fiscal 2019 and 2020, the RFI said. The Air Force did not offer more details about the campaign by press time, nor did it answer whether Skyborg is related to another AFRL endeavor launched last year that sought to develop an autonomous fighter jet by the end of 2019.
A similar program, Kratos' XQ-58A Valkyrie, completed its first flight test March 5. The 30-foot-long, experimental "wingman" aircraft will fly five tests in six months to vet system functionality, aerodynamics, and launch and recovery systems, according to the Air Force.
The XQ-58A Valkyrie demonstrator completed its first flight on March 5, 2019 at Yuma Proving Grounds, Ariz. Video by US Air Force
Valkyrie is designed for long-range strike and intelligence, surveillance, and reconnaissance missions. It performed as expected during its 76 minutes airborne at the Army's Yuma Proving Ground.
"There are no specific restrictions for what it can or cannot pair with," a company spokeswoman told Air Force Magazine last month. "The flight performance envelope matches the high subsonic and high G capability of fighter aircraft."
Kratos plans to sell the drone in bulk for about $2 million per copy when bought in quantities of more than 100. Three aircraft will be complete this year, and the company declined to comment on future development spirals and production.
About two decades ago, the MQ-1 Predator changed modern warfare by allowing the military to hunt its targets from afar, prompting a slew of operational, legal, and cultural questions. Now the Air Force wants to push the envelope again.
New uninhabited aircraft ideas—whether low-cost, attritable wingmen to manned or unmanned platforms, in swarms, or as stealthier designs that fly alone—are gaining traction in the era of great power competition. While Air Force drones have largely been used for airstrikes and intelligence-gathering in the past two decades of counterterrorism, new technologies are opening up possibilities for a more diverse unmanned fleet that builds on missions flown today by the MQ-9 Reaper, RQ-4 Global Hawk, and classified UAVs.
"It looks like a very positive shift by the Air Force towards embracing the technology," Paul Scharre, director of the Center for a New American Security's technology and national security program, told Air Force Magazine. "The Air Force has been there on paper for a while, dating all the way back to the 2009 Air Force UAS flight plan. … It hasn't necessarily really had the follow-through on this technology in the budget."
Scharre, a former staffer in the Office of the Secretary of Defense and Army Ranger, believes aircraft like the Valkyrie are the future of American air power as the Air Force has shrunk over time, become more homogeneous, and faces budget constraints.
"We're basically looking for an Air Force that will have three versions of combat aircraft … F-35, F-22, and B-21," he said. "Diversity is also really helpful to complicate things for the adversary."
Cheaper, attritable aircraft can help as the service tries to limit its number of procurement programs and drive down production costs, he continued.
Retired Lt. Gen. Dave Deptula, head of AFA's Mitchell Institute for Aerospace Studies, argues Skyborg and Valkyrie wouldn't step on the toes of existing unmanned assets.
"They have the potential for dramatically changing the game in the conduct of air operations," he said. "They can bring … more force inventory at a fraction of the cost of inhabited aircraft, while facilitating the employment of dramatically increased weapons employment capability over a much shorter timeline than required with conventional aircraft."
Nor does he expect this will mark an era when human pilots always get an unmanned sidekick.
"The spectrum of air operations spans from disaster assistance/humanitarian relief to global thermonuclear war—there are many missions across that spectrum of operations that will require manned aircraft without 'uninhabited loyal wingman' flying with them," said Deptula, a former Air Force deputy chief of staff for ISR. "That said, there will be a large portion of combat air operations" that will need drones, he noted.
These platforms are meant to help, not replace, the human brain, Scharre added. They can be flown closer to enemy air defenses and sent out on longer missions than legacy manned platforms. Drones could also play a new role as decoy, electronic-warfare, and kinetic strike missions.
"We're likely to move over time towards a world where you see the human-inhabited aircraft play a sort of quarterback role where they're managing the fight, but out at the edge, you actually have a diverse mix of uninhabited aircraft of various shapes and sizes," Scharre said. "Some of them will be low-cost, attritable ones. Some of them will be more capable stealth aircraft that are probably fairly expensive, and there's probably a role for them as well to do things like long-endurance surveillance or time-critical strike."
He expects unmanned aircraft missions will shift to encompass more than primarily surveillance. Modularity would allow them to carry a wide range of sensors and weapons for different combat environments and to be deployed in unique combinations with other platforms.
It's too early to speculate on what the right mix of unmanned aircraft might be as these platforms mature and are added into the inventory. Part of that discussion will depend on capabilities, another on cost.
"It will probably take a generation, but the balance of human-inhabited and uninhabited aircraft in the Air Force should shift over time," Scharre said. He expects that ratio could reach 20 unmanned aircraft to every one manned aircraft. For instance, each F-35 could have dozens of autonomous partners to make it more capable in battle.
Some believe there's still more to do to equalize the unmanned enterprise with a service dominated by "fighter jocks," as Rep. Jim Cooper (D-Tenn.) recently called those who often snag Air Force promotions.
"I love leather jackets and fighter pilots, but that's not the future," the House Armed Services strategic forces subcommittee chairman said March 20. "Unmanned aircraft, as we've seen with drones, are increasingly important in the world."
As these technologies advance, could the Air Force someday see manned aircraft as second fiddle to their unmanned counterparts? Deptula argues the service already embraces manned and unmanned forces as equals, and hopes the service simply picks the right system for a mission, regardless of pilot or domain.
Scharre said there's more work to be done. Over time, he said, uninhabited aircraft may become the default as operators grow to trust them, as command-and-control technology improves, and as bureaucratic and cultural hurdles fall.
"I don't know that they're quite there yet," he countered. "I think it's where they need to get to over time. I think when you look at the bulk of the expenditures … the Air Force is still oriented toward short-range, tactical fighter aircraft. They haven't even really made the pivot toward longer-range, persistent surveillance and strike aircraft."
He expects new unmanned platforms will become as in demand as current RPAs are now.
Autonomy and AI development won't stop at new platforms. The two experts believe the next phase of technology development will focus on adding more autonomy and AI into command and control, pursuing swarming, and updating the weapons unmanned aircraft can carry.
"The Air Force needs to be stretching its thinking ahead to how UAVs can 'change the game,'" Deptula said.