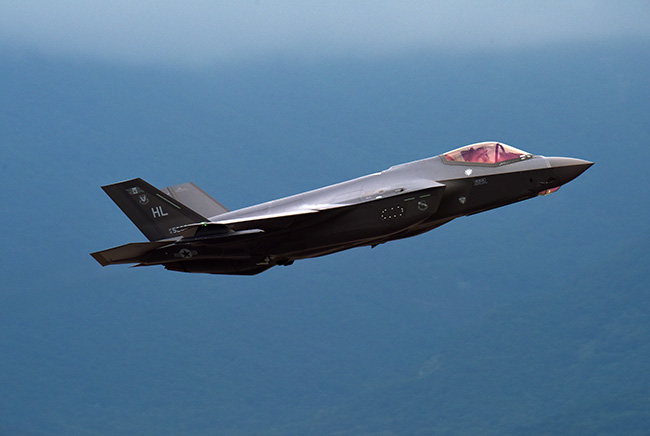 An F-35A Lightning II fighter jet takes off during Astral Knight 2019 on June 6, 2019, at Aviano AB, Italy. Air Force photo by TSgt. Jim Araos.
DAYTON, Ohio—The Pentagon's top sustainment official thinks the F-35 can still achieve its planned cost-per-flying-hour targets, because there are still years to go before the notional deadline and progress is rapidly being made.
"I have not come off the $25,000 per flying hour [goal] because no one's told me I can't get there," Assistant Secretary of Defense for Sustainment Robert McMahon told reporters at an Air Force/industry symposium in Dayton, Ohio.
Although program executive officer Vice Adm. Mat Winter and Cost Assessment and Program Evaluation chief Robert Daigle testified to Congress last month that they anticipate the F-35 will never reach the $25,000 per hour target—they anticipated it will level off at between $34,000 and $36,000—McMahon said they are looking at the immediate situation and extrapolating from that, and he expects things will improve.
Daigle "has to look at the world as he sees it today, … Winter, too," McMahon said. But, "I believe this is the art of the possible."
He said he meets with representatives from Lockheed Martin and Pratt & Whitney every 45 days to evaluate progress along "nine lines of effort" on parts, maintenance, etc., and this "battle rhythm" is already producing results. Moreover, as older jets are brought up to a more modern configuration—the Technology Refresh 2 and 3 modifications—parts supply issues are "smoothing out" and "we are … getting parts out of there that are not as reliable."
In addition to expecting "incremental improvements every 45 days," McMahon noted that new depots are being stood up some six years earlier than planned, and this, too, will help with repair of repairable parts and drive costs down.
He also expects there will be operational changes that will drive costs lower. The Air Force, he noted, is experimenting with expanding the capability of maintainers so that each can do a wider variety of different tasks. Life support specialists, he said, are "launching airplanes." The experiments so far have shown that USAF can maintain an F-35 with six people versus the expected 20.
"Now, is six the right number? No, but probably 10," and that will be a 50 percent reduction in manpower costs alone, McMahon noted.
"There are some really innovative things taking place" at Hill AFB, Utah—the Air Force's F-35 depot—and Luke AFB, Ariz., which is the multinational F-35A training base, McMahon said, involving not only manpower but parts management and practices.
The goal of $25,000 is "not insurmountable," he said.
McMahon also said that data collection is providing insight "not only in to 'should cost' but 'could cost,'" and that suggests there is a much lower "cost of the possible."
He declined to offer comments on whether the situation with Turkey will incur additional supply problems for the F-35 partner countries. The Pentagon recently explained its plan to "unwind" Turkey from the program due to its insistence on buying the Russian S-400 air defense system instead of a system built by a NATO country.
McMahon said Ellen Lord, undersecretary for acquisition and sustainment, has adequately addressed the issue. The Pentagon and Lockheed Martin are continuously assessing the "fragility in the supply chain," and McMahon said, "We have to look at it differently," so its security can be "enhanced."
A key sustainment worry is lower-tier defense contractors and whether they have adequate cyber defenses in place, he added. The Pentagon won't be as concerned about cyber security when a vendor is making, say, boots, he said, but it is keenly concerned about counterfeit parts, particularly electronic parts, that cannot be detected without the efforts of a laboratory. New standards are being written and will be enforced, he said.