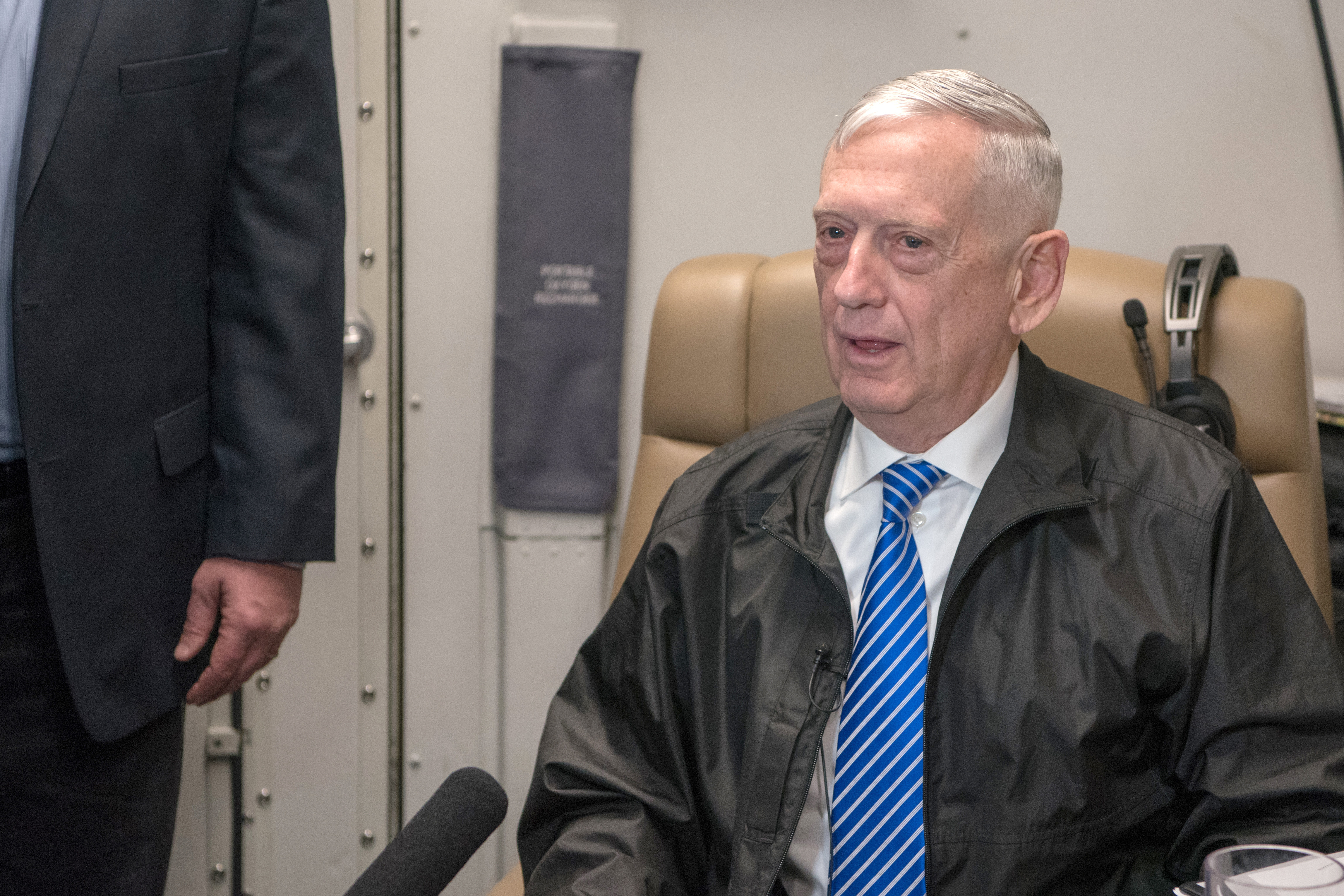 Defense Secretary James Mattis speaks with reporters during a flight to Muscat, Oman, March 11, 2018. DOD photo by Army Sgt. Amber Smith
The Pentagon has not seen any changes to Russia's nuclear capability following Vladimir Putin's recent speech announcing the creation of new "invincible" weapons.
Defense Secretary Jim Mattis said the March 1 speech in which Putin announced Russia was developing a new weapon that renders missile defense systems "useless," as well as supersonic missiles and drone submarines, was "disappointing, but unsurprising right now."
Speaking Saturday en route to a visit to Oman, Mattis called the speech "election rhetoric," noting it came shortly before presidential elections in Russia.
"I get paid to make strategic assessments, and I would just tell you that I saw no change to the Russian military capability," Mattis said. "And each of these systems that he's talking about that are still years away, I do not see them changing the military balance."
Even though the announcement does not change the US deterrent posture, Mattis said he hopes the Russian military "does not embrace the campaign rhetoric that they're hearing."
Russia can throw money at these programs, but "it does not change my strategic calculation." The US has never said it has a missile-defense system aimed against Russia, instead the system is to protect against rogue nations such as North Korea and Iran.
The statement by Mattis is the latest in a series of US government officials trying to downplay the Russian statements. Army Lt. Gen. Robert Ashley, director of the Defense Intelligence Agency, told the Senate Armed Services Committee last week that Putin's announcement was focused on the domestic audience and the programs are in the "research-and-development phase."
Czech Gen. Petr Pavel, the chairman of NATO's Military Committee, made similar comments during a visit to Washington last week, though he also told reporters the speech "illustrates the need for extensive dialogue with Russia on disarmament, especially in the nuclear arena," because, "All these developments may turn dangerous if they are not handled carefully from the very beginning."