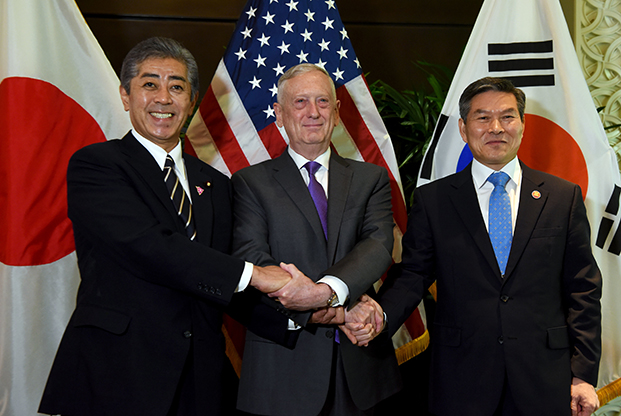 Defense Secretary Jim Mattis (center) poses for a photo with Japanese Minister of Defense Takeshi Iwaya (left) and South Korean Minister of National Defense Jeong Kyeong-doo (right) at the Association of Southeast Asian Nations Defense Ministers' Meeting on Oct. 19 in Singapore. DoD photo by Lisa Ferdinando.
Defense Secretary Jim Mattis met with South Korean Minister of National Defense Jeong Kyeong-doo at the Pentagon on Wednesday for the annual Security Consultative Meeting. The two leaders were expected to discuss the way forward without major military exercises, as both countries focus on a diplomatic and peaceful resolution to the denuclearization of the Korean Peninsula.
Chairman of the Joint Chiefs of Staff Gen. Joseph Dunford last week met with his South Korean counterpart at the Pentagon to discuss how to maintain a high state of readiness. He said both countries will spend the coming months re-evaluating mission-essential tasks, and noted that balancing the diplomatic and military objectives in the region will be "difficult."
"The more successful we are in a diplomatic sense, the more uncomfortable military leaders are going to be in the coming months," Dunford told reporters Friday at the Military, Reporters and Editors Conference in Arlington, Va.
Mattis' meeting came the same day RAND Corporation released a report that lays out and analyzes nine possible roads to unifying the peninsula, identifies potential obstacles to reunification and how to counter them, and recommends how the US and South Korea could "set the conditions for stable unification, should the opportunity arise."
According to the report, South Korea should leave armed conflict out of its strategy to reunify the Korean peninsula to avoid triggering the potentially devastating use of weapons of mass destruction by North Korea.
Ideally, the report says, South Korea should press pause on reunification efforts until after North Korea's political regime falls apart. In the meantime, though, South Korea should start crafting policies that'd guarantee the majority "of the North Korean elite" better lives under a unified Korea "to ensure their cooperation in the unification process," according to a RAND press release.
The report also advises the US and South Korea to "actively counter" pro-Kim Jong-un propaganda that paints him as "a benevolent peacemaker and a god-like leader" so that he doesn't wind up in control of the unification process.