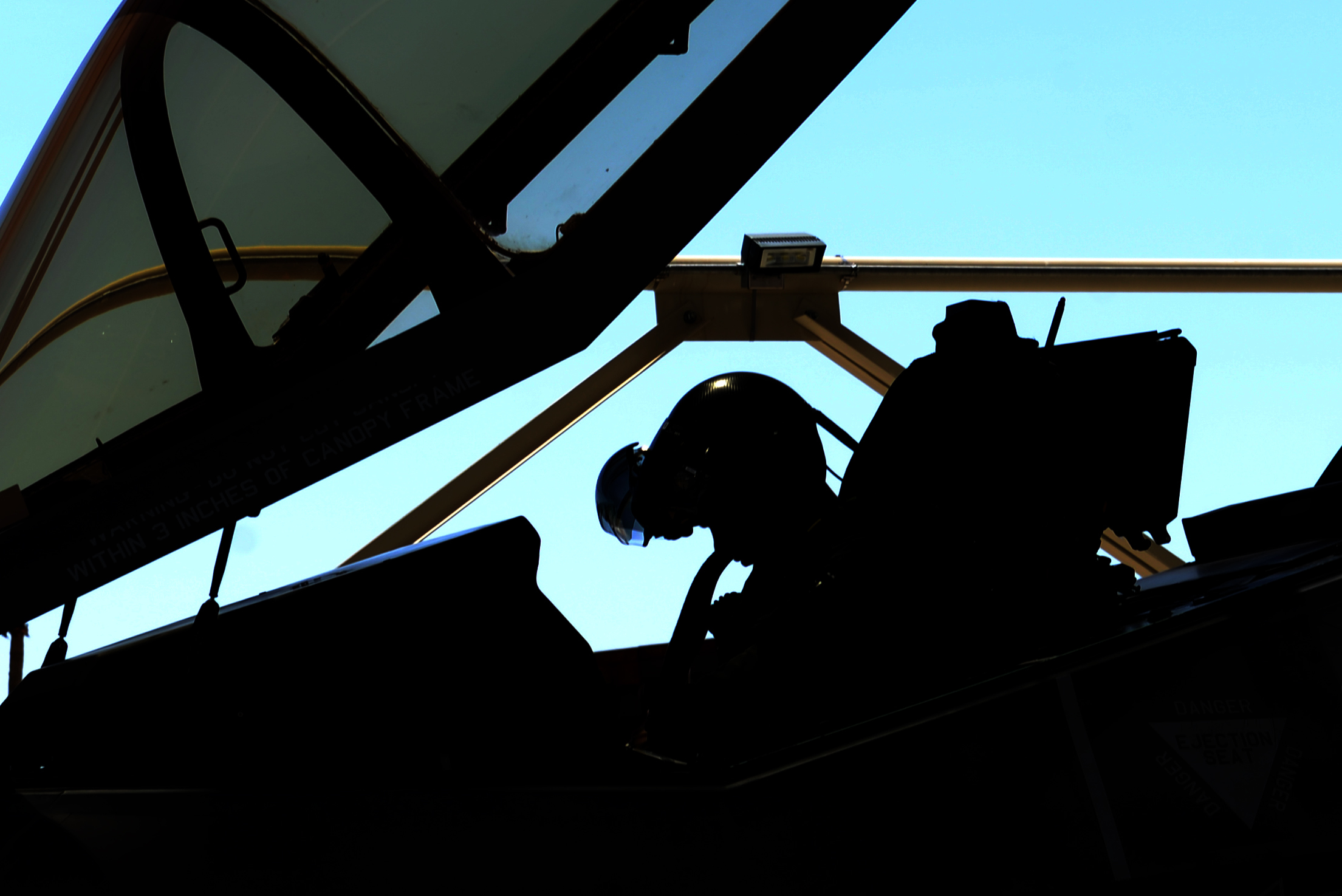 A 61st Fighter Squadron pilot prepares to start an F-35A Lightning II for a sortie July 18, 2018, at Luke AFB, Ariz. USAF photo by SrA. Ridge Shan.
Pentagon acquisiti­on, technology, and logistics czar Ellen Lord on Friday gave reporters a progress report on her efforts to streamline a­cquisition, ticking off more than 150 positions she has adjusted or eliminated from the offices under her purview, noting that she's delegated about 75 percent of acquisition decisions to the separate services.
The Pentagon has established a "do not buy" blacklist of software companies the Defense Department won't do business with because of security concerns stemming from their ties to Russia? and China, Lord said. This list has been in the works for "six months … in earnest" she said, and the Pentagon is working with industry to establish software security standards that are clear and fair. Lord said she would try to release the list, but the key concern is software supply from China, she said.
In addition, Lord said the White House will release "within the next month" a Pentagon study of the nation's defense industrial base. The report will raise concerns about the "fragility" of the supply chain and critical military supply areas where only one supplier remains, she explained, or where supply depends on foreign or adversarial nations. Lord suggested the study will recommend steps to broaden the supply base even at the fifth tier of vendors, and potentially establish secure new domestic microchip foundries. The report is "in final coordination now," but it will be an "interagency" product.
On the F-35, Lord said the services are "working through the trades right now" on what to do about retrofitting older jets to the current 3F standard. Readiness rates of the jet in USAF and Marine Corps service have suffered because vendors are making similar but not interchangeable parts for multiple configurations of the aircraft; necking down to fewer configurations would increase parts supply for both production and sustainment. Lord said it will be decided by the end of the calendar year whether the Air Force will upgrade its training jets to combat configuration, and whether the Marine Corps will actually retire some more of its earliest F-35s. She is focused on getting as many aircraft as possible to the TR, or Technical Refresh, Level 2 and 3.
Sooner, though, she will preside over a Defense Acquisition Board confirming what will be included in the "Block IV" upgrade plan that will incorporate new technologies in the F-35 over the next decade.
At her level, "Block IV … is what we're focused on. We're working very closely with the services, they know exactly what the elements of Block IV are," Lord said, "both in terms of software and hardware. We meet on it regularly so there is no ambiguity there. We are doing…basic systems engineering work to decompose what the end state needs to be in terms of capability, down into projects, associating time and cost with them."
While she confirmed there is now a "handshake deal" between the government and Lockheed Martin on the Lot 11 buy of F-35s, she refused to give any details or say how much the unit price will decline with the next batch of the fighters.
Lord also noted that a study which recommended that the F-35 Joint Program Office give way to separate service program offices is an eventual but not near-term plan. A key finding of the study, though, was that "We probably needed the integration offices to have a little bit more focus. And there was a commitment by the services to put a more senior individual" in place "as the interface to the JPO." Lord said for the time being, international partners still need a centralized entity to work with, and she noted that there are 130 foreign partners working in the JPO in key managerial positions on the multinational project.
Cybersecurity standards demanded from industry will be stiffened in the near future, Lord noted, and companies' ability to meet these will be a critical factor in being able to win contracts. There was such a push over several years, but "after pushback" from industry, the requirements were "softened," Lord said. "But it now looks like…we will have to increase some of our requirements … in this area," she observed. Moreover, the Pentagon has begun "Red Teaming" against industry—cyber probing meant to "see how robust their systems are"—and warning those with vulnerable systems to tighten up. "We're taking all of this very seriously," she added.
Lord said she is working with Mike Griffin, the undersecretary of defense for research and engineering, and Robert Daigle, the director of the Cost Assessment and Program Evaluation shop, to "implement a lot of the new authorities" to reduce bureaucracy and streamline programs.
She noted that "previously, acquisition and sustainment had 17 offices and two agencies as direct reports," but is now down to eight. She's consolidated four assistant secretary positions into three and eliminated five Deputy Assistant positions. All told, Lord said, "we've reduced 353 civilian positions to 233, and we're transitioning from 61 military positions to 42." Efficiency efforts have consolidated "83 individuals that touched internal contracts and budgeting to 22 dedicated in the chief operating office," she added.
"One of the things I found when I came on board was that the organization had evolved over time in response to the environment, to individuals, to different things happening," she said "And what I really did was step back and looked at the body of work we do and try to organize around that body of work."
Lord said she has stepped up the "cadence" of her meetings with her chief deputies, the service acquisition executives and other key program executives, hammering on the effort to "minimize the time it takes to get on contract." She's also directed that foreign military sales cases be expedited, and has stepped up the frequency of her meetings with members of the Aerospace Industries Association, National Defense Industrial Association and others to address their concerns.