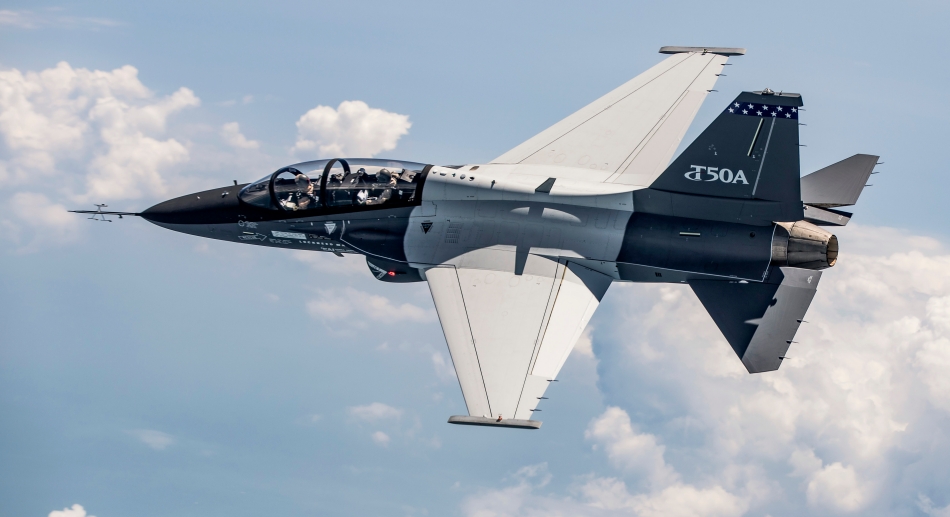 Lockheed Martin photo of the T-50A, its entrant to USAF's next-generation training program. Lockheed Martin photo.
The training syllabus for the Lockheed Martin/Korean Aerospace Industries T-50A is so common to that of the F-16 that Air Combat Command could offload 50 percent of tasks taught on the F-16 to the T-50A, Lockheed Martin consultant retired Gen. Don Cook said Monday in promoting the jet.
"It's a nine-month syllabus in the F-16," observed Cook, who retired as head of Air Education and Training Command in 2005. After learning many of the same skills in the T-50A, which resembles the F-16 and was developed with training F-16 pilots in mind, "you're basically checking out in a similar airplane," and the F-16 program need be only four months, he said. "This is the experience the Koreans have had" in flying both aircraft, added retired Gen. William Looney, who also retired as head of AETC.
Both generals have flown the T-50A and pitched on the plane's behalf at ASC17. In a video of each on their representative training flights, they extolled the virtues of the aircraft being able to simulate sensor operations—radar and other, podded system—"even though it doesn't have a radar or a pod," Cook said. Cockpit video showed simulated MiG-23s viewed with a phantom sensor.
Asked if the jet would be a good fit for the Aggressor mission, Looney noted that today's T-38 in that role is "nothing more than a radar dot," but the T-50A, with performance broadly comparable to the F-16, "would be a little more challenging." Asked if the T-50A could potentially be a replacement for the Navy's T-45 advanced trainer, Lockheed business development manager for T-X, Mike Griswold, said the timing would be a good fit.
"The Navy is following the T-X," he said, and by the time the T-50A is well along in production for the Air Force, it will be time for the Navy to start replacing the BAE Hawk-based Boeing T-45. The jet would probably have to be heavily modified for carrier landings.