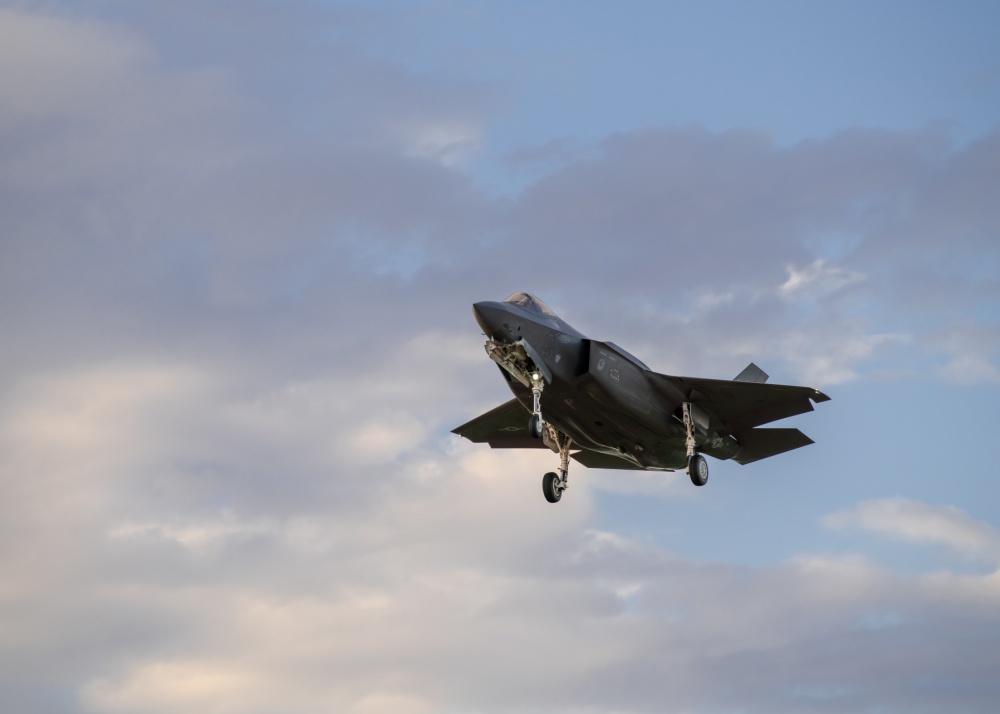 An F-35A Lightning II assigned to the 308th Fighter Squadron prepares for landing Sept. 10, 2019, at Luke AFB, Ariz. USAF photo by A1C Aspen Reid.
It's possible for the F-35 program to reach its target of $25,000 per flying hour, but only if there's a substantial change in the approach taken jointly by the operators and Lockheed Martin, company officials said at AFA's 2019 Air, Space & Cyber Conference on Sept. 17. The company has submitted a white paper to Pentagon acquisition and sustainment chief Ellen Lord explaining a Performance-Based Logistics plan, requiring investment by both the company and the Pentagon, that could reduce operating and support costs for all the services by $18 billion by 2033, or 16 percent a year.
"We won't get to the (reliability) targets doing business as usual," Ken Merchant, Lockheed Martin vice president for F-35 sustainment, told reporters at a press breakfast.
Current sustainment contracts require a lot of negotiations, paperwork and audits on an annual basis, Merchant said, and by the time it's all done, "it's time to start all over." Subcontractors and suppliers can't plan very far in advance, and can't buy in cost-effective quantities as a result.
A PBL contract of five years would allow suppliers "to know they have five years' worth of business guaranteed." Lockheed would "incentivize" suppliers based on their performance, to keep systems and parts on the airplane a longer period of time, or with a certain level of reliability. "That includes any redesign work or system improvement" to get better performance, he said. The extra stability would give suppliers a reason to invest their own money in improved systems and parts, or in developing more efficient processes, particularly at depots and regional repair centers in Europe and Asia.
"What Lockheed is offeringis a fixed-price" five-year PBL contract, Merchant said. Lockheed would invest $1.5 billion up front in "seed money" to ensure full parts bins and investment in needed efficiencies. The program's spares account is currently funded at 20 percent, Merchant noted, "and in order to (achieve) an 80 percent (mission capable) rate with a 20 percent supply rate," everything has to work perfectly. "That's impossible. In 34 years in the Air Force, I've never seen it," he asserted.
"You have to put enough spares so they're there when people need to pull them off the shelves," Merchant said. The Government Accountability Office recently weighed in on this issue, noting too that some of the parts from depot, when delivered to units, were "not ready to be installed."
Lockheed is working on the ALIS inventory system, looking to "clean up our data, so when a Marine goes to get a part off the shelf, it's the right part for the right airplane," Merchant said.
A life cycle support plan contract signed in January with OSD and the services says the services agreed to "fund to ten percent," and aim for $25,000 per flying hour in support costs, in base year 2012 dollars, which translates to $4.1 million per airplane per year for the F-35A, about $6 million for the F-35B, and $8 million for the F-35C. The latter two are more expensive because the size of those fleets "is much smaller," Merchant noted.
"We think it's obtainable" to get the entire fleet to an 80 percent mission capable rate, and "our models tell us we can do it in five years." There is "significant risk" to the company due to the initial outlay of funds, but by doing it that way, the services don't have to "go back" to previous budgets and find the startup money. Lockheed would be made whole later.
"It will have to be a collaborative enterprise" with government, Merchant asserted, and the white paper doesn't constitute an official offer, but rather a "way to start the discussion."
The F-35 fleet will triple in size by 2024, Merchant said, insisting single-year support contracts won't work. The F-35 schedule calls for 131 aircraft to be delivered this year; 140 in 2020; 160 in 2021 and 170 in 2022.
"That ramp is going to eat us alive" without a change in the way parts and maintenance are done, he said. "We believe the PBL model makes sense; we patterned it after some other PBLson other programs with other services" and partner nations think "it's the right way to go." Lockheed thinks it has sufficient support to "make this happen; it's a matter of the details."
Merchant said the plan had been to shift to a three-year approach, but the company thinks five years "at least" is the sweet spot to achieve necessary savings. The buy-in will also mean Lockheed will be "operating in the red for two to three years," but the practical effect will be a savings to services of $2.5 billion, which will "allow them to keep their budget the same for the next five years," and the savings of $1 billion could be "repurposed" for other line items.
Structuring it as an indefinite delivery, indefinite quantity contract, still awarded annually, would probably work, as long as the annual paperwork and standards were streamlined, Merchant noted. There haven't been many multi-year sustainment contracts, so if the PBL contract was done that way, "we'd be breaking new ground."
It's now up to Lord and the F-35 team to decide whether Lockheed's initiative will go forward, he said.