The Space Development Agency successfully launched 13 small satellites into orbit Sept. 2, more than doubling the size of "Tranche 0" of its planned constellation in low-Earth orbit.
The new satellites went from contract award to launch in just three years—breakneck speed by Pentagon standards, but SDA and Lockheed Martin are pressing to go still faster on Tranches 1 and 2 of the Proliferated Warfighter Space Architecture, said an official at Lockheed, which built 10 of the satellites on this latest launch. 
"The 10 Tranche 0 satellites were an incredible pathfinder to get through integration and production," Chris Winslett, Lockheed Martin's director for the SDA Transport Layer programs, told Air & Space Forces Magazine. "Working with a new set of suppliers that aren't traditional space suppliers gave us an enormous amount of experience there and we're really leveraging all of that experience and lessons learned on the Tranche 1 and then again, looking forward on Tranche 2 Beta as well."
Both SDA and Lockheed "learned a lot" through the process of building and delivering the Tranche 0 satellites, Winslett added.
"Really Tranche 1 is our first opportunity to introduce all those lessons learned from Tranche 0 …. so we can be a lot more efficient and maybe even go faster on Tranche 1," he said. 
Lockheed is under contract to build 42 satellites for the Tranche 1 Transport Layer and 36 more in the "Beta" phasse of Tranche 2. Launches are planned from fall 2024 through 2026. 
Lockheed has moved quickly for space launches before, but not in the volume required for the new Space Force architecture. "Several demonstration programs we've had, like Pony Express, where they were very intense schedules [and] similar smaller satellites, just trying to get capabilities up there," Winslett said. The company also has internal research and development projects underway. "We at Lockheed have had experience" in rapid space development, "but probably not to the scale that we're trying to do with SDA."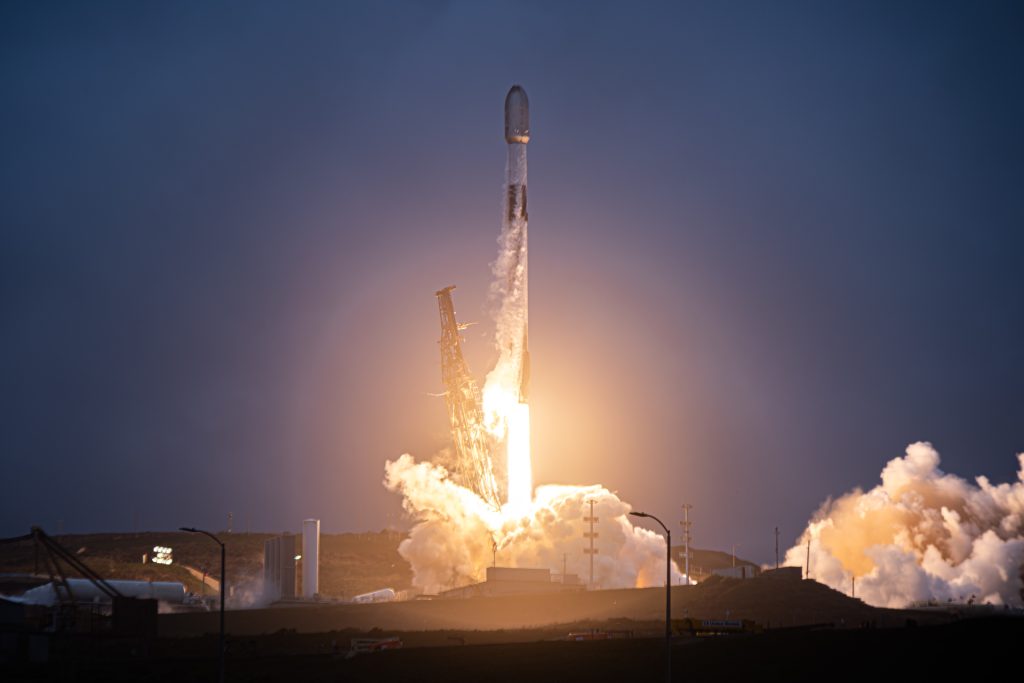 Because SDA prioritizes speed over capability, the focus is not on introducing huge leaps in technology, but rather cost and schedule efficiency. For Tranche 1 in particular, Lockheed has already gone through the Critical Design Review process, so changes based on lessons from Tranche 0 will be relatively minimal. 
"It's really incremental improvements," Winslett said. "The coverage area of the Link 16 is growing slightly. The data rates are coming at higher data rates. It's things like that, that aren't introducing new technologies, but [rather] continuing to improve the technologies that are out there in order to bring more capacity or more capability to the warfighter." 
Tranche 2 will represent a slightly bigger shift. SDA director Derek S. Tournear has said some of those satellites will carry ultra-high-frequency or advanced-waveform payloads to provide "some ability to connect more platforms back into the network," Winslett said. 
Lockheed isn't finished with the Tranche 0 satellites yet, though; initial testing and experimentation with the newly-launched satellites is still underway. 
"From the on-orbit experience, what they call the return-on experience of being able to fly and maneuver the satellites, operating inter-satellite links, and Link 16, we will definitely be able to leverage that into the Tranche 1 on-orbit operations and flying missions, as well as Tranche 2 and future tranches," Winslett said.
Winslett declined to discuss whether Lockheed has placed bids for the other segments of the Tranche 2 Transport Layer, saying only that the company remains "absolutely" interested in future bids. company recently opened a new factory in Waterton, Colo., that could potentially churn out small satellites. 
"At max capacity, it can build up to 180 Tranche 1-sized satellites per year," Winslett said.