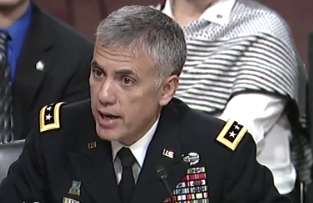 Army Lt. Gen. Paul Nakasone, who was tapped to replace Adm. Mike Rogers as head of US Cyber Command, testifies before the Senate Armed Services Committee on Thursday during his confirmation hearing. Screenshot photo.
US adversaries are not concerned about the consequences of launching a cyber attack against the country, the Trump administration's choice to head US Cyber Command told the Senate Armed Services Committee Thursday.
Lt. Gen. Paul Nakasone, now commanding general of the Army Cyber Command, made the comments during his confirmation hearing to replace Adm. Mike Rogers, who has led the command since 2014. No date for a committee vote on his nomination has been announced.
Asked what US adversaries now think would be the consequences of a cyber attack on the US, Nakasone said, "I would say, right now, they do not think that much will happen to them," agreeing with Sen. Dan Sullivan (R-Alaska) that "they don't fear us."
In addition, he said, the longer "that we have inactivity" in cyberspace, the longer "our adversaries are able to establish their own norms."
He told the committee he had seen cyber threats to the country grow "exponentially and adapt just as quickly," including adversaries' exploitation of networks, use of social media platforms for false messaging, and destructive attacks.
"The department and our nation face significant challenges in this ever-growing domain," he said.
He pointed to threats to the US infrastructure as among his top concerns, and to the threats to data, as opposed to networks.
Previously, he said, officials thought only of securing networks, but now they have learned that it also is critical to secure data, "which I would say is really the coin of the realm."
"Think of the dangers that are posed if our data is manipulated," he said, meaning not only data in such places as the financial system or defense records, but also code necessary for weapons systems and military capabilities.
In addition, he called the advent of artificial intelligence and quantum computing a "revolution in military affairs."
"This is a game-changer for our adversaries if they get to artificial intelligence, they get to quantum computing before we're there," he told the committee.