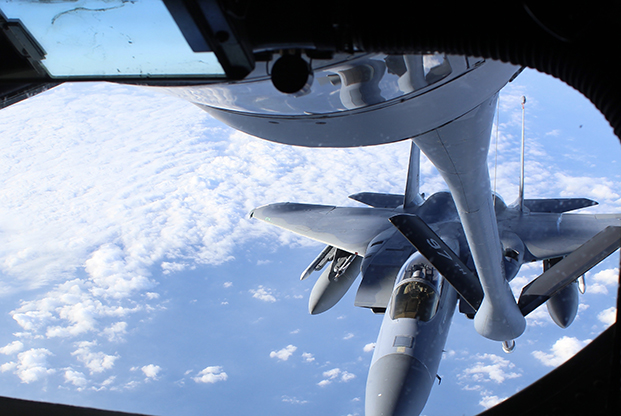 A Kadena AB-based F-15 comes in for refueling from a KC-135 with the 909th Aerial Refueling Squadron off the coast of Japan on Tuesday, Nov. 6, as part of Keen Sword. Photo by Jennifer Hlad.
For pilots based at Kadena AB, Japan, working with the Japan Air Self-Defense Force is nothing new. Nearly every pilot there has participated in at least one exercise with the JASDF, and many have taken part in several, said Lt. Col. Nichelle Somers, a KC-135 pilot instructor.
But that doesn't mean each interaction isn't valuable, she said.
"We still learn things from each other on every exercise," Somers noted.
Somers is one of roughly 10,000 US service members participating in this year's iteration of Keen Sword. The biennial exercise is the largest and most complex US-Japan field training exercise, and includes 47,000 Japanese troops and US service members on the ground, in the air, and at sea.
US Pacific Fleet, US Forces Japan, 7th Fleet, 5th Air Force, and III Marine Expeditionary Force are among the major commands that sent troops; two Royal Canadian Navy ships are participating in the maritime portion of the exercise for the first time this year.
The aviation piece of the exercise involves practicing command and control, communications, aerial refueling, and air defense and escort scenarios, according to a Navy spokesman.
Tuesday, Somers, Maj. Hans Foster, and SSgt. Cameron Bilyeu got into a KC-135 expecting to be taking off with and refueling six Kadena-based F-15s as they made their way up the airspace south of Marine Corps Air Station Iwakuni, participate in a training scenario, and then fly home.
Instead, the tanker crew learned just minutes before takeoff that four of the F-15s were staying at Kadena.
Cruising 22,000 feet above the Pacific Ocean, Somers and Foster positioned the KC-135 so the sun wouldn't be in the fighter pilots' eyes, and Bilyeu expertly guided the boom—using just two fingers —to refuel the two F-15s.
Later, as an AWACS flying 8,000 feet above the tanker monitored its fuel levels, four F-16s from Misawa AB, Japan, approached for refueling.
The change was just one example of the constantly shifting plans that are a benefit of the exercise, Somers said.
Somers flew one of the first sorties of Keen Sword after it kicked off in late October. All of the controllers were Japanese, she said, and communicating with them took some learning and adapting on both sides. But, she took notes and passed them on to others, and the Tuesday flight went a lot more smoothly as a result, she said.
For the Kadena KC-135s, which don't deploy to CENTCOM, being able to practice refueling in a real-world scenario is another benefit of this type of exercise—and it is critical to maintaining readiness, Somers and Foster said.
The tankers do practice refueling F-15s regularly, but they don't use all the operational terms they would use in combat during training, she said. During the exercise, they are forced out of their comfort zone and instead plan and fight the same way they would during a deployment to Iraq or Afghanistan, she said.
"This looks and feels the same" as Somers' previous deployments to the CENTCOM area, she said—though Foster pointed out that they see much more blue during these flights than those over the desert.
"These exercises are key because this is what keeps us ready to 'fight tonight'," Somers added.
Keen Sword wraps up Nov. 8.