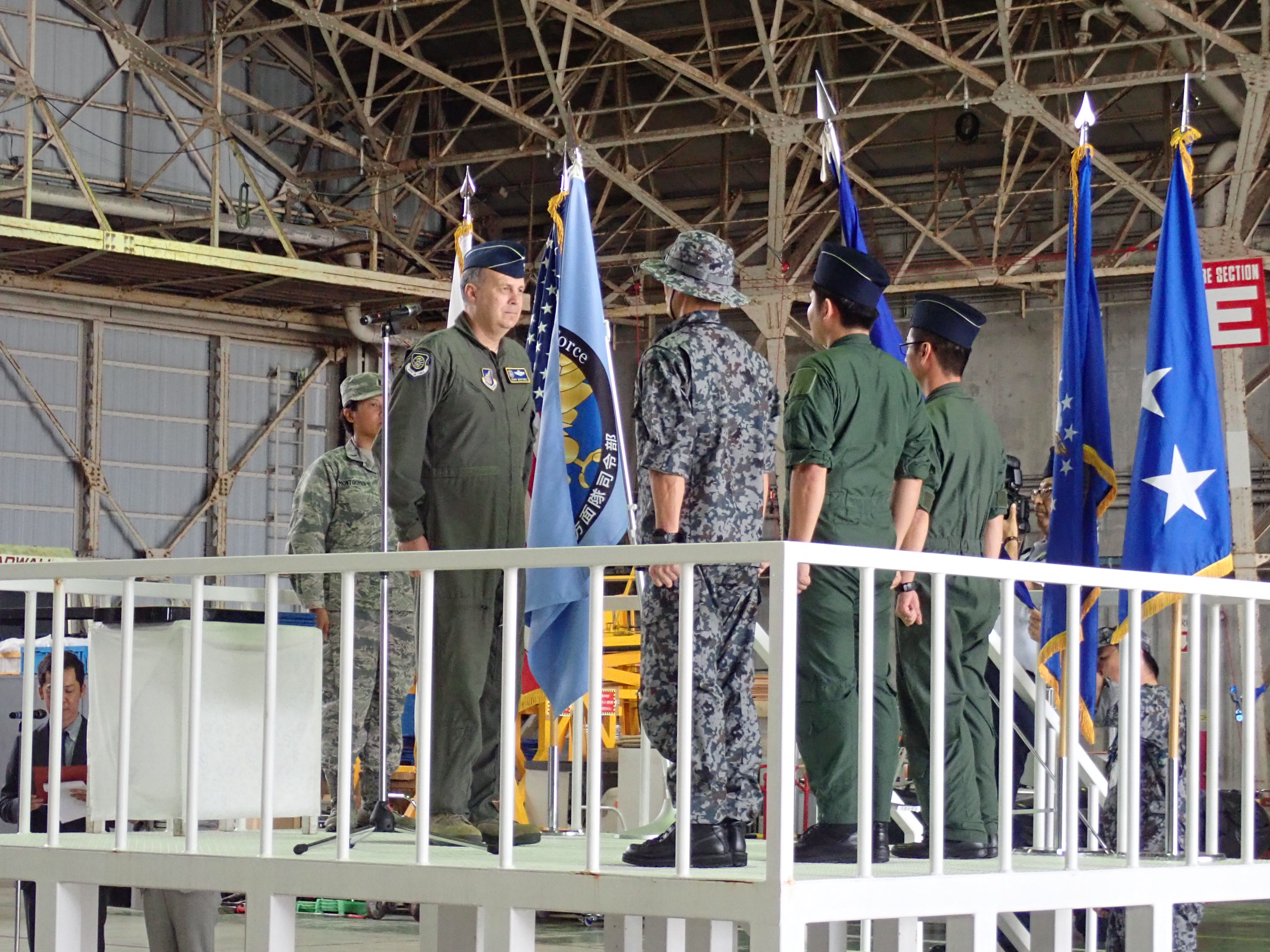 US Forces Japan and 5th Air Force commander Lt. Gen. Jerry Martinez honors members of the Japan Air Self-Defense Force pararescue unit for saving the life of a USAF F-15C pilot after his aircraft crashed in June off the waters of Okinawa. Staff photo by Jennifer Hlad.
NAHA AIR BASE, Japan—When a Kadena-based F-15C Eagle crashed over the summer and the pilot ejected into the waters south of Okinawa, nine members of the Japan Air Self-Defense Force pararescue unit pulled the pilot—who had sustained life-threatening injuries—from the water, stabilized him, and transported him to the US Naval Hospital.
The USAF F-15C, which was assigned to the 44th Fighter Squadron, crashed around 6:30 a.m. on June 11 during a routine training mission. The cause of the mishap has not yet been released, but on Monday, the commander of US Forces Japan and 5th Air Force, Lt. Gen. Jerry Martinez, thanked and honored the Japanese airmen who saved that USAF pilot's life.
The Naha Air Rescue Squadron is "filled with dedication, professionalism, and integrity," Martinez told the Japanese airmen standing in front of him, pausing for his words to be translated before continuing: "But most importantly, it's filled with people who serve a higher calling than themselves."
Martinez called the rescue squadron "absolutely amazing," and said the airmen in it are so concerned with the safety and welfare of others that they are "willing to risk [their own lives]."
The rescue shows that "the US-Japan alliance is as strong as it's ever been," added Martinez, who had traveled from the Japanese mainland for the ceremony, which was held inside a hangar at this JASDF base on Okinawa.
After his remarks, Martinez presented three of the pararescuemen with medals; the other six are in a different part of Japan helping with earthquake recovery efforts and will receive their medals later.