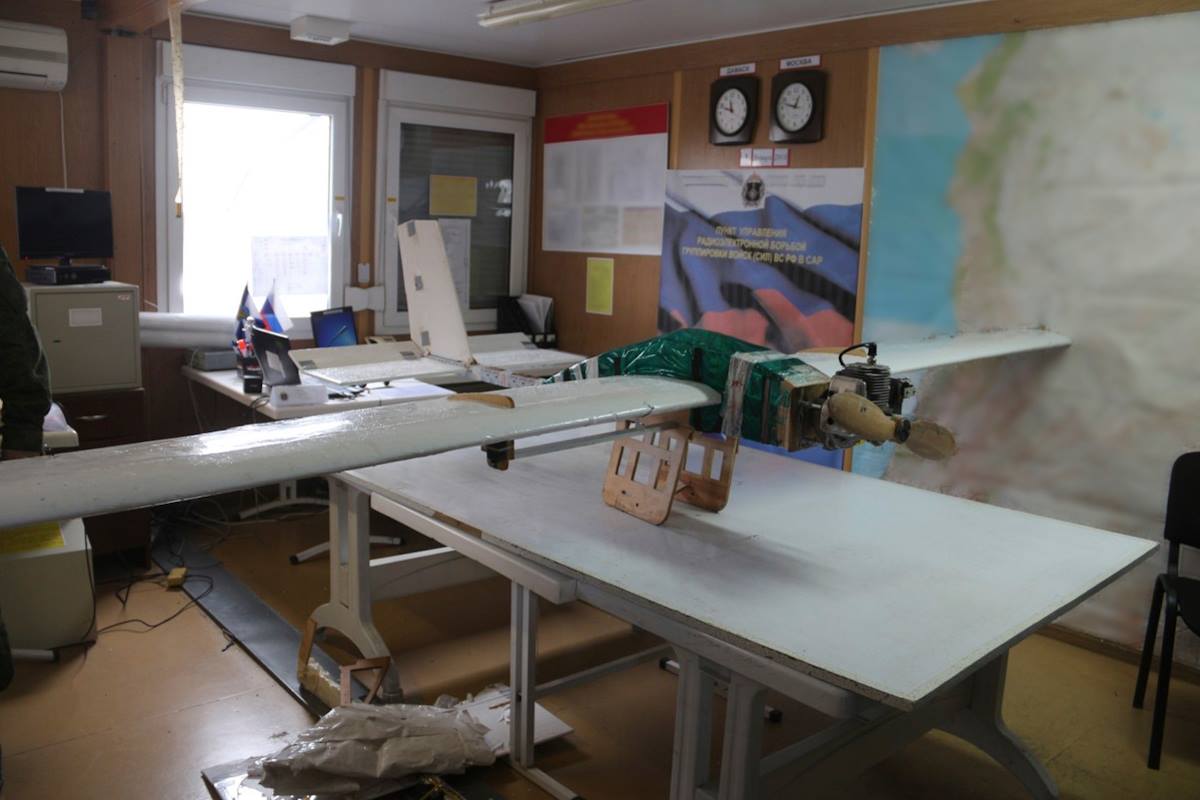 Unmanned aerials systems have a years-long history of attacking Combined Joint Task Force-Operation Inherent Resolve forces, but their presence has diminished greatly in recent months. In early January, a dozen such drones, like the one above, attacked a Russian air base in Syria. Ministry of Defense of the Russian Federation Facebook photo.
So far this year, Combined Joint Task Force-Operation Inherent Resolve forces have sighted about half a dozen unmanned aircraft systems (UASs) in the the AOR—far less than in the past and with little effect on operations.
Even though a swarm of small drones recently attacked Russia's air base in Syria, CJTF-OIR told Air Force Magazine in an email the UAS threat to coalition forces "has been significantly reduced over the past year with the complete disintegration of ISIS as a military force in Iraq and Syria, and ISIS territorial losses. The Coalition had an overwhelming success rate in either repelling, shooting down, or chasing away the majority of ISIS UASs in Iraq and Syria over the past two years before they could harm our personnel or do any damage to equipment or infrastructure."
In an interview Friday, coalition spokesman Army Col. Ryan Dillon said ISIS's diminished power—having lost 98 percent of the land it once controlled in Iraq and Syria—means it's less able to acquire, launch, and operate the systems.
Attacks like the one on Russia's Hmeimim air base are uncommon for coalition forces, but they do take place, and the response isn't always high-tech. It often involves line-of-sight targeting and engagement from machine guns and small arms. This is easier to do when the UAS is targeted from afar or shot down over rural areas, but not so much during battles or in cities, as was the case in many UAS engagements in 2017, Dillon said.
In those cases, ISIS was using UASs in a variety of ways, as it had done since the summer of 2015, the first time ISIS used "a UAS for a tactical purpose in Iraq or Syria."
As examples, an ISIS UAS could drop munitions on coalition forces, spy on those same forces, keep track of its own strikes against them with indirect fire, route paths for vehicle-borne IEDs through winding streets, and record successful strikes so it could share these online for propaganda, Dillon explained. However, he added, the low-fi drones' limitations meant they barely had an effect on air operations. Dillon said he'd never heard of an aircraft being engaged by a drone in his nine-month tenure with CJTF-OIR.
Countering these often store-bought, and accordingly, technologically limited drones could sometimes be simple: Shoot it down. It could also get complicated, Dillon explained. Identifying the drone to ensure it's ISIS property—and not belonging to coalition or Iraqi forces, both of which often operating their own small unmanned systems—could delay appropriate reaction. As coalition forces liberated city after city, however, the "number of engagements has been significantly reduced," a further email from the OIR office read.
"We have shot down or repelled hundreds of ISIS UASs in Iraq and Syria over the past two years," CTJF-OIR's email read, adding a hard number would at best be an "estimate." ISIS would sometimes recycle its UASs, too, further complicating record keeping. "We do not know how many ISIS UASs were damaged beyond repair, how many crashed in rural desert areas on their way back to base, and how many were reused for future missions," CTJF-OIR said.
Looking ahead, Dillon said he couldn't predict what ISIS has planned with its UAS enterprise, but the continued crippling of its power, paired with the specific targeting of UAS developers and operators, might mean it'll continue to decline its unmanned efforts. In early October, for example, CJTF-OIR reported it had killed ISIS UAS researcher Abu Taburak in Iraq and UAS facilitator Abu Asia in Syria.
In its report on the deaths, CJTF-OIR wrote that removing such fighters "disrupts" ISIS's command and control network and its UAS research and development. Dillon noted it also helps that while its operators are largely in hiding, it's tough for ISIS to arrange delivery of the UAS systems they plan to modify for warfare. Caves don't have addresses.
And each time one of these operators goes down, Dillon said, the coalition is able to determine that person's network of "bubbas," giving military forces a new list of targets.
While he wouldn't go into detail, Dillon said coalition forces conducted over a week of intelligence gathering—by ground and air: manned, unmanned, and human/machine platforms—before carrying out a recent attack. Jan. 20 strikes took out an ISIS headquarters with 150 fighters in it, a concentration of combatants Dillon said was "rare." He added it's not entirely clear why ISIS would have so many fighters in one place and time, but the coalition took up the opportunity to react accordingly.
Dillon also wouldn't say whether coalition UASs were involved in the attack itself, but noted its inventory includes UASs of various types and capab?ilities. Some aren't armed, he said, and some are.
See also: The Drone Wars from the February 2017 issue of Air Force Magazine.