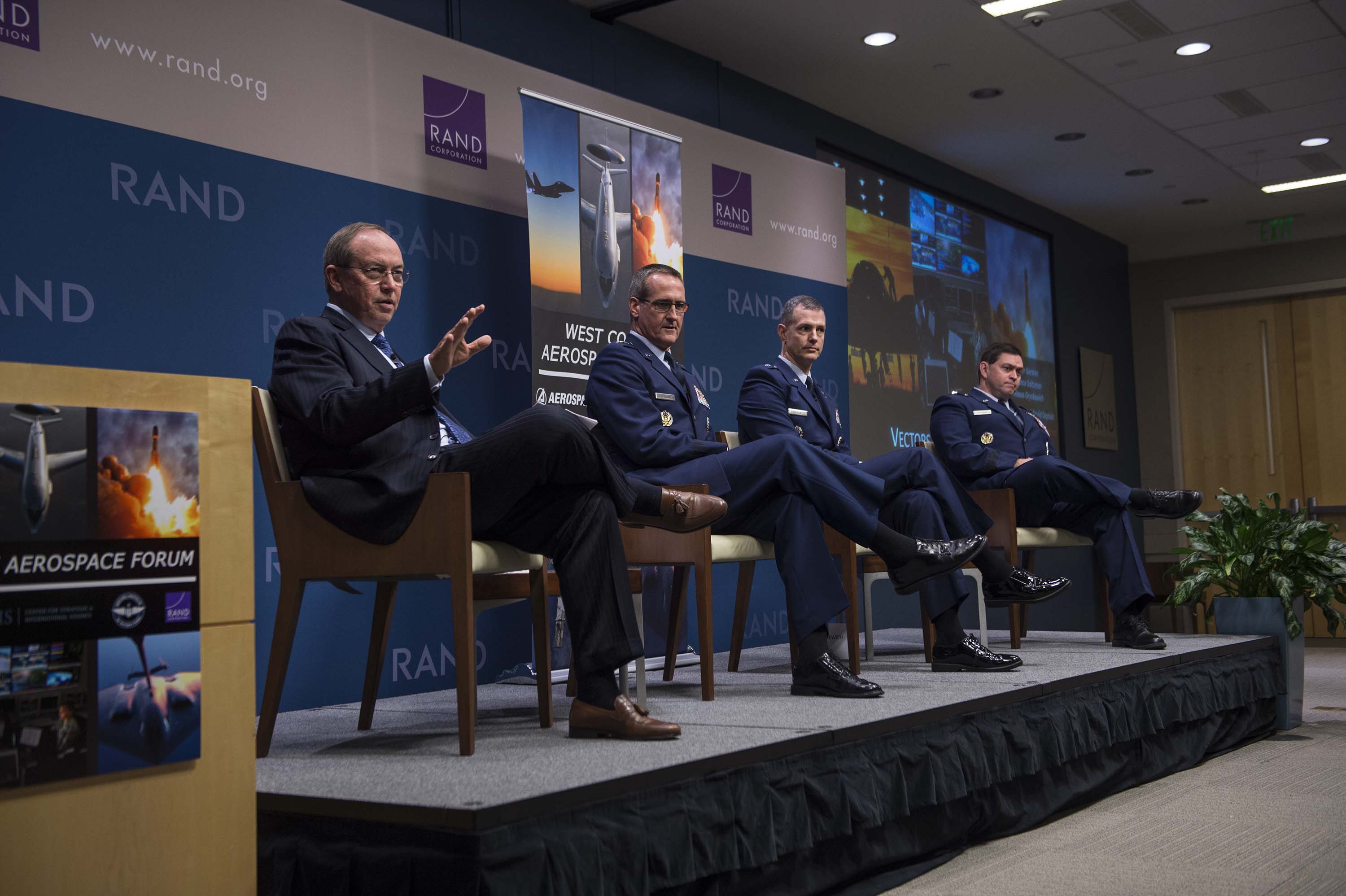 Retired Lt. Gen. Dave Deptula, dean of AFA's Mitchell Institute; USAF Warfare Center commander Maj. Gen. Pete Gersten; Brig. Gen. Alexus Grynkewich, deputy director for global operation on the Joint Staff; and Brig. Gen. Chance Saltzman, head of the Chief of Staff's focus area on multi-domain command and control, speak at the third annual West Coast Aerospace Forum in California. RAND Project Air Force photo.
Future success in warfare will no longer be determined by who owns the best "things," such as planes, ships, tanks, and satellites.
Instead, it will come down to who does the best job harnessing information to put assets in the right time and place to prudently yield effects, said panelists at the West Coast Aerospace Forum, a joint venture between AFA's Mitchell Institute, RAND's Project Air Force, the Center for Strategic and International Studies, and the Aerospace Corporation.
Maj. Gen. Pete Gersten, commander of USAF's Warfare Center, led off the conversation explaining the power of the combat cloud world in which airmen now operate. When taking his F-35 check ride, Gersten discovered his radar was not working properly. Instead of aborting, he was able to link to other apertures in the region and fully execute the sortie—something unthinkable in years past.
Brig. Gen. Alexus Grynkewich, deputy director for global operation on the Joint Staff and former lead of the Air Superiority Enterprise Capability Collaboration (ECCT) Team, said experiences like these mean "the architecture of a network is far more important than the individual nodes." Processing on the edge, determining what information must be sent, and when to prudently use bandwidth and pathing data flows even when a network is degraded will all prove to be vital attributes of modern air warfare.
He also provided joint context, noting the Chairman of the Joint Chiefs of Staff recently named information as the seventh joint function, and that work the Air Force has done on multi-domain command and control had positioned the service well to lead a conversation on how to implement this new thinking.
Brig. Gen. Chance Saltzman, who lead the recently out-briefed Multi Domain Command and Control ECCT, built upon these thoughts, saying it is crucial to provide a range of options that are effects-based, not platform centric.
The panelists also highlighted the future will be defined by multi-domain effects as opposed to stove-piped solutions—collaboration will be king. This demands a reshaped new requirements process where operators from a variety of domains must begin discussing how collaborative effects can best yield a common end, which will radically shift how we procure systems and sustain them. We are also transitioning from a world where the question is no longer centered upon "need to know," but is now defined by a need to share, emphasized the panelists.