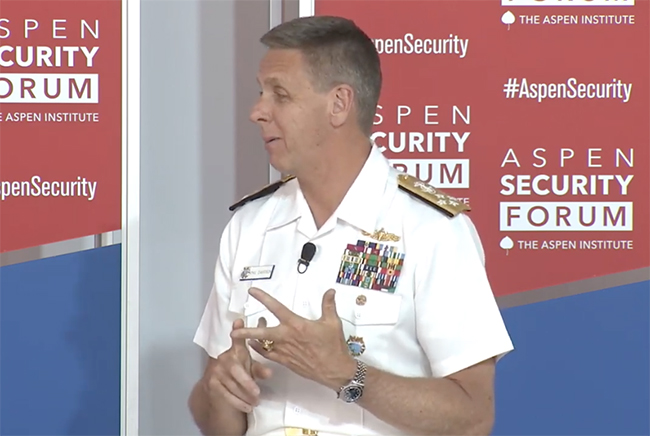 Adm. Phil Davidson, commander of US Indo-Pacific Command, speaks July 19 at the Aspen Security Forum in Colorado. YouTube screenshot.
China's military capacity will surpass that of US Indo-Pacific Command within the next few years unless American policy changes significantly, the top US official in the region said.
INDOPACOM boss Adm. Phil Davidson, speaking July 19 at the Aspen Security Forum in Colorado, said China's "explosive growth" in the air, land, and maritime domains, along with its increased capability in space and cyber, has changed the dynamic of the region.
"We run the risk, if we don't take proactive action, that China will indeed surpass our capabilities in the middle of the next decade," Davidson said.
Still, Davidson added he is "not concerned" about having enough global combat assets for a possible conflict in his arena, despite rising tensions in the Middle East.
China has been "trying to shape everybody's perceptions in the region" and has extensively reached out to other countries, he said. For example, within the past 28 months, Chinese naval ships have made more port visits to more countries than in the previous 28 years.
While dicey interactions at sea and in the air snag headlines, Davidson said 99 percent of interactions between the US and China have been professional, and both militaries continue to communicate.
For example, the Army has a yearly humanitarian-assistance and disaster-response training exercise with China, and leaders regularly talk. However, the US has a long-standing but still unacknowledged request to establish an emergency communications channel with the Chinese commander who oversees the South China Sea area.
Reorienting to focus on the Pacific is a top priority for Pentagon leadership after decades of war in the Middle East. Most recently, defense secretary nominee Mark Esper and Army Chief of Staff Gen. Mark Milley, the nominee to lead the Joint Chiefs of Staff, discussed China at length during their Senate confirmation hearings. "Great power competition" with other advanced militaries like China's drives the 2018 National Defense Strategy as well.