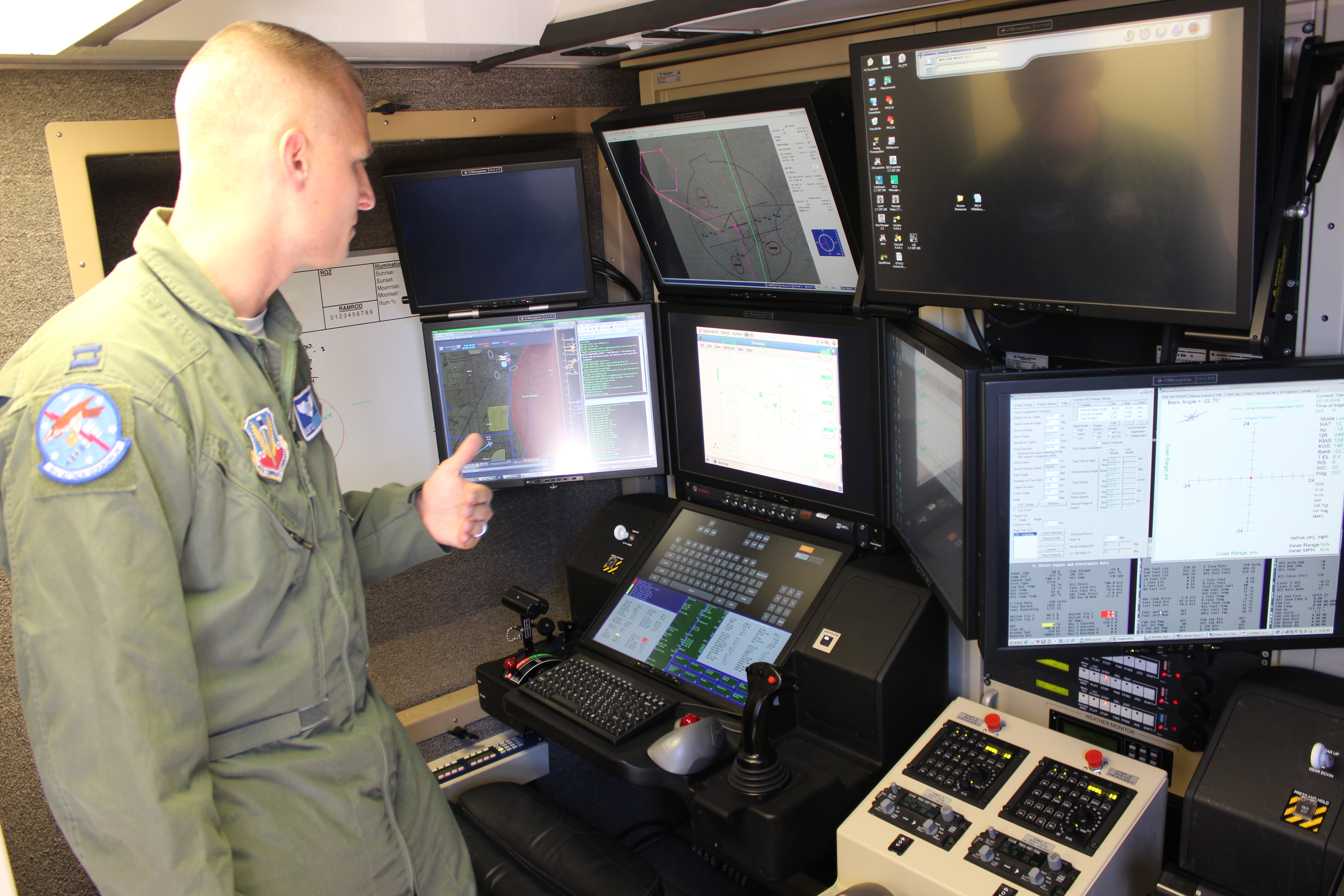 Capt. Kurtis, an instructor with the 9th Attack Squadron at Holloman AFB, N.M., demonstrates a new Block 30 MQ-9 Ground Control Station used to train new Reaper pilots. Air Force Magazine photo by Brian Everstine
HOLLOMAN AFB, N.M.— MQ-9 trainers are still facing a task to increase the output of pilots and sensor operators, on track to reach a high of 700 this year with even more needed.
As part of the 2015 plan to increase the intelligence, surveillance, and reconnaissance capability of the Air Force and amount of personnel in the remotely piloted aircraft career fields, the RPA formal training unit here is deemed a priority and given a 40 percent increase in the number of trainers from combat units across the service. As a result of that plan, the schoolhouse increased the number of pilots and sensor operators by 40 percent, said Maj. Ryan, an instructor at the school. The Air Force doesn't release the last names of RPA operators for security concerns.
"Right now, we haven't reached a steady state," he said Wednesday. "There's more demand."
RPAs have "transformed how we fight the war on terrorism," he said. As a result, the Air Force has faced an insatiable demand for unmanned ISR. The 2015 service-wide review called for 75 MQ-9 Reapers to join the fleet and Air Education and Training Command vowed to double the output of new pilots and sensor operators.
Trainers were selected from units across the country, and are given three- to four-year-long assignments to Holloman.
MQ-9s constantly fly in the desert air around Holloman, with about 10 aircraft airborne per day. They stay aloft for 10-14 hours per day, depending on the training tasks.
The base also has five of the new, upgraded Block 30 Ground Control Stations. The new stations have larger, more integrated displays to go along with the aircraft's HD video feed. The roomier stations, which resemble tan storage containers in a secure section of the base, give pilots and sensor operators more control in how information is presented to them.