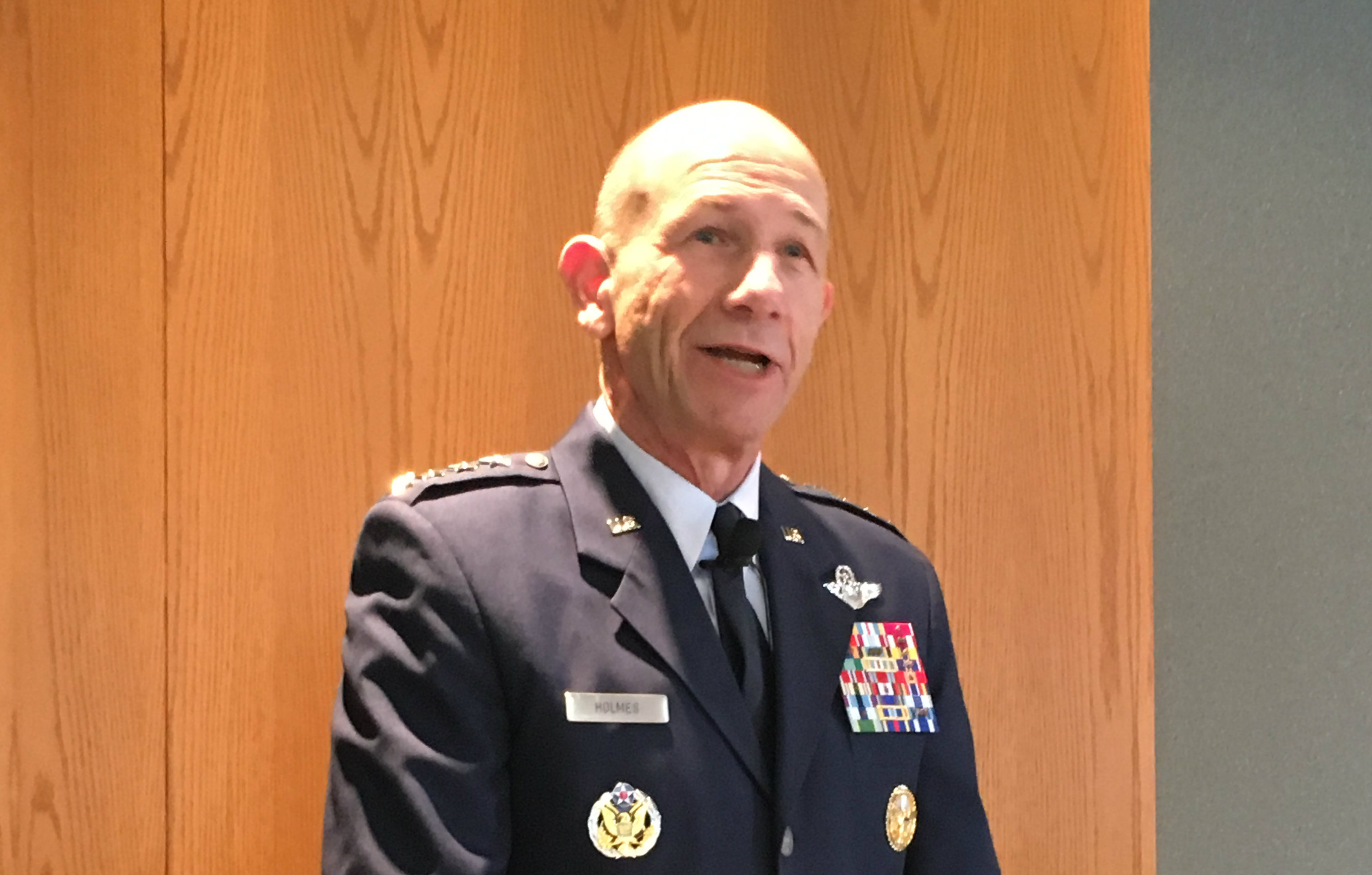 Air Combat Command boss Gen. Mike Holmes, speaking during an AFA Mitchell Institute event on Monday, said the United States has to shake off the complacency from not being challenged for the last quarter century. Staff photo by John A. Tirpak.
The days of fighting as the US has done for the last 26 years are over, and the new reality means the US must make speed and reliable information its priorities, said Air Combat Command chief Gen. Mike Holmes.
Speaking at an AFA Mitchell Institute event Monday, Holmes said the advent of social media and very good, rapid-revisit commercial satellite imagery means there are "no sanctuaries" allowing the US to conceal its activities. "There's nowhere to hide," Holmes said, noting that from the moment "you start pulling your stuff together at garrison to move it to ports to take it overseas, you can be seen, and people can figure out what you're doing."
Moreover, in theater, just about every potential adversary has "long-range, precision fires," Holmes said, so "there are no sanctuaries," and it will be essential to play a shell game of moving small numbers of aircraft around bases to protect them. Moreover, while the US has enjoyed a near-monopoly on the information battlefield, that, too, is gone.
"We expect to be targeted with cyber and information tools," he said, at every step of the deployment process from the order to get ready to arriving at a forward base.
"So how can you win … against a peer adversary" when everyone has the same capabilities, he asked. "I think the focus will shift from trying to find out everything you can," he said, to "trying to safeguard your data, maintain trust in what you know, and make sure that what you've got is based on a real source." Beyond that, playing information offense means "trying to create doubt in the enemy's analysis and knowledge of the data that they bring in," then physically "seizing the initiative through high tempo operations to force the enemy to react and operate at a tempo the enemy can't keep up with."
Holmes—who only used the term "peer adversary," not "near-peer,"—asserted that the US has to shake off the complacency of having been unchallenged for a quarter century. During that period, "we evolved acquisition systems that allowed us to take as long as we needed to to field something." The US could choose to take 20 years, to, say, field the F-35 and its technology. "And if it took a little longer, it was embarrassing and expensive, but we would still get there ahead of our adversaries," Holmes noted. "Now we're back in a world with peer adversaries where they're fielding something new every day and we have to be able to either modernize the tools that we bring or bring new tools and field them much faster."