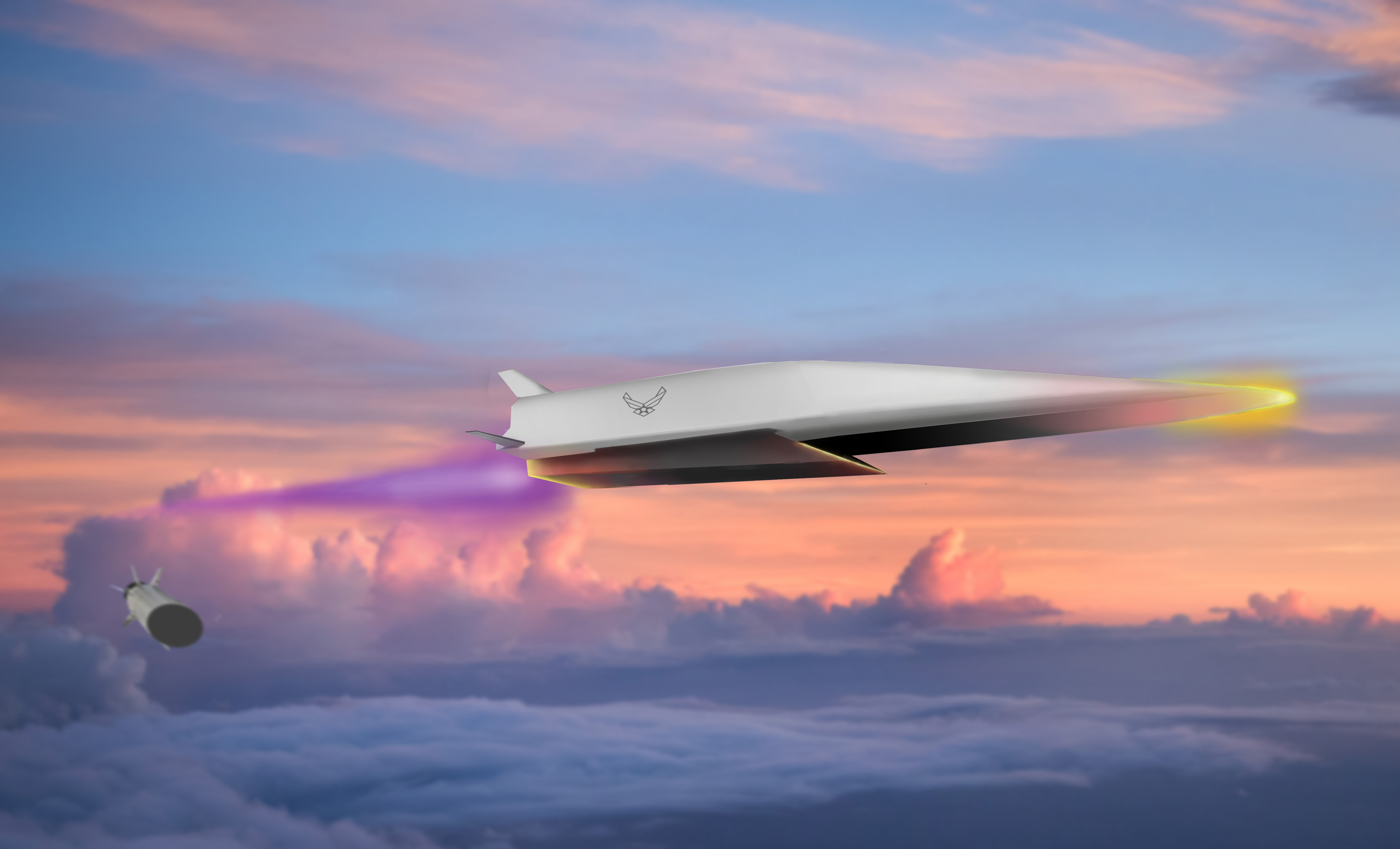 An Air Force Magazine illustration of a Hypersonic Conventional Strike Weapon (HCSW) or "Hacksaw" after launch from an airborne platform. Staff illustration by Mike Tsukamoto.
Research and development would get a 13 percent boost in fiscal 2020 versus the previous enacted year, rising from $30.1 billion to $35.4 billion, according to budget documents and Air Force officials.
The biggest surges in R&D funding went to hypersonics, next-generation fighters, and satellites.
The increase takes advantage of "the prototyping and experimentation authority Congress provided," Air Force Maj. Gen. John Pletcher told reporters at a USAF budget briefing. The budget will "accelerate hypersonics development" and keep the US on a path to "fly our nation's first hypersonic boost glide weapon five years earlier than anticipated."
Assistant budget director Carolyn Gleason said the research, development, test, and evaluation "has almost doubled in the last four years," and the FY '20 budget emphasizes technologies applicable to the high-end fight against peer adversaries.
The B-21 bomber effort increases from $2.3 billion in fiscal 2019 to $3 billion in fiscal 2020, "as the program transitions from design to manufacturing development," Gleason said. The T-X advanced trainer rises from $246 million to $348 million, yielding the first three airplanes late in 2020. The Presidential Aircraft Replacement program, or PAR, adds $100 million to reach $758 million in '20.
The F-35 Block 4 upgrade effort will hit $794 million, up from $504 million this year. Development of the nuclear Long-Range Stand-Off missile, or LRSO, which replaces the Air Launched Cruise Missile, jumps from $665 million to $713 million, while the Ground-Based Strategic Deterrent, or GBSD, which replaces the Minuteman ICBM, increases from $414 million to $570 million in FY '20.
One of the biggest programs in R&D will be the Next-Generation Air Dominance program, which purportedly is still focused on studying what the next steps in air dominance should be.
It would more than double, from $430 million in fiscal '19 to $1 billion in FY'20. Air Force acquisition chief Will Roper has recently said he foresees a series of prototyping efforts in air dominance not unlike the "Century Series" of fighters in the 1960s, in which aircraft are developed and built with the intention of being used about seven years, then replaced.
Gleason said most of NGAD is classified, but the funding request aims to "resource the most promising technologies needed to close air superiority gaps as identified in the Air Superiority 2030 flight plan."
Hypersonics prototyping—a combination of both the Air-Launched Rapid Response Weapon (ARRW) and Hypersonic Conventional Strike Weapon (HCSW) programs—would increase from $509 million in 2019 to $576 million in 2020. "Each [is] scheduled to achieve operational capability by FY '22," Gleason asserted. The Pentagon said it would make more information on hypersonics programs available next week.
She also said the Air Force is spending $878 million "to continue the adaptive engine transition program, which is providing revolutionary turbine engine performance." While she said work is proceeding on directed energy programs for base defense, she did not disclose a spending amount on that line item.
Finally, research on the Next Generation Overhead Persistent Infrared (Next-Gen OPIR) satellite system would virtually double, from $643 million in 2019 to $1.4 billion in 2020.