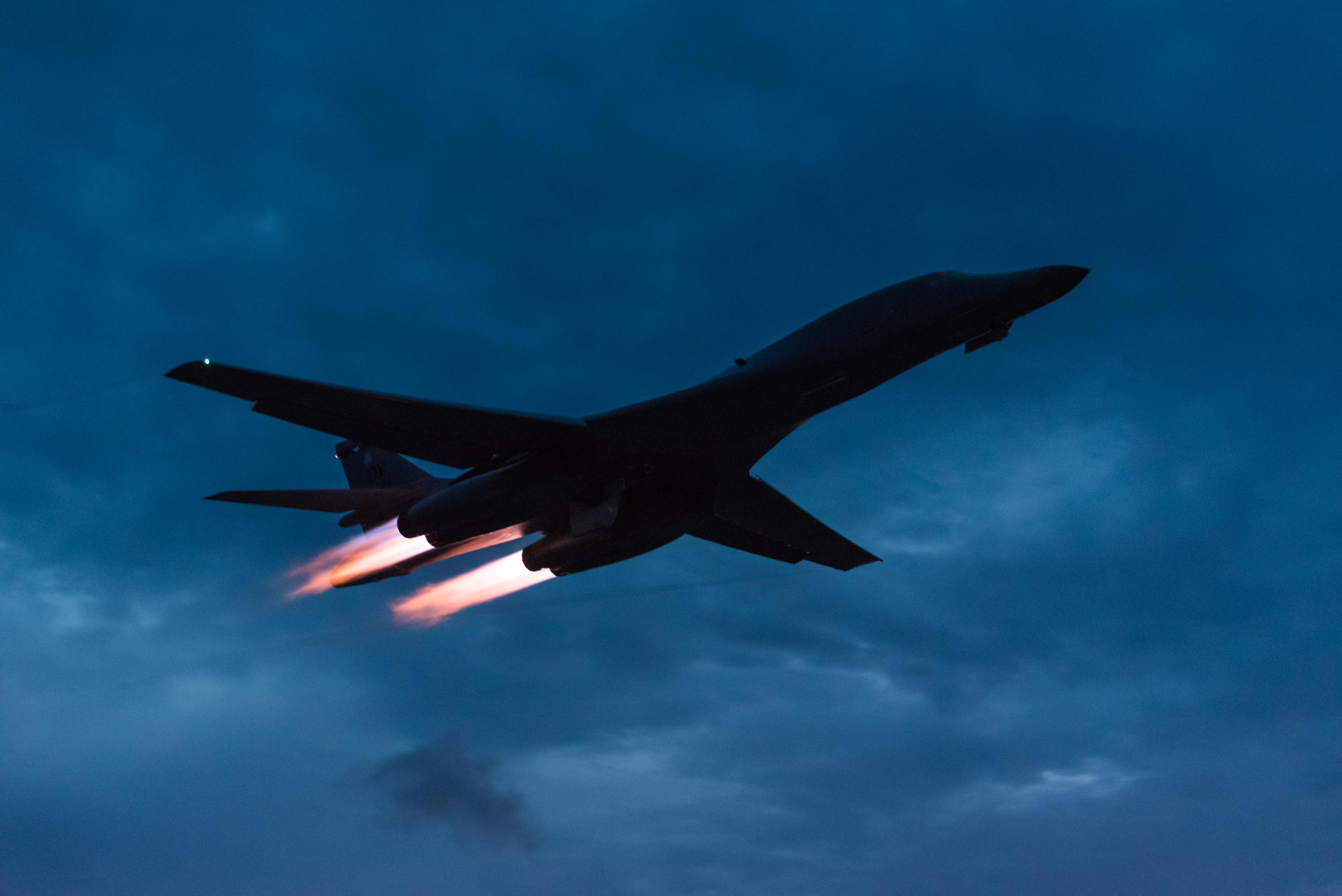 A B-1B takes off July 6 from Andersen AFB, Guam, for a bilateral mission with Japanese F-15s over the East China Sea. Air Force photo by TSgt. Richard Ebensberger
B-1B Lancers flew two high-profile training missions in the Pacific following North Korea's recent test of an intercontinental ballistic missile, showing the Air Force's ability to fly long-range strategic bombers in the region.
Two B-1s flew a 10-hour, sequenced mission alongside South Korean F-15s, Japanese F-2s, and USAF F-16s on July 7, dropping inert weapons at the Pilsung Range in South Korea. The mission showed that the US is "trained, equipped and ready to unleash the full capability of our allied air forces," Pacific Air Forces Commander Gen. Terrence O'Shaughnessy said in a release.
The second flight came one day after two B-1s flew a historic nighttime training mission over the East China Sea in coordination with Japanese forces.
The mission marked the first time B-1s from US Pacific Command have conducted training with Japanese fighter aircraft at night, according to a Pacific Air Forces release.
The bombers, assigned to the 9th Expeditionary Squadron, launched their mission from Andersen AFB, Guam. The Lancers were deployed from Dyess AFB, Texas, as part of the continuous bomber presence (CBP) in the Pacific region. The goal of the CBP mission is "showcasing a capability to our allies and partners as well as to those who might wish us harm," Brig. Gen. Stephen Williams told Air Force Magazine shortly before the flight.
The sorties were part of a higher tempo of air operations at PACAF in the past two years. In large part, that elevation has come in response to "the dynamic environment" created by the growing North Korean threat, said Williams, who is director of air and cyberspace operations at PACAF. "The use of our continuous bomber presence has significantly increased in the last year," he said.
The number of sorties classified as higher headquarters-directed (HHQ) missions has been increasing since 2015. An HHQ mission is one not considered a "local" Andersen flight, but is ordered from the PACAF Air Operations Center, PACOM, or even the Office of the Secretary of Defense.
HHQ missions can be in support of the broad CBP mission of assurance and deterrence, or they can be "for a specific reason," PACAF spokesperson Maj. Phillip Ventura said. "There are some things that we do as exercises that may potentially be in response" to provocations by North Korea or other adversaries in the region, Williams said.
In 2014, PACAF generated 27 such HHQ missions. That number was almost doubled in 2015, when PACAF flew 45 HHQ missions. Last year, the number jumped again to 73—nearly tripling in two years' time. And the pace is still quickening. "We're probably going to approach a potential of doubling it again this year," Williams said.
Contrary to the picture presented by some in Congress, PACAF insists that its readiness levels are primed to support this acceleration of the mission. "The B-1 aircrew and maintainers [are] meeting 100 percent of U.S. Pacific Command's mission requirements," PACAF commander Gen. Terrence O'Shaughnessy told Air Force Magazine in an email. While admitting "there's always a readiness challenge," Williams also insisted that, "we're as ready in the Pacific as anywhere in our Air Force" and "in some ways more so."
In March, Rep. Joe Wilson (R-S.C.) questioned B-1 aircraft availability rates after an Andersen training formation was forced to fly with one B-1 instead of a planned complement of two. Williams said PACAF made the change because of a tanker that experienced an "in-flight emergency, and when the tanker fell out, we could only send one B-1." He said the problem had nothing to do with B-1 availability. "I don't want the B-1s to get a bad rap for that," he said.
PACAF's tankers, on the other hand, "are older than me," Williams said. And that's why "the new tanker's going to be a big deal for us."
Still, within a "budget-constrained environment," PACAF could always use more bombers. "If you could give me two more B-1s down at Guam, I would take them in a heartbeat," Williams admitted. But because demand exists "throughout the globe," Williams said he knows PACAF has to keep "a realistic appetite" and share bombers with other areas of responsibility.
PACAF is also looking to the future of the US bomber fleet. "If the question is: 'Do we have enough bomber capability in the Air Force?'" Williams said, "I would say in the austere budget environments we've been in, that's part of why the Air Force is working on the [B-21] Raider, to add to our bomber capability."