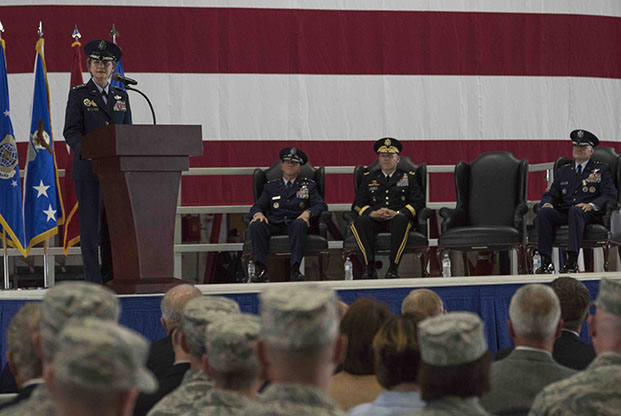 Air Force Gen. Maryanne Miller delivers her first speech as Air Mobility Command's chief at her Sept. 7 change-of-command ceremony at Scott AFB, Ill. Air Force photo by TSgt. Jodi Martinez.
Air Mobility Command chief Gen. Maryanne Miller recently laid out six priorities for the command at the 2018 Airlift/Tanker Association Symposium in Texas.
The focus areas were engineered to "steer the mobility enterprise toward advancing Rapid Global Mobility and power projection in support of" both the service and global combatant commanders, according to a release. They are:
1. Readiness
Miller called full-spectrum readiness her No. 1 priority, since airmen must be prepared "to compete, deter, and win" in the current great-power competition era. The release also emphasized the symposium's overall readiness focus, noting that almost all of its 36 available seminars either dealt with or were related to the priority.
2. "Sustaining an effective nuclear response"
Miller said this priority depends on AMC's "aerial refueling and nuclear airlift missions," with both being necessary to deter would-be adversaries and reassure US allies.
3. Mobility operations in contested environments
This will be the norm in future operations, Miller said, so boosting the enterprise's survivability is crucial. She emphasized the urgency of embracing "modernized command and control efforts" due to congestion and contention in the space and cyber domains.
4. Force development
The Air Force must figure out methods to maximize inclusivity and maximize talent, said Miller. "Our airmen are our greatest resource, period," she added.
5. "Modernization and recapitalization efforts"
This priority "aims to provide timely upgrades to maintain a competitive edge and lethality within the joint force," the release explains. Miller used the introduction of the KC-46 as an example, citing the potential for the new air refueler to breathe life back into the service's "aging tanker fleet," according to the release.
6. Innovation
Miller took a tag-team approach to this topic, bringing out Virgin Group founder Richard Branson to discuss it and to assist her in recognizing this year's Phoenix Spark Tank competition finalists. The competition encourages airmen to find innovative ways to improve the AMC mission.
Miller advised the airmen in the audience not to take "'no' for an answer," emphasizing that AMC would put all of the finalists' ideas into action and reminding them that "even world-changing ideas like aerial refueling" were initally rejected. Miller then stressed AMC's track record of partnering "with industry experts to enhance mission effects and advance readiness into the future," while Branson discussed developing "a culture of innovation" and stimulating "active involvement across an organization," the release said.
The symposium was presented by the Airlift/Tanker Association, an international, nonprofit organization that advocates for US military air mobility capability.
Miller assumed control of AMC on Sept. 7, succeeding now-retired Gen. Carlton Everhart as commander.