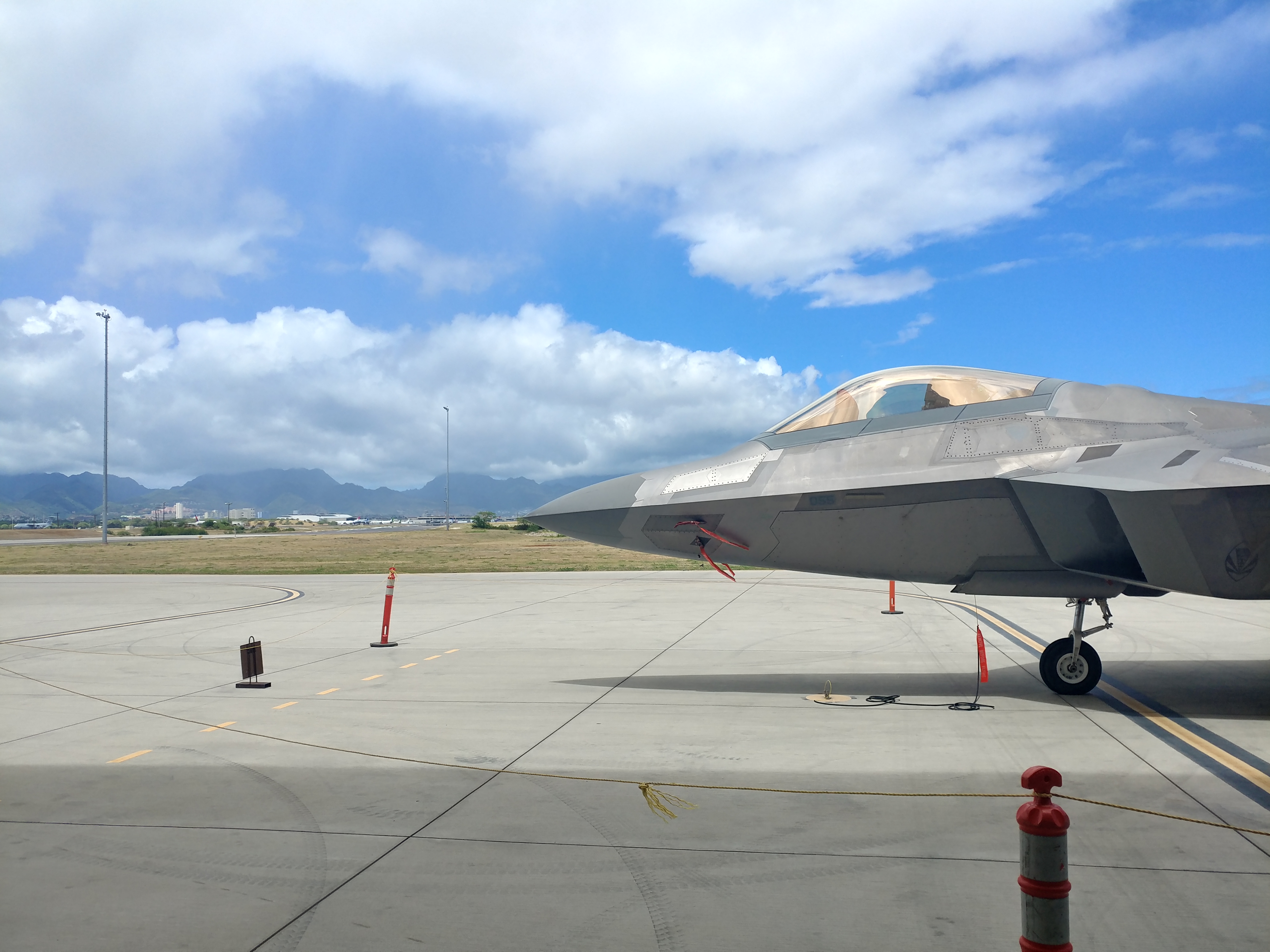 An F-22 from the 154th Wing at JB Pearl Harbor-Hickam, Hawaii, sits on the flightline during a recent afternoon. F-22s from the base are tasked with homeland defense, along with recent deployments to both the Korean Peninsula and US Central Command. Staff photo by Brian Everstine
JB Pearl Harbor-Hickam, Hawaii—The F-22s based here are one of the smaller Raptor contingents in the Air Force, tasked with responding to homeland threats and being the tip of the spear for any engagements in the Pacific. And, the Raptors face that mission with limited support.
To stay sharp and be ready for any operation in a contested region, the pilots are getting creative and drawing on recent real-world combat experience.
"Hawaii has a smaller fleet than most other places, plus we have an alert commitment, and we only have a single squadron here," an F-22 pilot with the 199th Fighter Squadron said during a recent visit by Air Force Magazine. "And we are able to maintain one of the highest maintenance capabilities in the (combat air forces)."
F-22s from Hickam have deployed to US Central Command for Operation Inherent Resolve against ISIS in late 2015 and early 2016, and earlier this year deployed to the Korean Peninsula for a training deployment filling a Theater Security Package requirement, which included flying in Exercise Max Thunder. These deployments, while at the time focused on accomplishing a specific mission, have helped the Raptors train and be ready for any possible future combat against a peer adversary.
The F-22s faced a range of threats while operating in Syria and Iraq while targeting ISIS.
"Towards the Western half of Syria, yes, you are in a surface to air [missile engagement zone] … ," the pilot said. "As you get further to the East and you are flying around in Iraq, now you are facing more of a terrorist threat."
In the Pacific, aircraft face a "tyranny of distance," so these threats, especially the integrated air defenses, are similar to what Raptors could face as they approach an operating area.
During the deployment to the Korean peninsula, the F-22s were based at a contingency operating location. They needed to deploy personnel and equipment and stand up an austere operating location that could handle fifth generation aircraft operations. "We were able to capture lessons learned from standing up in not your typical base" like Osan or Kunsan Air Bases in South Korea.
More locally, the Raptors are getting more creative in their training and actively looking for help. While simulators are the best option for training against high-end threats, nothing really replaces actual time in the air.
Exercise Sentry Aloha is the biggest chance for the squadron to fly advanced training, and they have been able to fly against adversaries such as a US Navy carrier strike group that was transiting near the Hawaiian Islands. The unit was able to get the 18th Aggressor Squadron from Eielson AFB, Alaska, to come down in January for one month. They flew for two weeks in Sentry Aloha, and stuck around for two more weeks as dedicated Red Air for the Raptors.
"That absolutely helped us out a ton. … It was incredibly valuable," the pilot said, adding that they are still trying to convince the Aggressors to come down more often. "It's still going to be cold in Alaska, and warm in Hawaii."
The 154th Wing at Hickam is working with the National Guard Bureau, Air Combat Command, and Pacific Air Forces to try to "sort something out" and get dedicated adversary air to the base to keep the pilots training, the pilot said. The F-22s based at JB Langley-Eustis, Va., have a permanent contingent of T-38s available for training, for example.
The additional training helps the overall effectiveness of the F-22 in combat situations. The jet is a "flying antenna" that can serve as a "ninja" flying around a combat area that is able to precisely apply power so other fourth generation aircraft can "kick in the door," he said.